Since the first smart gadgets started to surface a few years ago, the fabled smart home of the future has been edging closer to being a realistic, everyday reality.
The hardware, the software, and the use cases are all present and correct. Although issues such as compatibility, cost, and security persist, Matter, the new interoperability standard from the Connected Standards Alliance (CSA), promises to resolve many of these as it rolls out.
But let's face it; there is still a significant problem. Right now, smart homes just aren't very smart. Even with significant advancements in communication between smart home gadgets, setting up and maintaining a smart home still requires too much manual effort.
This point is especially true for homeowners who desire more sophisticated usage model capabilities, such as creating scenes with various smart home devices that perform multiple tasks simultaneously, such as opening the garage, turning on the lights and music, and disarming a home security system. Few consumers take advantage of these advanced "smart home 2.0" usage models because of the complexity involved.
There is potential for much more, even if most entry-level smart home users are thrilled with simply turning on the lights when using a smart voice assistant like Alexa.
Time To Market Not Matter's Trademark, So Far
Maybe it won't be the case forever. Many smart home enthusiasts have started building smart homes by purchasing smart speakers or smart TVs. Some have taken things further by purchasing smart lights, robotic vacuums, or outside security cameras.
The number of smart house advocates who have invested time and thought into designing and running a complex multi-device smart home setup is far lower. Again, few customers have advanced to this level.
Voice assistants have typically been used in homes to obtain information such as the most recent weather or turn lights on and off. By learning how we behave in our homes and feeding that information back into smart home management systems, generative AI can transform that connection from transactional to collaborative engagements.
Technically speaking, this is nothing new. For instance, Alexa creates "guesses" about new automation sequences and efficiencies depending on your activities around the house. Customer evaluations indicate that hunches may be disruptive and don't seem effective in personalizing dwellings with more than one occupant. Thus, these only go so far in reality.
In this regard, AI may offer a viable remedy for enhancing the personalization of smart homes. After all, based on everyday discussions, AI could fill the gap in a specific style of thinking and doing. As a result, AI may benefit low-tech users in the general population, making smart homes much more approachable.
Will Matter Rise to the Occasion?
As more Matter-compatible gadgets become available, interoperability is becoming less of a problem, but AI might make operating smart homes even more convenient.
AI can potentially accelerate the capabilities of a smart house powered by Matter. Data could become increasingly available through Matter-based smart homes, and generative AI could unlock unprecedented potential in smart home technology to deliver a highly personalized, intelligence-driven user experience.
The ability to truly enjoy a complete smart home experience is beyond most mainstream users because they lack the patience and knowledge to configure a sizable number of smart home devices manually.
Unless you're willing to commit to learning a quasi-programming tool like IFTTT (If This Then That) to create these scene "automations" — and today, few people are — you won't be able to benefit fully from a complete smart home experience.
The Smart Home Game Isn't Over Yet
The good news is that providing a compelling smart home experience is considerably closer than ever.
Although there has been available smart home technology for almost three decades, the reality is that today's smart home is more of a "connected" home without the "smartness" that the term implies.
This observation doesn't dispute that obstacles will not arise in developing a real smart home. Mainly, privacy issues are still at the forefront. Study after survey indicates that consumers fear their private information could become public and easily traceable.
The conversations people have on platforms like ChatGPT now aren't private; even if hidden from your personal information, they can still be utilized to train the AI. Furthermore, there is always a possibility that bad actors will discover a way to access your data.
Smart home equipment manufacturers bear the responsibility of guaranteeing data privacy. This duty necessitates ensuring that all smart home interactions are processed locally, either on the user's device or within their home network, thus safeguarding the confidentiality of their data.
Radio Silence From Major Smart Home Players
Many different use cases and environments now employ generative AI, but its potential is cloaked in doubt, primarily because of a lack of security, legislation, and direction. It's unclear how the prominent voice assistant and AI firms will handle this murky but intriguing future for smart homes.
To date, none of the significant participants in the smart home market — Amazon, Apple, Google, Samsung, and the CSA — have taken stances on this subject publicly.
Given the enormous difficulty of fusing the relative youth of Matter with generative AI, this is, in some respects, somewhat understandable.
Although these senior-level discussions are likely now taking place at these well-known consumer tech businesses, the issue they must address is when AI becomes a necessary component of an advanced smart home user experience, not if.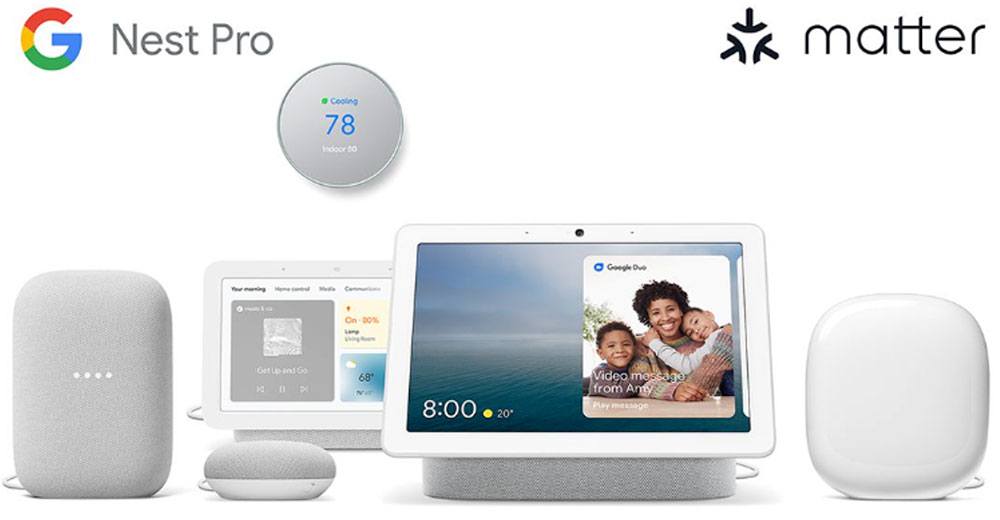 Google is a major supporter of the Matter smart home initiative, along with Apple, Amazon, and other companies. (Image Credit: Connectivity Standards Alliance)
---
Slow Adoption, Limited Awareness
Taking the AI dynamic out of the equation, industry traction for the Matter smart home endeavor has been, at best, slow, especially in terms of consumer awareness. Granted, a sharply increasing number of IoT gadgets enabling Matter are finally appearing on store shelves.
However, my interactions with sales associates at several Best Buy locations in the Bay Area have revealed a less-than-stellar level of awareness of the main advantages of Matter. Considering that Best Buy is the largest consumer electronics retailer in the U.S., and the Matter initiative debuted in late 2019, Matter's low awareness is discouraging.
Also telling is that 57% of U.S. respondents to an online poll conducted earlier this month by prominent smart lock vendor U-tec indicated they did not what know Matter is or its benefits.
Fair or not, it's vital to remember that the success or failure of such projects can be arbitrary and dependent on several variables. Adoption and success in the smart home sector depend on customer demand, industry assistance, manufacturer engagement, and market acceptability.
Despite these obstacles, Matter has several positive aspects going for it. Several large corporations, including Apple, Amazon, Google, and Samsung, support the standard.
Many manufacturers throughout the sector have backed the project. Furthermore, unlike other initiatives, the Matter standard is backward compatible with current smart home gadgets, so customers won't need to replace all their devices to utilize Matter.
Only time will reveal the long-term success of the Matter smart home interoperability initiative. As we look to the future, the integration of AI promises to give the smart home sector a substantial uplift. It can potentially make our homes more convenient, intuitive, and user-friendly, thus shaping the next chapter in smart home evolution. I'm crossing my fingers.