Spatial audio has excited the audio market ever since Apple announced movie and TV content supporting it in iOS 14 at the WWDC event in June 2020. Spatial audio essentially delivers surround sound and 3D audio through headphones via dynamic head tracking. Typically, it's not a feature found in traditional audio speakers.
Over the past two decades since its founding in 2002, Sonos has built an enviable premium audio brand for multi-room audio products. Though the smart speaker market is crowded — even at the high end — Sonos has been able to pull off something that few brands haven't succeeded in with solutions that customers are willing to pay a premium for and fierce brand loyalty.
With that as a backdrop, Sonos has mainly concentrated its efforts on two product categories over the past few years: portable speakers like the Move and Roam; and more expensive home theater products like the Atmos-capable Arc and Ray soundbars. Sonos One and Sonos Five, the company's primary set of music-focused speakers, still sound terrific but are beginning to show their age.
Spatial Audio Capability
The Era 100 and Era 300, Sonos' two new "better and best" offerings, change that dynamic. Priced at $450, the Era 300 is the first Sonos speaker capable of playing spatial audio. In comparison, the $250 Era 100 is a wholly rebuilt successor to the Sonos One with several upgrades over its predecessor.
You can use a pair of any of them in stereo or as back surround speakers in a home theater setup, as you can with other Sonos speakers. If you have a Sonos Arc or gen-2 Beam and Sub, you can have an outrageous 7.1.4 Dolby Atmos experience by adding a pair of Era 300s as your rear surrounds — that is, as long as you're prepared to cough up $2,600 for that setup.
Era 300 — The Aaron Judge of the Home Audio Market
The Era 300, shown above, has a unique appearance compared to other Sonos speakers but adheres to the brand's signature minimalist aesthetic.
Its slightly peculiar knocked-over hourglass design has a practical purpose in that it enables the upward-facing tweeter to fire at a slight but precise angle, which the manufacturer claims will provide more room-filling reflections for spatial audio.
There are three more tweeters: two pointing left and right, one pointing forward and dead center. Finally, the speaker has two woofers on either side, which deliver a lot of bass.
Era 100 — A More Affordable Alternative to Apple's New HomePod
The Sonos One is acoustically identical to the Sonos Play:1 that was announced in 2013. The Era 100, on the other hand, has more tangible updates.
With its $250 price point, the Era 100 is an affordable alternative to Apple's latest HomePod, and it represents a significant upgrade over the Sonos Play:1. The Era 100 has a woofer that is 25% larger than the One's and a pair of tweeters providing left and right stereo channels in a single speaker.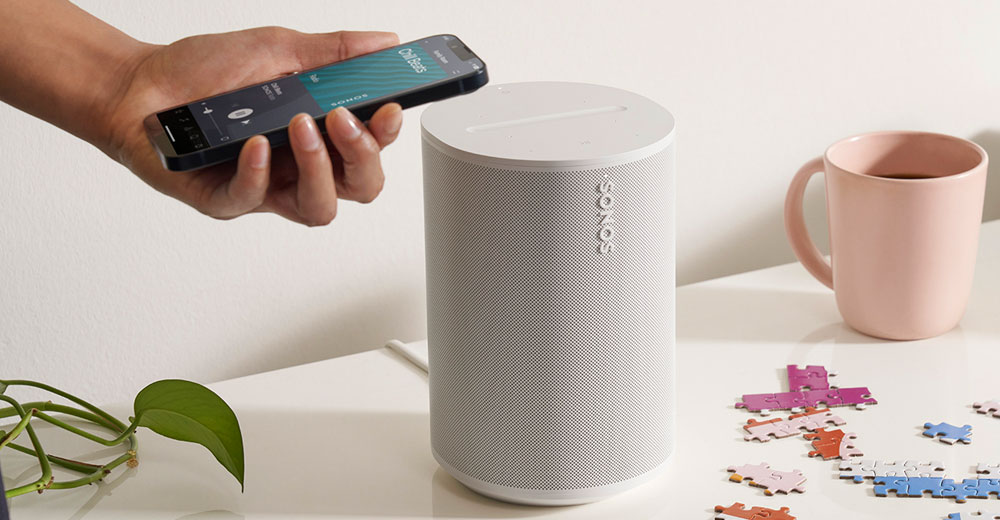 Era 100 speaker (Image Credit: Sonos)
---
Even though it lacks the spatial audio capabilities of the Era 300, it represents a significant improvement over the earlier model.
Despite their expansive features and price points, these speakers have a considerable amount in common. With an optional line-in adapter, you can connect a turntable or other audio equipment to both via their USB-C connections. This capability is a prominent advantage compared to Apple's HomePods (both the latest model and the HomePod Mini) since both Era 100 and Era 300 can also serve as external PC speakers. However, that usage model is clearly narrow.
New Enhancements
Notably, in both the Era 100 and Era 300, Sonos, for the first time, has included Bluetooth in a non-portable speaker, which is essential. These speakers also include newly revised touch controls on top, so now, you can swipe your finger across a small ridge in addition to dedicated forward and back buttons to change the volume instead of tapping on either side of the play/pause button.
Moreover, Sonos provided a physical switch to turn off the microphone instead of simply muting the mic through software. This welcome approach actively cuts the connection to it for added security.
The Era 100 and Era 300's distinctive Trueplay tuning feature, which measures how sound reflects off walls, furnishings, and other surfaces, can also use these mics to enhance audio based on where you set the speakers in your home. Trueplay was announced by Sonos in 2015, signaling the company's desire to optimize audio quality in different home environments.
As a mobile phone app, Trueplay previously required an iOS device for setup. Android users were out of luck because although Sonos has installed integrated microphones in its speakers for many years, Trueplay was incompatible with Android devices.
Trueplay does make a significant difference, and this new capability means that many more people, specifically Android users, will probably utilize it.
Summing Up Sonos' Era Speakers
Putting competitors aside, Sonos strongly believes that spatial audio is how music playback will develop in the future. The company's leadership has asserted that a) the Era 300 will be the definitive way to hear the finer points of spatial audio mixes without requiring a room full of audio equipment and b) that artists and producers are strongly interested in the format.
A single speaker can only deliver so much, regardless of how sophisticated its driver array is. Looking at the streaming audio landscape at a high level, it's likely that the big hitters — Spotify, YouTube Music, and other services — would likely start supporting spatial audio sooner rather than later. However, Amazon and Apple are now the only two services compatible with the Era 300 for spatial music.
Even when playing stereo mixes, the Era 300 should be an outstanding speaker. The 300 will likely be a more specialized offering in the company's lineup, similar to the excellent but high-priced Sonos Five speaker. Yet, it makes sense for Sonos to be ready for the developing spatial audio market trend rather than play catchup if the spatial audio wave is about to take off.
Initial media reports of Era 300 indicate that it generates a distinctive sound. Given my experience with Sonos products, I expect the audio quality will be superb, though I'll reserve judgment until I get a chance to use them.
It should be pointed out that Sonos first proved its mettle by reproducing standard audio, and compared to the Era 100, the 300 has a lot more volume, bass, and presence. Given that it costs $200 more and has twice as many drivers, expect the audio quality to be second to none.
Closing Thoughts
The core reason why Sonos has succeeded in the highly competitive home entertainment speaker market is that it has taken a no-compromise approach to speaker development.
While the speaker space has become muddled with sub-$100 solutions that are often designed to control the smart home, Sonos has spent its resources avoiding that morass to differentiate itself. In that sense, it's unfair to compare the new Era 100 and 300 against the Apple HomePod, as Sonos' products are unapologetically focused on delivering a world-class audio experience — though both new Sonos speakers have integrated Amazon Alexa support.
All that said, embracing spatial audio is a leadership opportunity for the company. One can view the Era 300 as the first salvo in its efforts to raise the bar in the premium audio space.
The Era 100 and Era 300 have color options of black or white. Both are estimated to ship on March 28 and are available for preorder now at the Sonos shop.