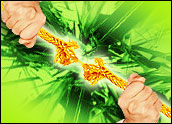 Social media was cast in the role of scapegoat in the drama that unfolded immediately after the shooting spree in a Tucson, Ariz., grocery store that left six people dead and a member of the U.S. Congress gravely injured this past weekend.
Numerous early conclusion jumpers — many using social media themselves to express their opinions — argued that heated political rhetoric contained in Facebook posts and Twitter feeds inspired this act.
In the immediate aftermath of the shooting, this line of reasoning came primarily from bloggers on the liberal side of the political spectrum, who assumed that because the gunman shot a Democratic representative, he must be a right-wing extremist. As details of some of the alleged gunman's own social media activities emerged, people with more conservative leanings singled out specific things he posted on Facebook and YouTube as proof of his left-wing extremism.
As I witnessed this back-and-forth, it occurred to me that while we are becoming more comfortable with the use of social media, there is still a general lack of understanding about the power this technology can wield.
Seeking Instant Fame
We like social media because it gives anyone a forum to express and disseminate views on any subject. Nearly every day, someone launches a blog with the hope that a post will spark an online firestorm, bringing instant fame and fortune. Yet, we are constantly surprised — and sometimes outraged — when that actually happens.
Take the case of Catie Parker, a Tucson resident who on Saturday afternoon tweeted about having attended high school with the shooting suspect. An hour later, she was fielding interview requests from national media outlets.
This also happened, though to a lesser degree, with Sarah Palin, former Alaska governor. In the immediate aftermath of the shooting, some people pointed to one of Palin's Facebook postings as the match that lit the gunman's fuse.
Palin, of course, was initially pushed into the national spotlight when John McCain chose her as his running mate on the Republican ticket in the 2008 presidential election. After the Obama-Biden ticket prevailed, it was Palin's shrewd use of social media that prevented her from simply fading into the background.
Palin's first post-election social media triumph came in August 2009, when she used the now-famous term "death panels" while commenting on President Obama's healthcare proposal on her Facebook page.
Crosshairs on a Map
In the wake of this weekend's shootings, Palin was being criticized for having posted a map on her Facebook page last March that used crosshairs to pinpoint the locations of 20 specific Congressional seats held by Democrats that she encouraged supporters to target in the recent mid-term elections.
One of those seats was held by Gabrielle Giffords, the U.S. representative who was injured in this weekend's shooting spree. Palin's critics argued that her use of crosshairs in this context may have incited the shooter.
Now that we've had some time to actually digest some real facts related both to the shooting and the alleged shooter, I find it hard to believe anyone can ascribe any real political motive to this act. It appears to simply be the act of a mentally disturbed individual, and we may never know his true motive.
Is This What Social Media Is About?
As for the social media aspect of this situation, it makes even less sense to blame a specific item posted on any site for causing someone to commit a crime. I do think, however, that we all should take stock of the words we use — and how we use them — when posting on social media sites.
Too often people are saying things in online venues that they would never dream of saying to someone in a face-to-face conversation. Even if harsh words splashed across a social media platform don't incite violence, they aren't likely to bring people together either — and isn't that what social media is supposed to be about?
---
TechNewsWorld columnist
Sidney Hill
has been writing about business and technology trends for more than two decades. In addition to his work as a freelance journalist, he operates an independent marketing communications consulting firm. You can connect with Hill through his
website
.