American consumers' attitudes toward Facebook appear to be cooling, based on the results of a Pew Research Center survey released Wednesday.
Forty-two percent of the roughly 4,600 people who responded to the May poll said they had taken a break of several weeks from checking the platform.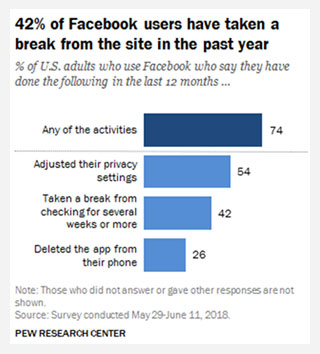 Approximately 68 percent of adults in the United States use Facebook, suggests a survey Pew conducted in January. Roughly 75 percent of participants in that poll said they accessed it daily. Daily users typically accessed Facebook several times a day.
"Facebook's probably losing subscribers for a number of reasons," said Michael Jude, program manager at Stratecast/Frost & Sullivan.
"First, demographics — the crowd that made Facebook great is into new things, and it's losing its newness," he told the E-Commerce Times. "Facebook always was a fashion, but now that the baby boomers have accepted it, it's probably looking more and more establishment to the 'newer is better' crowd."
Facebook usage in the 18-24 age group will fall by 5.8 percent, according to eMarketer, which estimated the company will lose 2 million under-25 users this year.
"Second, governments are beginning to notice that Facebook isn't very secure," Jude continued. "Our government's asking [people in the] military and other sensitive government occupations to drop Facebook because it can disclose lots of sensitive information to bad actors."
Privacy Problems
Facebook depends on advertising for revenues, and "must correlate a lot of personal information to target advertising," Jude pointed out. "Many people aren't comfortable with that."
Pew's May survey about user behavior in the past 12 months revealed the following:
54 percent of respondents aged 18 and up adjusted their privacy settings;
Only one-third of those aged 65 or more adjusted their privacy settings, compared to 64 percent of younger users;
26 percent deleted the Facebook app from their cellphone; and
44 percent of users aged 18-29 and 12 percent of users aged 65 or more deleted the Facebook app from their cellphone.
Other findings:
9 percent of users downloaded personal data about them available on Facebook;
47 percent of those users deleted the Facebook app from their cellphone; and
79 percent of those users adjusted their privacy settings.
"Anyone who's concerned about identity theft and privacy should be concerned about how Facebook is using their data," said Rebecca Wettemann, VP of research at Nucleus Research.
"I expect abandonment rates will continue," she told the E-Commerce Times.
Facebook "has unfortunately developed a reputation for not being very trustworthy," Frost's Jude noted. "It has been caught in some major lies that raise user concern, about things like whether it shares users' data with political parties, for example."
Those concerns possibly were fueled further when The Wall Street Journal last month reported that Facebook had sought detailed financial information from banks about their customers.
Facebook said it wanted the data to offer users better services.
However, "Facebook's leadership certainly isn't popular these days, and being circumspect about letting users know how information is being shared doesn't help," Nucleus Research Principal Analyst Barbara Peck told the E-Commerce Times.
News Feed Confusion
Many Facebook users do not understand how its News Feed works, according to results of another Pew survey, also released Wednesday.
Fifty-three percent of the U.S. adult respondents did not understand why certain posts were included in their News Feed but others were not, and 20 percent did not understand the feed well at all.
"The News Feed is very complex," noted Alan Lepofsky, principal analyst at Constellation Research.
"Facebook leverages information — such as who you're connected to, posts you've liked or reacted to, and posts you've commented on — to determine what to display," he told the E-Commerce Times. "No two people see the same posts in the same order."
Only 14 percent of Facebook users surveyed believed that ordinary users had a lot of control over content appearing in their News Feed; 28 percent thought they did not. Further, 37 percent of users aged 50 and above believed users had no control over their News Feed, but only 20 percent of those aged 18-49 shared that opinion.
"People do have some control over their News Feed, such as choosing to see 'Top Stories' or 'Most Recent,' whom to prioritize, and the ability to hide posts," Lepofsky said. "Not everyone is aware of these features, and memes are frequently circulated containing false claims about how the News Feed restricts what you see."
People choose their friends and the Pages they follow, and that's what they see on their News Feed, a Facebook spokesperson said in a note provided to the E-Commerce Times by company rep Jimmy Raimo.
"Posts from friends and Pages they follow are then rank-ordered based on what's most meaningful to them," the spokesperson said.
To help people understand the process, Facebook has "launched an advertising campaign on Facebook; expanded our Help Center Resources; and created Inside Feed, a video blog devoted to explaining how News Feed works," the spokesperson said.
"We know there is more work to do and we're committed to doing it," the spokesperson added.
Still, Facebook has "become the social media equivalent of IBM, where they don't necessarily need to be continuously profitable to survive," Nucleus' Peck observed. IBM has had one positive quarter out of the past 22, "and they're still around."