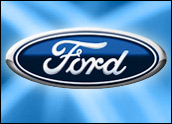 Twitter, Pandora Internet radio and other popular smartphone apps are hitting the road, thanks to Ford Motor Company's Thursday announcement of forthcoming dashboard technologies that will soon be available in a wider, more affordable range of its cars.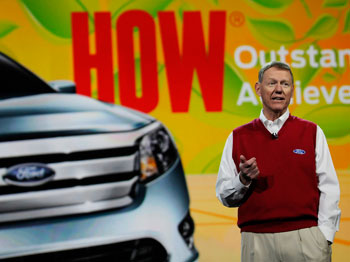 Ford CEO Alan Mulally introducing Ford's MyFord Touch driver connect technology at CES. (Photo by Sam VarnHagen/Ford Motor Co.)
Ford CEO Alan Mulally, along with other company executives charged with integrating more consumer-friendly technologies into their cars, demonstrated the new options at the Consumer Electronics Show in Las Vegas. The execs showed off new steering wheel and voice-based controls, along with an eight-inch dashboard touchscreen that will bring more customization and communications to the vehicles.
The advances build off of Ford's existing Sync technologies, which were introduced two years ago in partnership with Microsoft's automotive tech division. Now going by the brand name "MyFord Touch" — and also "MyLincoln" and "MyMercury Touch" for those lines — the new connectivity technologies will be available to potential car buyers this spring with the rollout of the new Lincoln MKX, Ford Edge and Ford Focus. The impact to a car's sticker price will vary from US$400 to $900, depending on whether basic features or more advanced options are wanted. However, company officials hope to have 80 percent of its model lineup MyFord Touch-ready over the next five years.
Taking MyFord for a Test Drive
Apps like Twitter and Pandora won't sit inside the car itself. Ford executives said they're working with the individual application providers to integrate its technology with theirs, and consumers can use their own phones and data plans; no buying subscriptions to special in-car services.
In fact, "integration" seems to be the key word describing Ford's overall technology strategy, said Mike Austin, technical editor for Car and Driver magazine. "This is really revolutionary. There's a lot of stuff that people who have electronics are already familiar with, from an app perspective and functionality perspective. If you have an iPhone, you'll know these already," Austin told TechNewsWorld. "We've had MP3 and phone features in cars for a while. But this interface is pretty slick, tying it all together in a very useful way, and that's what I think is special about it — integrating everything and using the functions that help tie it all together and minimize the driver's distraction."
Safety Features
That last issue — driver distraction — is enough of a concern to get several states to ban handset use while driving, and it's also uppermost in the minds of Ford's technology specialists, company execs said Thursday. That's why the in-car WiFi feature that allows for Web browsing won't work unless the car is in park. Text messages received are "read" to you by the same voice that provides turn-by-turn navigation; no texting while driving.
One point in Mulally's keynote address involved simulation studies that track eye movements and driver distractions. "It's pretty remarkable how their system improves it," Austin said. "The focus is to make sure as much voice control is used as possible. In that sense, they even limit the navigation functions. You can't put a destination on the touchscreen while you're moving, but the voice system is robust enough that you can still speak the commands."
Regardless of these safety-minded intentions, however, these new in-car technologies could still give drivers added temptation to take their eyes off the road or their hands off the wheel, said Digital Trends publisher Scott Steinberg. "Anything based on the touchscreen will require taking eyes off the road. If you want to tweet, it's another excuse to take your eyes off the road," Steinberg told TechNewsWorld.
"We now have connected vehicles that reflect our lifestyles — not just professionals, but the average consumer. There's an inherent danger in these systems. We have enough distractions as it is. You have to ask yourself, how much is too much?" he said.
Helping Drive Ford Back to Profitability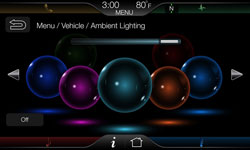 The key interface on MyFord Touch is the 8-inch touchscreen center stack display, shown here with vehicle settings active, in this case providing ambient lighting control.
(click image to enlarge)
Ford officials told the CES crowd that Sync options helped the company sell a lot of cars, with 32 percent of its buyers saying they played a big part in their decision to purchase. More than 60 percent of Sync buyers are using voice commands. All of this has prompted Ford, in the midst of a financial turnaround, to put the "pedal to the metal" regarding technology research and development.
"They're moving really quickly, on a consumer electronics pace and not at an automaker's pace," Austin said. "People are going to start looking at what they're doing and say, 'how come every car can't do this?' They're moving quickly with apps and app updates."
However, Austin really likes the automaker's desire to make as much of this technology as accessible as possible, no matter what a car buyer can afford. "If you buy the basic Sync system, you'll still have turn-by-turn direction that will download to the car. They'll give it to you free for the first three years. You can get a lot of this stuff without having to shell out for a more expensive car or a bigger nav system."
"Ford is definitely being very forward-thinking. They're showing a lot of moxie in being willing to take these risks," Steinberg said. "The car industry needs a big push to revive it, and they're hoping this will be the thing to do it."