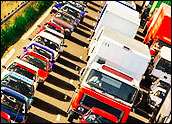 Rock down to "Electric Avenue" at the 2010 North American International Auto Show in Detroit this week, and you might think that sales of battery-powered cars were going to take the industry higher sooner rather than later.
Twenty models from automakers large and small get their own 37,000 square-foot section at the annual show, and a few of the featured cars, like the Chevy Volt and the BMW B-Class F-Cell, actually hit dealer showrooms this year.
Yet despite government mandates and money that are putting some juice into the fledgling battery-only car segment, the technologies and infrastructure necessary to give the internal combustion engine a run for its money are still viewed as being at least a decade away from viability, much less affordability.
So if it isn't the Year of the Electric Automobile, "it's certainly the year of electric automobile hype," Robert Farago, an automotive journalist and former publisher of TheTruthAboutCars.com, told TechNewsWorld. "It's definitely too early. The Volt is going to be a limited-edition vehicle. Some of these (models) are no more than prototypes. There's no mass market yet, and nobody's proven that there could be."
Defining Pure Electric Cars
Toyota, Farago said, looked at the electric-only options and decided to stick with its hot-selling Prius hybrid, which combines gas and electric power — with both sometimes running simultaneously. The Chevy Volt always runs on an electric motor, but it does have a gas engine that kicks in to help boost the driving range of the car. Nissan's Leaf may represent the next step in all-electric power generation for cars. However, the Volt and Leaf are both priced in the US$30,000 to $40,000 range, which may be put the brakes on some consumers' purchasing plans, no matter how much they would like to help the environment.
"The Leaf is probably the most serious and affordable of the all-electric vehicles we're going to see in the near term," said John Wolconowicz, senior auto analyst for IHS Global Insight. "Think of the Volt's technology as the next step beyond the Prius technology. Then the pure electric car becomes the ultimate goal."
In addition, both Wolconowicz and Farago refuse to view the Tesla, with its steep price tag and limited range, as a serious product. "It's a toy, a frippery that should be made by Sharper Image," Farago said.
The Support for All-Electric Cars
The cars themselves — and the prices — are only one roadblock in the way of electric-only success. More infrastructure is needed for public and private battery-charging, whether they're in the form of plug-in service stations, grid connections for private homes or options for city-dwellers who might fall in love with the commuter efficiency aspects of electric vehicles but live in apartment buildings without garages.
Then there are the auto batteries themselves. "Four things need to be accomplished. First, a lower cost for the batteries themselves. They're quite expensive now," Wolconowicz told TechNewsWorld. "Also, a more compact battery — they weigh a lot and take up a lot of room. Then maybe most significantly, trying to improve the driving range of the battery." The Volt promises 90 to 100 miles on a full charge, whereas a gas engine can take you 400 miles. And — perhaps most ironically, considering the green motivations for electric vehicles — "there needs to be a better environmental disposal option for the batteries."
Government Incentives
New government initiatives pushed by the Obama administration last year tightened fuel economy requirements for automakers to 35 miles per gallon by 2016, and there's no reason to think regulators will stop there. However, the government is also providing financial incentives to the industry and consumers to push greener auto technologies.
"They're gaming the system as much as humanly possible, so now it's down to a matter of political will. It doesn't have anything to do with practicalities, or whether there's a market right now to sell to," Farago said. "They've subsidized everything from stem to stern, from batteries to the automakers themselves. They're doing everything they can to put is in these vehicles, including spending all our [taxpayer] money."
Farago argued that pushing immature technologies and expensive models can damage a nascent electrics-only segment. However, Wolconowicz said Detroit might as well start now, if research shows that electric and hybrid vehicles could make up nearly half of the auto industry's fleet by 2020 to 2025.
"It's exciting that we have a solid start to this type of vehicle," he said. "For years we've talked about it, and we didn't do anything. Now we have a number of manufacturers big and small, with battery companies big and small, working out the problems."