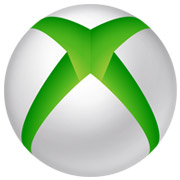 Titanfall — a video game for several Microsoft platforms — is about to be released, and the company apparently sees it as a hugely important title for its Xbox One console.
Titanfall is a multiplayer shooter that pits two teams of up to six players against each other in open combat. Players control "pilots," who can either engage with each other directly or take command of titans, giant robots that can be called in from the sky. Pilots are more agile, but titans are more powerful.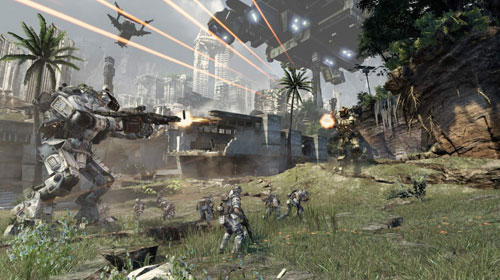 Players can opt for a number of game modes, including Attrition, which is a team deathmatch-style mode focused on garnering as many kills as possible; Last Titan Standing, wherein all players start in titans and have a single life; and the classic Capture the Flag mode.
Launch Events
Titanfall will be available Tuesday for Xbox One and PC. It will debut on Xbox 360 on March 25.
Microsoft is planning a series of major launch events for the game Monday evening at retail outlets across North America. The company is giving away more than US$2,000 worth of prizes at each store's launch event, starting at 9 p.m. Prizes to be handed out include Xbox One bundles prepackaged with the game, controllers, media controllers, and subscriptions to Xbox Live — the Xbox multiplayer service that is required to play Titanfall.
Fans also will have the chance to try out the game at demo stations before it goes on sale at midnight. Xbox will host a live stream with walkthroughs of new maps and developer Respawn Entertainment answering fan questions and discussing the future of Titanfall.
Important Game
Titanfall, which has received early acclaim from critics, is viewed as an important game for Microsoft. The company's Xbox One system has languished in comparison to Sony's PlayStation 4, with sales of the latter outpacing the Microsoft console by two-to-one in January, according to NPD data.
Sony sold more than 6 million units by March 2, while Microsoft shipped 3.9 million Xbox One consoles to retailers by the end of last year, according to company figures.
"I think it will give those that have not purchased an Xbox One or had delayed in purchasing it another reason to go out and actually upgrade and buy one," Susan Schreiner, an analyst at C4 Trends, told TechNewsWorld. "Right now, the PlayStation has a substantial lead. I would say Titanfall has the possibility of narrowing the gap."
Titanfall comes with a high pedigree as it was developed by much of the same team behind Call of Duty: Modern Warfare, a game that revolutionized online multiplayer gaming in 2007.
Microsoft is bundling Titanfall with the console in a package deal that retails at $500 — essentially giving the game away for free, as the console itself retails at that price point. The title also may drive subscriptions to Xbox Live. The premium version of the multiplayer service is required to play Titanfall, which is pegged as an "always-online" game.
Online Problems
The online-only aspect of Titanfall already has caused some problems, with publisher Electronic Arts canceling this week's planned launch in South Africa after testing showed online play performance was not quite at an acceptable level.
Respawn Entertainment will look further into the issues after the game's release, cofounder Vince Zampella said. Many major online multiplayer games have had issues with meeting demand at launch, including last year's Grand Theft Auto V and Battlefield 4, and it's unclear whether Titanfall's launch will take off without such hitches.
"As with absolutely any online-driven gaming experience, there's a minimal expectation of some issues — we can never tell just how significant until the service is live in the wild," Steve Bailey, senior games analyst at IHS Technology, told TechNewsWorld.
"This is a sizeable learning curve for EA, in terms of both console gaming and leveraging new hardware (Xbox One)," he said. "However, if we see a repeat of the issues that dogged Battlefield 4, it would compound the hit that EA's reputation will suffer as a result. The company has made major investment into this incredibly complex and demanding sphere, but needs a less bumpy ride than that which played out in 2013."
Whether Titanfall can help Xbox One surpass PS4 in sales also remains to be seen.
'Tremendous Pedigree'
"The horizon is still rather blurry for a lot of games on both formats, compared to the resolution we now have on Titanfall, which has tremendous pedigree and has been a tangible, playable presence at many trade shows and conferences for quite some time," Bailey noted.
"Sony has Infamous: Second Son inbound, to which I wouldn't attribute as much interest as Titanfall — although that's no slur on its quality — but it also has a lot of first-party hands that it's yet to show, and I suspect this year's E3 or even GDC (Game Developers Conference) will see PlayStation rectify this," he said.
"Further, PS4 has a more industrious indie/download slate, PlayStation Plus is gaining momentum, and the price differential remains," Bailey pointed out.
"Overall," he concluded, "we still stand by our existing analysis on PS4 versus Xbox One: It's the former that will achieve an overall lead, but the battle won't be so clear-cut in the Xbox heartland of USA."