After years of running, jumping, swimming and shooting, Lara Croft is going back to the beginning. The heroine of the sometimes loved, sometimes loathed video game series Tomb Raider is back for her "first adventure." Just as Star Trek and James Bond were rebooted on the big screen, Tomb Raider is getting a fresh start.
The new game from developer Crystal Dynamics and publisher Square Enix — simply titled Tomb Raider — offers a more realistically proportioned Croft. Instead of tight shorts, she now wearing trousers. Instead of being a seasoned treasure hunter who packs twin pistols, she's a bit green — and she's far less hardened.
"It appears to be a gritty and realistic approach at a reboot, as franchise reboots often are," said George Chronis, editor of DFC Dossier.
"The James Bond films have done this a few times when 007 became too much of a caricature," he noted. "The goal is to return a sense of respect around your hero or heroine. That's good for old fans and potentially new ones."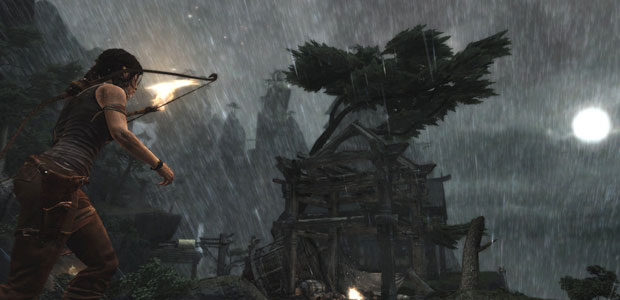 Raiders of the Lost Art
A smash hit when it arrived 17 years ago for the Sega Dreamcast, the game soon spawned sequels for every platform imaginable. However, in recent years the series has been plagued by lackluster follow-ups — not to mention two lackluster films.
Now developer Crystal Dynamics is looking to reset the story of Croft. In this new outing, she is a 21-year-old college graduate who is in search of adventure. While heading to her first major archeology expedition, she is shipwrecked on a mysterious island. Instead of the confident and often witty Croft, gamers will get to play as a somewhat frightened and unsure version of the character.
Give that Croft is using a bow and arrow instead of a pair of pistols, it is hard not to see some comparisons to the heroine of The Hunger Games as well.
"That is just a coincidence," said Paul Semel, editor at Electronic Gaming Monthly.
"Really this is because they were trying to make a more mature and realistic game. The tone and the way it looks just plays to that," he told TechNewsWorld.
"She is more proportionally realistic visually, but it goes beyond the way she looks. This Lara Croft has some knowledge and skills, but she has never been in a situation like this before," Semel pointed out.
Along the way Croft will still run, jump and swim. She'll also have to learn to use those survival kills. As this is a mature-rated game, Croft will also have to learn to kill for the first time. Unlike in many games, where blasting away is no big deal, Croft will be somewhat affected by it.
"She will use those survival skills that she has been taught, but never had to use before to survive," added Semel.
Reboot Risks
There is always a risk in rebooting a fan favorite series, but just as Star Trek and Batman proved at the movies, doing more of the same can only take viewers so far. Sometimes it is necessary to go back to the beginning to do something fresh. The question here is whether gamers — who want the same but different — will embrace this radically different Lara Croft.
"Some purists may hate it," said Semel. "They may want her to be the Lara Croft that is experienced and tough already."
That said, this is still very much a Tomb Raider game at its core. Sequels are often desired, but too much of the same isn't going to keep gamers coming back for more.
"You have to look at the economics of games. Games, as you know, are quite expensive to create," said video game analyst Mark Lewis Baldwin of Baldwin Consulting.
"When a publisher or developer is faced with spending [large amounts of] money on a totally new concept or spending it on something proven, spending it on something proven seems to be a better investment," he explained. "That's why you see so many sequels in the game industry."
Temple Running
While the original Tomb Raider was a fairly basic game and in many ways could be seen as a somewhat refined 3D version of the classic side scrolling action game Pitfall, gamers expect more today.
Characters need to do more than just run and jump through numerous levels, although the action game Temple Run has become widely popular on tablets and smartphones, possibly filling the void for that sort of game play.
The character-driven Lara Croft games need a bit more, and the competition has picked up — thanks to games such as Uncharted and Far Cry.
"Temple Run just happens to be a 3D action game that is set in an Indiana Jones-like setting, but Uncharted came along and it did what Tomb Raider did, and it did it better," said Semel. "It did the dialog and combat better. That set the bar for the new Tomb Raider."
Whether Croft is up to the challenge is now in gamers' hands.