Electronics mega-retailer Best Buy will carry the Toshiba Thrive Android tablet at its online and brick-and-mortar stores this weekend.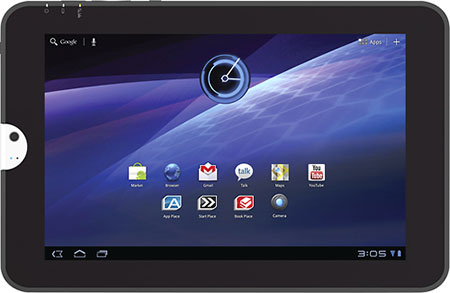 Toshiba Thrive
"I can confirm that we're going to have in-store availability starting July 10," Best Buy spokesperson Jeremy Baier told TechNewsWorld.
The Thrive runs Android 3.1 Honeycomb and is offered in three models, with 8GB, 16GB and 32GB of storage.
It's been available for pre-order online from Best Buy, Amazon, Newegg and Office Depot from June 13.
Toshiba previously announced that the tablet would be available at brick-and-mortar stores and online from major retailers and e-tailers, including those named above as well as OfficeMax, Radio Shack and hhgregg.
The Thrive is available in a WiFi-only version. Toshiba's suggested prices begin at US$430, but not all retailers are sticking to them.
The Thrive's Tech Specs
The Toshiba Thrive is a 10.1-inch tablet based on an Nvidia Tegra 2 superchip. This has a dual-core ARM Cortex-A9 CPU.
The Tegra 2 offers multitasking, speedier Web browsing, console-quality gaming with an ultra-low power Nvidia GeForce GPU, and has hardware-accelerated Flash.
The Thrive runs Android 3.1 Honeycomb.
It has a 1280 by 800 high-resolution multitouch LED backlit widescreen display. This uses Toshiba's Adaptive Display and Resolution video enhancement technologies.
The Thrive has features that are now standard on many tablets — a virtual keyboard with Swype technology, a gyroscope and an accelerometer, USB 2.0 and HDMI ports, and an SD card slot.
It comes preloaded with Toshiba File Manager and PrinterShare. The latter provides wireless connection to printers.
The Thrive has a 2MP front-facing webcam and a 5MP rear-facing camera, stereo speakers with sound enhancement technologies, and it comes with a slip-resistant surface.
Both the device's battery pack and back cover are removable.
Accessories include back covers in various colors and two docking stations.
The Toshiba Multi-Dock with HDMI comes with a full-size HDMI port to which users can connect an HDTV or LCD monitor. It has two USB 2.0 ports for connecting a keyboard or external hard drive, and a 3.5mm stereo audio port for external speakers or headphones.
The dock comes with an AC adapter and can charge the Thrive when plugged in. MSRP is $60.
The Toshiba Standard Dock has a built-in 3.5mm stereo audio port that connects to external speakers or headphones. Users can access the Thrive's built-in ports even when it's plugged into this dock.
The standard dock can be used with a Bluetooth wireless keyboard, which is sold separately. It charges the Thrive when plugged in. Price is $35.
Eyeballing the iPad
The Thrive has been touted as yet another challenger to Apple's iPad 2.
Price-wise, it might be competitive if retailers adhere to (or undercut) Toshiba's guidelines of $430 for the 8GB model, $480 for the 16GB tablet and $580 for the 32GB device.
The WiFi-only iPad 2 starts at $500 for a unit with 16 GB.
However, Amazon and Best Buy are pricing the Thrive starting at $480. Newegg is sticking to Toshiba's MSRP guidelines, and it's not clear whether other retailers will do the same.
"I think Toshiba carefully optimized the price to be lower than that of the iPad 2, but not so low that they can't make money," Carl Howe, director of anywhere consumer research at the Yankee Group, told TechNewsWorld.
Price Is Not the Point
However, the price differential may not be as significant as other factors in influencing consumer choice.
"The many ports will appeal to Android geeks, but everyone else will wonder why [the Thrive] isn't as clean-looking as an iPad," the Yankee Group's Howe said.
The real issue when it comes to buying tablets is how many apps they can access, and here's where the iPad and iPad 2 come out ahead.
"Thrive's big challenge is the app gap," Howe pointed out. "Android [Honeycomb] has about 300 apps, while the iPad has more than 100,000. That puts Toshiba at a … disadvantage vis-a-vis Apple."
Consumers will tend to lump all Android tablets together in one category as opposed to the iPad in the same way PCs got lumped together against the Apple Mac, Howe said.
"That's bad for device differentiation," Howe stated. "I think Toshiba, like all the Android tablet makers, has an uphill climb ahead of them to gain a foothold in the tablet market."
Best Buy declined to provide details on the demand for the Toshiba Thrive.
"We do not comment on units sold," Best Buy's Baier said.
Toshiba spokesperson Kelly Landers declined to discuss sales and pre-order figures.