Note: This is part of an occasional series of columns profiling former members of the traditional media who are now working in the digital arena.
It's June 1991, and I'm starting a new job as a reporter for the ABC affiliate in Dallas, WFAA-TV. It's intimidating as hell because the station's reputation in the industry is stellar, and I'm not sure I can measure up. After all, not long after my first day there, I'm watching PBS and seeing the man who hired me — legendary news director Marty Haag, now deceased — accept a Columbia/duPont Award for the station's coverage of the first Persian Gulf war.
You read that right; a local station in Texas sending one of its own to cover THE story of '91, along with the big boys from ABC, CBS and NBC. What's more, WFAA's reporter, Robert Riggs, is winning the honor because he sniffed out a story nobody else got, including the networks; the Pentagon was denying its own troops the right to hold religious services while stationed in Saudi Arabia before the invasion of Kuwait.
Tradition of Investigation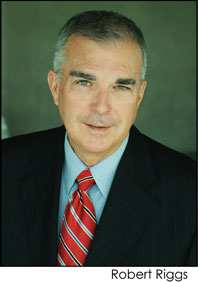 Riggs' work was part of a long tradition at WFAA-Channel 8 of digging up paper trails, following the money and throwing the spotlight on wrongdoers big and small — but mostly big. A few years earlier, the station's sports department broke the pay-for-play scandal at Southern Methodist University which resulted in the infamous NCAA "death penalty" for the Mustang football program: no football for two years. That effort won a Peabody Award, one of five for the station. The tradition continues: Earlier this year WFAA was the first local TV station to get the duPont Gold Baton award in recognition for all those years of first-class investigative reporting.
Riggs has three duPonts and a Peabody. He's uncovered crooked prison parole systems that released a vicious murderer who promptly set about murdering again. He traced lethal heroin responsible for the deaths of suburban Dallas teens to Mexican drug cartels. Despite his earlier experience in Iraq, the Pentagon embedded Riggs with Jessica Lynch's Army air defense unit in 2003. While there, he reported on Patriot missile friendly fire deaths, and that work ended up in a "60 Minutes" story. Terrorists using the Internet to recruit suicide bombers? Riggs was one of the first to report that.
When Riggs was at WFAA from 1981-2000, he broke stories and won awards. When Riggs went to KTVT in 2002, he broke stories and brought honor to the station. Yet even with all that experience and all those accolades, a lousy economy and its impact on shifting TV news priorities did to Riggs in March 2008 what lawyers for some of his targets couldn't do.
They cost him his job. He was laid off.
From On-Camera to Online
It's February 2009, and Riggs' laughter fills the phone when I tell him he's one of the reasons I felt so inadequate during my first year at Channel 8. I'm talking to my former colleague because he's the latest example I've found of a former hard-news guy — Journalist with a capital J — going over to the digital side, if not the dark side, of media relations and reality-show television programming.
"I'm having more fun than I've ever had," Riggs tells me. "I went to the Search Marketing Expo last week, and that was a whole new world for me."
He was there gathering intelligence for his new titles: executive producer/new programming and development for Bobby Goldstein Productions, and president, Robert Riggs Communications, which offers online reputation management. Both will offer a chance to combine Riggs' old-school investigative skills and an obsession with the Web that started in 2003, when he and his investigative producer were looking for ways to maximize their TV station Web site's storytelling potential.
"At that point the CBS TV station group Web sites were lame, really bad," Riggs said. "Not a lot of attention was paid to it. So we contacted Google ourselves, and we found out that Google's spiders (software programs that skim Web sites looking for data) were only sporadically crawling the sites. We started the strategy of building an email database. We had expert sources on terrorism that we thought would be interested in what we were doing all around the world. We had a list of hundreds of places — blogs, reporters at the BBC, the British government — and every time we would have a story coming out we would send out a three-sentence paragraph about what was coming, and a link to our story. What started happening was hundreds of links pointing to our stories, and they were at the top of search pages. We were kind of crudely optimizing our copy, and we began to find that we had a huge audience for what we were doing."
His new focus on tracking what is said about clients on the Web was sparked by stories he did on a very public figure in Texas who had carefully crafted a certain image over many years. But Riggs' stories recast that image in a new, negative light. A lobbyist friend in Austin called and asked if Riggs was getting blowback, name-calling, pressure from CBS management. "When I said yes, he said, 'I'll tell you why: You've rewritten the legacy of this person.' At that moment it struck me — your legacy lives forever on the Internet. We used to talk about one-day stories; you talk about them for a day and then you forget about them. Not on the Internet."
Hence the idea for online reputation management catering to high-net worth professionals; creating new content to balance out negative buzz. "It's not trying to push down bad information. There's enough people doing that. It's just that there's so much clutter, can you do that and also can you monitor if a blogger says something bad."
Seeking Justice With Web 2.0
His new role with Bobby Goldstein Productions is the one that might raise eyebrows, considering Riggs' resume and reputation for highbrow journalism. BGP is the outfit that brings you "Cheaters," the controversial reality show that outs unfaithful spouses and significant others with plenty of hidden cameras and lots of bleeped-out language. "It has an international audience. It's one of those shows that a lot of people watch but they don't want to tell people they watch and enjoy it," Riggs said. "I can't tell you all the people in Highland Park (a tony, old-money section of Dallas) who tell me they watch it and love it."
Riggs' job will be to find digital outlets, including those using social media, for future BGP productions, including one that is close to his justice-seeking, crime-exposing heart: iaccuse.com, a platform for righting wrongs using the power of Web communities.
"If you were upset with Bernie Madoff, you could make the accusation, send him a notice of the accusation and demand a reply. If you're mad at the utility company over high rates, you can come on this site, upload your own video. If you want to go to the courthouse or public utility commission and encourage others to do it, go do it. Everybody with the same beef can join the accusation and put up the same video. And on the other side of the screen (on the Web site) the accused can counter with their video and can counter with their stuff."
But how do you ensure that the oft-mentioned wisdom of the crowds doesn't morph into ugly mob rule? What about accuracy, balance, protections against extreme behavior? Riggs says there will be some safeguards, but acknowledges that personal responsibility will be key. "It's still going to be the wild west of the Internet. In this day and age it's up to the citizen. We're going to put up a way so people can red-flag something and people can self-police."
The Next Edition of Investigative Journalism?
Riggs' interest in iaccuse.com may indeed point to his interest in digital media as a new channel for storytelling and truth-seeking. I think it also uncovers his deep frustration with the state of investigative journalism. With ad sales plunging for local TV stations around the country, a three-part sweeps series that puts a major advertiser in a bad light may not have a news director or general manager's support like before. "It's a sad day in journalism, a sad day for the country that that model for investigative journalism doesn't work anymore. It really is not being done. The few places they claim it's being done, it's done in a shallow, superficial manner. It's easy-to-turn consumer reporting. For in-depth investigative reporting, it takes days, and none of these companies are willing to devote those kinds of resources."
Like several other (current and former) reporters I've spoken with when discussing the future of journalism, Riggs sees salvation on the Internet, with its niche audiences and its newfound focus on two-way communication with the customers. "I think old-school investigative reporting will be able to reemerge on the Web, with a non-profit foundation supporting model." He cites Pro Publica, led by former Wall Street Journal managing editor Paul Steiger, as an example. And he knows that journalists who don't see the entreprenurial options in their work may be cutting themselves off from their audience. "People worry about pandering, but you may be able to find more stories. If you're thinking more about the audience you might be more insightful."
Riggs shares another trait with others I've met in a 30-year career riding a computer keyboard and/or holding a microphone. "I always thought that journalism was a special calling," Riggs said. "You weren't going to get rich doing it or anything like that. I think all of us were motivated by thinking we could make a difference. It would enlighten society, tap people on the shoulder and say, did you know this?
"If we had been doing our job, this financial meltdown would not have been a big surprise. More reporters should have been out there digging into it."
---
TechNewsWorld columnist
Renay San Miguel
started his journalism career with his hometown newspaper in Texas in 1979. He moved to television in 1985, anchoring, producing and reporting in Austin, Dallas and San Francisco before joining CNBC as a technology correspondent from 1997 to 2000. Following a stint with CBS MarketWatch, which included filing tech stories for the CBS Early Show, San Miguel joined CNN Headline News in 2001 as an anchor/tech reporter. He also contributed digital content for CNN.com. After his 2007 departure from CNN, San Miguel founded Primo Media and now freelances in television/online reporting and media consultation.
---