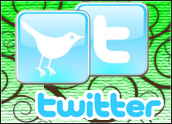 Those who are looking for Twitter to finally hit a revenue-generating home run may have to settle for a series of singles and line-drives instead. The microblogging service keeps rolling out new features that may eventually add up to a business model — the latest examples being the ability to search Web pages through links embedded in tweets, and to rank results based on reputation.
Twitter's new vice president of operations, Santosh Jayaram, mentioned the new features during a Wednesday panel discussion at TIEcon, a conference for enterpreneurs in Santa Clara, Calif, according to a Cnet report.
Twitter will soon add the ability to search data within the links that users send to each other, said Jayaram, who was formerly in charge of search quality at Google. A recently added feature, trending topics — the most popular subjects that are the focus of user tweets — will also be ranked according to the reputations of senders.
No launch date was set for the new features; indeed, Jayaram said his company's developers were still hard to work on them. However, when they arrive, they may bring value to Twitter in three ways: setting it up as a competitor to Google in real-time search; making Twitter an even more attractive acquisition target; and providing a path to monetization.
Searching the Web via Tweets
"I definitely think that the value for Twitter is in its search," Kristen Nicole, social media expert and coauthor of The Twitter Survival Guide, told TechNewsWorld. "They're really layering in more value for the interaction capabilities of Twitter, which I think will help build the community around Twitter in general."
It was just last week that Twitter introduced its previous set of enhanced search features, including saved searches, the aforementioned trending topics and real-time search for user updates. They were needed to help clear through some of the information clutter that can build up with heavy Twitter use, Nicole said.
"Search has been one of the more difficult things for Twitter to set up," she noted. "Being able to parse the type of information you need has been very difficult to do directly through Twitter."
However, the company's approach seems to involve taking some of the features offered by third-party applications — such as Tweetdeck — and integrating them into the core service, she added.
Searching for Twitter Revenue
The new features and recent hires all point toward business development.
A new, improved Twitter has the potential to replace other mainstream Web-based services now taken for granted by consumers and business users, Nicole said. Offer that service with a Twitter brand, and perhaps revenue will follow.
"I jokingly refer to email as a precursor to Twitter," Nicole said. "You see a lot of direct communications in the workplace on Twitter for what we used to do on emails. With things like favorite-ing certain tweets, you are, in essence, bookmarking something, so the potential is there to become a bookmarking service."
A recommendation service is another possible route to cash for Twitter, along with aggregated market research for brands based on what people are tweeting about goods and services, Nicole said. An interesting concept Nicole posited: vanity searches, based on the @yournamehere method for identifying one's self on Twitter.
"When I put @KirstenNicole2 on my name tag at conferences, people know exactly what that means," she said. "Google may be pushing their new profiles, but they don't have anything that's as simple and as easily recognizable for their own branding purposes. They could branch out into personalized searches — aggregated content related to particular individuals."