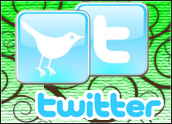 The founders of the social network Twitter — having already conquered the technology press/mainstream media and experienced the kind of rapid growth that one usually associates with viruses or kudzu — are hard at work on new features that may bring it the true holy grail of Web 2.0 companies: money.
In an April 1 blog post titled "The Discovery Engine is Coming," cofounder Biz Stone details his company's latest efforts to get users to stay on Twitter longer by tweaking its search engine. The company is focusing on the user's homepage by moving the search box from the upper right hand corner to the sidebar, Stone says. Real-time search results will appear on the homepage — users will no longer be redirected to another page.
"The best way to experience Twitter Search is when it's a natural part of your normal Twitter experience," Stone writes in his blog post. "This way of experiencing search is aligned with Twitter's simple approach. Normally, the tweets you would see on your home page are from sources of information that you have curated over time — in other words, the accounts you chose to follow. When you use search, you're asking for any tweets that contain the word or phrase you're interested in right now."
Stone says a small group of users are helping with testing the search process, and it will be rolled out to all users as soon as possible.
Sticky Tweets
"I think they're really trying to make the site more sticky," Yankee Group analyst Carl Howe told TechNewsWorld. "They'd really like to draw more people there and get them to stay, as opposed to just checking out the latest tweets and then going away. They want to engage people and give them a little more, and if they stick around, maybe they can show them some ads too."
Twitter is "haiku journalism," according to Howe — but the company's attempt to streamline and simplify search must also give it a Zen quality as well. "If you clutter things up too much, it loses value."
With the surplus of data now spilling over in the 24/7 mediaverse, Howe continued, "rather than going to mainstream news and weighing the value of The New York Times vs. CNN, [Twitter users] just go to their friends and ask them. You already have those trust relationships built, and you're comfortable with them, so you go with that."
The search tinkering doesn't lend itself to a wide variety of potential business uses for Twitter, in Howe's view.
"One obvious thing to do is see what partners are doing and also see what competitors are saying — or what's being said about them," he suggested, "but at this point, I'm still thinking of Twitter as a tool for consumers."
Trends and Saved Searches
There is value in Twitter members helping to determine hot Internet topics for each other, according to Stone, who finds this fascinating enough to try to work into an additional feature for the site.
"Trends are words or phrases being referenced with more frequency, suggesting that something interesting might be happening. When you click on a trend link, you can read the tweets and find out what's up. Trends is in beta — but it has potential," he wrote in his blog post.
Twitter is also working on saved searches for those terms or words that users look for on a regular basis.
"So, if you want to know what people are saying about the city you live in, the products you use, or just something weird, it becomes a link on your home page," he explains.
The cofounder also promises that any search features that end up a permanent part of Twitter will also become linked to the application protocol interface, so third-party developers can build on them.