Twitter on Thursday unveiled Periscope, the live-streaming app developed by a company it acquired earlier this year, reportedly for just under US$100 million. It's a big bet for an app that's in a genre that already has matured, but Twitter is counting on the mobile world's appetite for more video.
"The Twitter experience won't be changed much. People who broadcast video can share to Twitter so that people who click on the link can either view from the Periscope app or in a Web viewer, depending on the device. Given that 80 percent of our active users are on mobile, it's an important platform," Twitter said in a statement provided to TechNewsWorld by spokesperson Rachel Millner.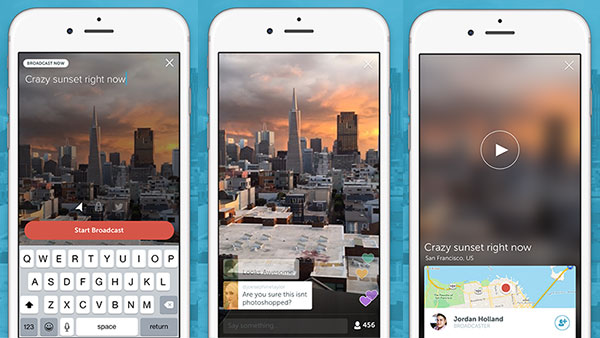 Streaming service Meerkat popped up around the time Twitter sealed the Periscope deal — and like Twitpic before it, has suffered from Twitter's self interests. Meerkat had been using Twitter's graph search to recommend live streams to Twitter users, but that hole has been plugged in order to drive more traffic to Periscope.
Periscope and Meerkat are a lot alike, with the biggest difference being Periscope's support for broadcasting replays of streamed content. Both allow broadcasters to store copies of their feeds locally, but Meerkat doesn't allow reruns.
A novel feature of Periscope, the app's "Most Loved" list, could be key to encouraging broadcasters to stream meaningful content. Viewers rate streams with "hearts," which broadcasters can acquire to move up the Most Loved list.
A New Way to Care
Periscope may not change Twitter all that significantly for the average user, but the introduction of live streaming may be a wild card for companies that advertise on the social network and deliver customer care over it, according to Dan Miller, lead analyst at Opus Research.
Businesses may not be ready to embrace this new form of communicating with customers, he suggested.
"We're just now getting to the point where if I'm on an airline and I have something to say on Twitter about a flight delay or how I'm being treated by somebody — companies are just starting to be able to interpret what someone has [tweeted] in the form of textual context," Miller told TechNewsWorld. "What's going to happen when you add streams?"
While the challenges businesses will face in attempting to leverage Twitter's live streaming are unclear right now, organizations from retailers to telecoms will attempt to work it into their customer care services, Miller predicted.
A New Ball Game
About 80 percent of Twitter's active users are on mobile devices. With Facebook calling mobile the future of its business, and Microsoft proclaiming it's a "mobile first, cloud first" world, the whole industry is looking to gain a foothold in the arena of smart things that move with people: tablets, smartwatches, smartbands and smartphones.
Twitter carved up a big fat slice of the mobile market with its text-based model — still its foundation — but it wants to evolve, observed William F. Zachmann, CEO and founder of Canopus Research.
"The future for Twitter is to get outside of 140-characters text and into multimedia," he told TechNewsWorld.
The world at large already has made that shift from text to video, because video requires less of a commitment from users, explained Natalie Petouhoff, vice president and principal analyst at Constellation Research. Twitter reported about 500 million "logged out users" last year — that is, people who view embedded tweets on other websites.
"So Twitter wants to make sure that they are continuing to capture the audience they've gained by ensuring video is a part of it," Petouhoff told TechNewsWorld.
"It also may have something to do with the announcements made at Facebook's developer conference," she said, "where they are changing how they allow people to post video."