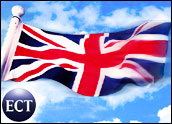 Three men in the UK, originally arrested on terrorism charges in October 2005, were sentenced Thursday to serve 24 years in prison after they admitted to using the Internet to incite murder.
Younes Tsouli, Waseem Mughal and Tariq Al-Daour initially denied the terrorism charges.
"The trial started over two months ago, and after the prosecution presented detailed evidence to the jury, the defendants changed their plea to guilty earlier this week," said Colin Gibbs, a lawyer in the British Crown Prosecution Service (CPS) Counter Terrorism Division.
"They admitted together purchasing Web sites using stolen identities and credit card details, and used the Web sites to publish the extreme propaganda and recruiting material produced by Al-Qaedain Iraq. The material was crafted to incite and recruit suicide bombers accessing the Web sites and forums internationally," he explained.
"Behind the apparent normality of their daily lives, these young men firmly believed, supported and set about inciting others to follow an extreme ideology of violent holy war against so-called disbelievers," he added.
A James Bond Terrorist?
Tsouli used the Internet name "irhaby007" — translated as "terrorist007" — a play on the UK's James Bond movie icon. He was responsible for updating the Web sites, while Mughal assisted, police said. Mughal and Al-Daour provided the stolen identities and credit card details to Tsouli, who was also responsible for setting up and administering a chat room used by supporters of Al-Qaedafrom which manuals for making explosives and weapons could be downloaded.
"These three men, by their own admission, were encouraging others to become terrorists and murder innocent people," noted Peter Clarke, head of the Metropolitan Police Counter Terrorism Command. "This is the first successful prosecution for inciting murder using the Internet, showing yet again that terrorist networks are spanning the globe."
Gruesome Footage
The UK court was told that the three men used the Internet to publish daily statements and films of the murder of coalition forces, police, officials and civilians — in addition to footage of the beheading of hostages, CPS reported.
Tsouli was a Moroccan granted UK residence shortly before his arrest. Mughal was a British citizen. Al-Daour was a Jordanian granted British citizenship in 2004.
"There's no question that we've seen terrorists use the Internet for a variety of purposes — for recruitment, for propaganda, for fund raising," Dean Boyd, a spokesperson for the U.S. Department of Justice, told TechNewsWorld.