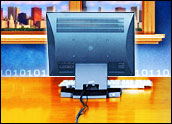 The VGA port, the connection that's bridged computers to their monitors almost from the birth of the PC industry, is on its way out.
Chip manufacturers Intel and AMD, with backing from various computer vendors, have announced their support for the venerable technology will be phased out by 2015.
They will speed up the adoption of DisplayPort and High Definition Multimedia Interface (HDMI) ports instead.
These newer technologies take up less real estate on laptops, have lower power consumption than VGA ports and support higher screen resolutions. They also support digital technology, which VGA doesn't — thus paving the way for richer apps on PCs.
Nuts and Bolts of the Announcement
Intel and AMD will phase out support for VGA beginning in 2013 and expect the technology to be off all their product lines by 2015. It will be replaced by HDMI and DisplayPort.
These newer technologies enable slimmer laptop designs and support higher resolutions with deeper color than the 20-year-old VGA.
The move's intended to phase out old analog legacy connectors, Intel spokesperson Nick Knuppfer told TechNewsWorld. "HDMI and DisplayPort are modern digital interfaces that support higher resolutions and screen sizes," he added.
Both Intel and AMD will also stop supporting low-voltage differential signaling (LVDS) by 2013. LVDS is an electrical signaling system that enables high transmission rates over twisted-pair cables. It moves video data from graphics adapters to computer monitors. Apple's FireWire serial bus interface uses LVDS.
The chip makers favor DisplayPort 1.2 for PC monitors and HDMI 1.4a for connectivity to TV screens.
Samsung and LG, for example, already offer some products with DisplayPort technology embedded into them. Both these vendors, as well as Dell and Lenovo, are on-board with Intel's and AMD's plans to phase out of VGA.
Nvidia was notable by its absence.
"Lenovo already offers PCs that feature HDMI or displayPort," company spokesperson Kristy Fair told TechNewsWorld.
AMD and Nvidia did not respond to requests for comment by press time.
Putting the Change in Perspective
"This is a normal technological advance," IDC analyst David Daoud told TechNewsWorld. "VGA has been around since the beginning of PC computing."
"The VGA port is a near-anachronism in today's world of super-slim laptops and ultra-low voltage processors," Randy Lawson, a principal analyst at IHS iSuppli, told TechNewsWorld.
More importantly, the issue revolves around cost.
With newer CPUs and GPUs migrating below 45nm CMOS processes, supporting the 5-volt requirement for VGA, if it's to remain integrated on these chips, will be cumbersome, Lawson pointed out. "It will increasingly be moved off-chip, adding total system cost as well as absorbing precious PCB real estate."
The fact that HDMI and DisplayPort consume less energy probably also helped bring about VGA's expected demise.
"The green aspect of it's important," Daoud said. "When you have technologies that are competitively priced and consume less energy, it makes sense for people to move to them."
Looking at the Stats
IDC's figures show that VGA use in laptops and other portable PCs will fall sharply. "From 2009 to 2014, we're looking at a negative compound annual growth rate (CAGR) of 31 percent for VGA on the portable side," Daoud remarked.
Only 24.5 million of the 427 million laptops in users' hands in 2014 will be VGA-enabled, Daoud stated. Another 279 million will use HDMI, while 167 million will use DisplayPort.
"DisplayPort penetration is going gangbusters," Daoud said. "It will have a 106 percent CAGR between 2009 and 2014."
That rapid growth is probably being fueled by the release of DisplayPort version 1.2 in January. "DisplayPort v1.2 seems to have the features people want," Daoud pointed out. "These include daisy-chained multiple support, USB and Ethernet capabilities."
DisplayPort will be implemented in commercial PCs, IDC forecasts. "This is a commercial desktop story," Daoud stated.
IDC's figures show DisplayPort was on 5.1 percent of commercial desktops in 2009, but that figure will grow to 89.5 percent of them in 2014. In commercial notebooks, DisplayPort's penetration will increase from 2.1 percent in 2009 to 95 percent in 2014. The adoption in the notebook market will be strong because "commercial notebooks need a compact interface," Daoud explained.