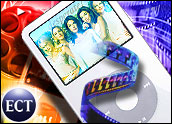 Everywhere you turn these days, someone is pushing video — on the Internet, on portable media players, even on cell phones. What's omitted by many enthusiastic purveyors of this electronic marvel, though, is that the digital video scene is a jungle of befuddling and confusing formats, a system more conducive to frustration than elation.
That jungle is thickest when a user is trying to move video to a portable player. Apple has made the process a bit simpler by building conversion features into its iTunes software. However, if you're not iPod-centric, things can get dicey. That's why a program like M2Converter can be like aspirin for the headaches that on-the-go videophiles regularly endure.
The application comes in six flavors. Five are dedicated to mobile devices that play video — the Apple iPod, Sony's PlayStation Portable (PSP), Microsoft's Zune, Creative's Zen and various smartphones. Those applications cost US$29.99. The remaining version, the "Pro" edition, supports all five devices and sells for $89.
In addition to converting files, the application will back up, create and burn DVDs, as well as back up audio CDs.
Smart Batch Conversions
Converting files in the Pro version of the program is a straightforward and intuitive process. The user imports files into the program using the file menu or by dragging them from a Windows Explorer window and dropping them on the task list.
What's nice about the software is that it will convert many files all at once. I have a couple of flash-memory based video cameras. Each time I start and stop the camera, a new file is created. The ability to batch-convert the files is a great time saver.
Not only can the program batch-convert files, but it can do it in different formats. For example, a batch can contain three files to be converted to H.264, five files to Windows media (WMV) and two to MPEG2. When you click "convert," all the files in the batch will be converted to their target formats automatically.
File Mumbo Jumbo
After placing the files you want converted in the task list, the user can choose where the converted files are to be stored.
Next, you need to choose a target format. If you're converting a file for a portable device, you simply choose the device from the format menu. For instance, to make a file compatible for the iPod, just choose "iPod" from the menu. Otherwise, you choose the file format that you want — AVI, WMV, H.264 and so forth.
With the target destination and format chosen, you click the conversion icon and your file is converted to your chosen format.
Of course, the program has lots of ways to customize your conversions — and get into deep trouble in the process, if you're not familiar with formatting mumbo jumbo.
Codec Confusion
For instance, for some file types, not only can you choose the file format, but you can choose the video and audio codec you want used with the format as well.
A codec determines how a digital stream of data is compressed and decompressed. It shouldn't be confused with a file type, such as AVI. That's part of what makes this multimedia stuff so confusing. Just because a file has an extension like WMV or AVI doesn't mean the media player on your computer can play it. You also have to have the correct codecs installed on you machine to make the file run.
More Than Conversion
In addition to playing with codecs, the software includes a number of video and audio effects that you can apply to your converted files.
With video effects you can alter things such as brightness, color and sharpness of shots, as well as resize clips.
Audio effects typical to audio editors are included in the program — effects like echo, flanger and gargle.
Using the filters should appeal to experimental personalities, since there isn't much documentation on what they do.
If video-to-go is your thing, M2Converter is worth trying out. It's an application that will appeal to both novices and more advanced videophiles. By offering a strong set of DVD creation, copying and burning utilities, it adds a dimension to its repertoire not found in the typical file conversion program.
---
John Mello
is a freelance business and technology writer who can be reached at
[email protected]
.
---