The Modern Parent's Guide to Kids and Video Games, by Scott Steinberg, Johner Riehl & Rusel DeMaria, is available from Amazon's Kindle Store and Apple's iBook Store for US$3.99.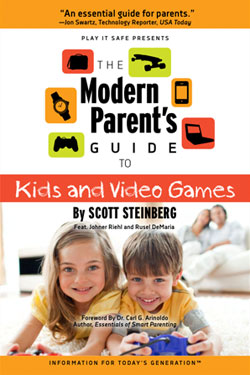 Scott Steinberg is up to something important: He's trying to break down the walls raised by technology that have sprung up between children and their (sometimes hapless) parents. More importantly, he seems to trying to build a set of books and resources that will not only help parents understand the interaction and effects of technology on their children, but also protect yet let them embrace new tech.
It's a tough job, no doubt about it.
His website, parentsguidebooks.com, a.k.a. "The Modern Parent's Guide," has the first book in his series, The Modern Parent's Guide to Kids and Video Games, available now. You can buy it as an iBook, a Kindle e-book or a Nook e-book, or you can download it immediately for free as a PDF or Sony Reader document.
I read through the iBook version, as well as the PDF version, and both are good. The iBook version seems to have a few places where titles are hyphenated for no good reason, for example, but I do enjoy reading content on my iPad more than on my Mac screen. So it might be worth $3.99 for you. Of course, you can still read a PDF on your iPad, too, though the experience usually isn't quite as nice as when you read an iBook version (ePub format).
What's Inside?
A lot of this book focuses on how video games are both perceived and consumed in the world these days, including hyper-violent first-person shooters to rising social games like "Farmville." The book makes the point that these games are everywhere — on our TVs, phones, tablets, PCs — and they're available to kids like candy. But is this actually bad for kids? As it turns out, video games might be getting a bad rap — according to the book, there's little to no evidence that video games spark violent behavior, and on the flip side, there's plenty of evidence indicating video games can help drive problem-solving skills in kids.
Then there's the notion that there are more adults playing video games (in some segments) than teenagers or even small children.
As for me, I like video games, and I particularly enjoy a good virtual beatdown on my nephews when they come over for the holidays — you know, assert my dominance and all with a grin on my face while doing it. Unfortunately, I know those days are passing — their skills and video game interests are blasting past my abilities. Even now it might take me hours to become comfortable with a new interface while they don't seem to miss a beat. I have to pick my battles with games I'm already familiar with.
Good, bad, or fantastic in moderation, it's clear that video games are here to stay and that they will increasingly permeate through every digital experience we have.
Thinking Pragmatically
Chapter 2, "Common Concerns About Video Games," dives into specific issues parents might need to deal with, such as the amount of play time (I've seen teenagers play for 12 hours, more or less straight), age appropriateness, health and obesity, as well as addiction and violence, aggression and misbehavior.
Instead of taking the general video-games-are-clearly-bad approach, Steinberg and his author pals present the pros and cons of video game use in the contexts that parents care about — but generally lean toward the idea that gaming isn't inherently bad, particularly if you, as a parent, can help set boundaries and guide your kids along the way.
As a guy who's pretty much immersed in technology and has wasted a good many hours playing (relaxing to) video games, I'm not overly concerned about them, but one point in Steinberg's marketing materials did catch my attention — there might be more young children who can play video games than can tie their own shoes. Ouch. I know a couple of four-year-old boys who fit this description … and if they can fly a helicopter with an Xbox 360 controller, why can't they tie their own shoes?
Hmm. The best thing about this book, I believe, isn't the actual advice for managing children and gaming, it's the way it sparks more rational, pragmatic thought on the subject than I've ever seen put into a single resource.
For instance, I could see where many parents would appreciate the effort that went into reporting on the pros and cons of video gaming with kids. I've seen plenty of adults come at video games from two entirely different perspectives — say, for example, a dad doesn't care at all but the mother despises video games. Those are polar opposites, of course, but my experience is that both parents are rarely on the same page when it comes to kids playing video games.
So who is this book for? It's for parents who are struggling with these sorts of issues, parents who can't seem to pry their kids away from a flickering screen and a controller, parents who are wits end or are utterly confused about the scope of what's going on when their kids control moving pixels of light across screens and either zone out or shout in excitement at completing challenges and earning rewards.
But if you're mostly in tune with technology and if you play a variety of video games, this book probably isn't for you unless you need evidence and guidelines with a parenting partner to get you a little closer to the same page.
Meanwhile, What's Coming?
In reality, I must admit that I wasn't overly excited about this particular book because I don't have any specific personal issues to manage or really learn from here. But I wanted to check it out because it's the first in a series of books that do spark my interests.
There are some areas that I'm less familiar with, and they are areas that I have a hard time articulating to parents who ask me about such things — like Facebook, social networking apps, things like Spotify that tie into Facebook and show others what kids are listening to. Or the ramifications of their college applications in a social networking world and how that might relate to ill-advised photos. I don't have a deep enough understanding of these ramifications — and I realized when I saw the dad who shot up his daughter's laptop with a .45 caliber handgun that there's a huge disconnect in how kids communicate through social mediums. I've got a lot to learn.
So, what's coming?
The Modern Parent's Guide to Internet, Web and Online Safety

(July 2012)

The Modern Parent's Guide Facebook and Social Networks

(December 2012)

The Modern Parent's Guide Smartphones and Apps

(2013)

The Modern Parent's Guide Digital Music, Movies and Entertainment

(2013)
If you're like me — not worried about video games but are worried about other tech areas — make sure you put The Modern Parent's Guide series on your radar.