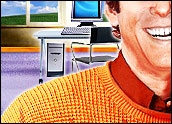 Video games are often associated with the bloom of youth, but a study released this week shows that isn't true in all segments of the market — especially the "casual" game market.
Casual games tend to be family-friendly and non-violent; often they involve puzzles or word play. They're about as far away as you can get from "Grand Theft Auto" or "Halo."
It's estimated some 150 million people play casual games on their computers regularly, and according to the study conducted by casual game maker PopCap Games, nearly half of them (47 percent) are 50 years old or older.
By comparison, figures from the Entertainment Software Association, an industry trade group, show that 75 percent of all video and computer game players are under 50 years old.
Attracting Women
"We'd conducted previous surveys that indicated a sizeable portion of people over 50 playing these games, but we didn't realize that was nearly half the audience for these games," PopCap spokesperson Garth Chouteau told TechNewsWorld.
"The games aren't written or developed for senior players, just as they're not developed for women, but women and older players are the vast majority of the audience for these games," he added.
The video game industry has been good at pumping out action games, but hasn't been too good at developing other genres that appeal to broader demographics, maintained Alexis Madrigal, a gaming analyst at DFC Intelligence in San Diego.
"Casual games, even though their relative size in the industry is very small, are pointing the way for the industry to welcome non-core demographics," he told TechNewsWorld.
Healthy Growth
DFC forecasts that revenue from casual games in the North American market will climb from US$310 million in 2005 to $1.1 billion in 2011.
Over the same time period, revenue from all online games is expected to grow from $3.4 billion to $13.1 billion.
Worldwide, the firm predicts the interactive entertainment market will grow from $29 billion in 2005 to as much as $44 billion in 2011.
"The segment is showing healthy growth," said Billy Pidgeon, a gaming analyst with IDC.
"It has a lot of potential because it's potentially so large," he added, "although it's difficult to monetize because there's a lot of free content available so the only way to really monetize it successfully is through advertising.
"Everyone hopes to get these people more involved in buying games and move them up the game food chain, get them to be avid gamers," Pidgeon told TechNewsWorld.
Daily Players
Nevertheless, the PopCap survey suggests that many casual game players — at least those over 50 — are already avid gamers.
Surveyors found that 65 percent of players age 50 or older play games on a daily basis.
They also discovered that 31 percent of that age group play games 10 or more hours per week.
However, unlike hard-core gamers who may burn hours per session with their electronic diversions, their casual counterparts prefer brief contact with theirs.
"Casual games tend to be ideal for busy people," Pidgeon claimed. "The idea is not to have a game that's going to last two hours. The idea is a snack rather than a meal."
Low Cost of Entry
Madrigal, of DFC, cited several factors distinguishing casual games from other electronic pastimes: lower development costs, simpler structure, and older, predominantly female audience.
"There's also a very low cost of entry," he added.
"In the traditional video game industry, you're purchasing a powerful computer to play the latest games or a dedicated piece of hardware, which will cost from $200 to $600," Madrigal continued.
"With casual games," he said, "the vast majority of consumers are playing for free, with some advertising support."
Even if a casual gamer decides to buy her favorite game, he noted, it'll cost her $20, compared to $50 to $60 for a video game.
Better Quality Needed
The low barrier to entry in the casual game market has its downside, however.
"Because of it, you have a profusion of games that you wouldn't exactly call innovative, original or high quality," Madrigal asserted.
"One of the challenges of the casual games industry at this point is to increase the quality of their products," he added.