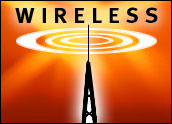 In case you missed it, seven long years of wrangling have come to an end: 802.11n has now been officially ratified by the IEEE.
Super-fast WiFi is here. The 802.11n standard ushers in increased network throughput and range that will change wireless access, services and applications. With this final blessing, any hesitancy that existed within many organizations around 802.11n deployment has been removed.
One application of note enabled by 802.11n is Voice over Wireless, also known as "VoFi." VoFi significantly enhances the value of a wireless network by first untethering employees to an even greater degree. In our homes, we take cordless telephones for granted. In the office, we tolerate corded phones and often miss calls as the time spent in our offices decreases with each passing year. 802.11n provides the infrastructure necessary for cordless telephony to every employee, using the same network that we've come to rely on for wireless data. A simple desktop phone replacement is typically all that's required.
Performance and Cost
VoFi also enhances the value of the wireless network by allowing organizations to capitalize the expense of an 11n upgrade by eliminating some billable telephone traffic, both wired and wireless, and carrying it on an 11n wireless network. This is especially true for intra-office or campus traffic, resulting in an immediate and recurring cost savings.
VoFi systems have already found wide acceptance in some vertical markets, including manufacturing, medical and retail, where employee mobility is a given. Why are these industries and others turning away from both wired and cellular-based calling and turning toward VoFi? It comes down to performance and cost.
Poor indoor cellular coverage creates unacceptable quality for users. This is especially true in the interior spaces of large buildings or in facilities with a substantial amount of electronic interference, like hospitals. VoFi provides the flexibility to tune coverage to ensure that all areas where telephone access is required have exceptional coverage, eliminating dropped calls and guaranteeing excellent call quality.
VoFi also eliminates the unnecessary expense of intra-building calls over cellular, which is the common operational model used today to achieve employee mobility. Smartphones that provide both 802.11 and cellular capabilities are becoming much more widely available, making a simple handset upgrade all that is needed to achieve significant cost reductions. There's no reason to think the adoption of VoFi won't continue to increase as ABI Research predicts that by 2014, 90 percent of smartphones will support 802.11.
Beyond the ratification of 802.11n, there are a number of reasons to expect increased adoption of VoFi. Notably, new capabilities and technologies suggest a cellular handoff to VoFi is a reasonable assumption (at what pace is up for debate). According to Burton Group, the market is ripe, as the number of business calls on mobile cellular phones now exceeds that on wired desktop phones. New Fixed Mobile Convergence (FMC) products and services that combine wired and wireless telecom are rapidly coming to market. So if there are performance and cost advantages to be gained by switching to VoFi, organizations will at least consider a switch.
VoFi and VoIP
New problems accompany new technologies, and VoFi is no different. The VoIP experience can serve as a good guide to identifying and resolving potential VoFi problems. Both VoIP and VoFi share voice as a key element, which has very unique networking requirements as compared to typical data traffic on the network. Voice traffic is highly susceptible to packet loss, jitter and latency — resulting in dropped calls, interruptions and other issues. These problems are more pronounced on wireless networks, as they tend to have more latency and interference than a wired network.
So how do you determine how well your VoFi is performing? Again, let's look at VoIP metrics as a benchmark for VoFi.
Latency is simply a lag and measures of how long it takes a voice packet to reach its destination. The lower the latency, of course, the better the voice quality. Industry guidelines put the highest acceptable latency at 150 milliseconds (ms). Any higher and quality begins to degrade. Halting conversations, echoing and overlapping sounds (noises, words) are caused by high latency.
Jitter takes place when packet delivery suffers from variable delay, which affects the quality of conversations. To help compensate for this, jitter buffering is often employed to smooth the variability and allow for reordering voice packets which may arrive out of order, but this adds additional delay to voice reaching the earpiece and needs to be factored into the overall latency budget. Packets delayed too long in the network are not allowed to enter the jitter buffer. Though relatively easy to measure, the effects of jitter are often difficult to assess. Packets delayed more than the buffer delay (100 ms as an example) are typically dropped, resulting in missing syllables and sometimes even missing words in the conversation.
Packet loss occurs when there's disruption in the network (e.g., heavy traffic, congestion without adequate quality of service provisions, jitter buffer discards due to excessive latency, etc.). This usually results in dropped conversations, missing sounds, or cutting out in the conversation. As a rule, packet loss in VoIP (and VoFi) should never exceed 1 percent, which essentially means one voice skip every three minutes. DSP algorithms may compensate for up to 30 ms of missing data; any more than this, and missing audio will be noticeable to listeners.
As with VoIP, making VoFi work requires smart management, reducing endpoint delays, prioritizing traffic and monitoring all network traffic to ensure the needs of both voice and data traffic are being adequately met.
VoFi is coming. Gigabit speed WiFi enabled by the new 802.11n standard is going to take communications to the next level. It's being rapidly baked, if not already so, into chipsets at unprecedented speeds and will likely outstrip older-generation 802.11 standards. So with this new technology comes opportunities and challenges. Are you prepared to manage your new VoFi environment?
---
Jay Botelho
is director of product management at
WildPackets
.