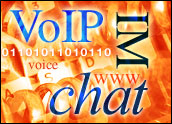 Vonage, a broadband phone company, has teamed with Netgear to develop a suite of broadband telephony devices. These devices will incorporate the latest version of Texas Instruments' Voice over IP (VoIP) and wireless LAN chipsets.
First available will be a VoIP-enabled 802.11g wireless router followed by a wired two-port telephone router. These products are expected to be available to customers of Vonage's digital telephone service as early as October.
Customers can take advantage of the wireless option for voice services and for data networking with these Netgear phone adapters and routers. Vonage customers can place and receive calls on their existing telephones — with their existing telephone numbers — through a fast Internet connection enabling voice service concurrent with normal Web surfing.
"Netgear's routers — in fact, all their products — are well-known for their high performance and reliability," said Jeffrey A. Citron, chairman and CEO for Vonage. "We want to offer our customers the convenience of purchasing a wired or wireless router bundled with the Vonage service at an attractive price."
According to a June 2004 report by industry research firm In-Stat/MDR, more than 10 percent of all broadband subscribers will use broadband IP telephony by the end of 2008. Lower service cost and compelling new communications features are cited as the primary reasons to drive service adoption.
Vonage is one of the fastest growing digital telephony companies in the United States, adding more than 25,000 lines per month. Netgear designs branded networking products that address the specific needs of small and medium businesses and home users.