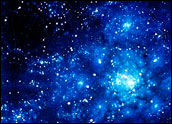 You couldn't find a more appropriate name for the world's first commercial spaceship, which Virgin Galactic officially unveiled to the world and the media Monday night at California's Mojave Air and Space Port. The SpaceShipTwo reusable suborbital plane is now the Virgin Space Ship (V.S.S.) Enterprise, and it represents a business undertaking worthy of a James T. Kirk-led mission: private spaceflight.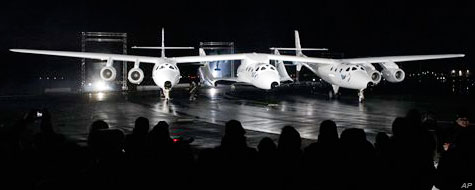 The V.S.S. Enterprise, unveiled in Mojave, Calif.
"I think they were on track using that name," Spaceflight Now reporter and former CNN contributor David Waters told TechNewsWorld. "Throughout history it's had a lot of usage, and whether it was science fiction or NASA with its first reusable manned space vehicle, it's a name synonymous with space travel. I think this was the right source for Richard Branson."
Branson, the British billionaire who started Virgin Atlantic Airlines and Virgin Galactic, took the wraps off of the V.S.S. Enterprise along with aerospace designer Burt Rutan, who came up with the original award-winning blueprint for a passenger space plane. Governors Arnold Schwarznegger and Bill Richardson were also on hand; California is where the ship was built, and Richardson's state of New Mexico is where it's set to launch its maiden voyage sometime in 2011.
The Enterprise was rolled out of the Mojave hangar attached to its EVE "mothership," a launch plane that will fly it from the ground to a certain altitude, where it will detach and fire its own rocket to take it the remainder of its 62-mile voyage into suborbital flight. There the tourists will be able to look down on the earth and experience a few minutes of weightlessness before returning to land at the New Mexico "spaceport."
Booking Your Space Flight
Thanks to Monday's media event, Angie Lepley is getting ready for her phone to ring and her email inbox to fill up. Lepley, owner of Tangerine Travel in Bothell, Wash., is one of Virgin Galactic's local accredited "space agents." You can see her name listed on the Virgin Galactic Web site, where you can fill out a form that will put you in line for a seat on the Enterprise — provided you can pony up US$200,000 for a ticket.
She hasn't sold a ticket yet, but Lepley has about 10 potential customers who are in "wait and see mode. They are definite clients, and I think they will buy in the future," she told TechNewsWorld.
Even though space tourism requires a certain deep-pocketed customer, the recession has had its impact on this aspect of her business. However, "I think 2010 will be the year I get those bookings in. Once we get 2009 behind us, in 2011 [the Enterprise] will take off. My goal is to get all 10 of those bookings in next year."
What kind of person has expressed interest in flying on the Enterprise? There aren't any defining characteristics regarding age or gender, Lepley said — she's getting plenty of interest among all those demographics. "For space enthusiasts, it's definitely tops. Here in the Seattle area, there are more adventurous people and adventurous travelers who want to do the next thing that hasn't been done. There are more adventurous souls around here, so that helps."
A Viable Industry?
"It was only a matter of time before entrepreneurs got into the act of getting into space," said Adam Bruckner, chairman of the aeronautic and astronautics department at the University of Washington. "There's always been a great interest among the general population for flying in space, and now people who have the money will be able to do it."
However, the US$200,000 price tag will likely come down once the flights become more commonplace, Brucker told TechNewsWorld. But how far? "I remember going to a conference a number of years ago where there was a session on space tourism, and I remember they were banding around the $10,000-a-ride figure, where literally millions of people will want to go. I don't know if they can reduce the cost that low. Entrepreneurs have been around a long time, and usually they figure out how to do things well and cheaply, certainly more cheaply than the government can. That's always been the case."
Commercial spaceflight is now at about the same stage of development where the general aviation industry was during the Wright Brothers' day, Bruckner and Waters believe. In fact, when the Enterprise takes passengers to suborbital heights for the first time in 2011, tourists will experience what astronaut Alan Shepard did in 1961 — a few moments of weightlessness. Unlike his wild ride back to earth, however, the tourists should get a smoother descent to terra firma.
"When you're a tourist, and you want to do some kind of adventure — whether white-water rafting or bungee jumping, a couple of minutes of looking down on the planet and free-floating — [commercial space enterprises] should be able to successfully get that business at first," Waters said. "Then the price will come down and it will become more affordable."