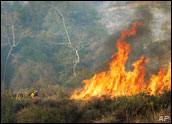 The scattered and raging wildfires in southern California are consuming homes at a wicked pace, having burned more than a 1,500 buildings, with tens of thousands more downwind and in danger. A half-million people have evacuated, President Bush has declared a state of emergency and through it all, everyone from reporters at traditional news outlets to everyday people are turning to technology to cover and share the latest news.
Flickr users are posting dramatic photos of the fire — the rubble of homes, massive smoke clouds, ash, flames and more flames. While the Flickr photos are both interesting and voyeuristic, other technologies are delivering up-to-the-minute evacuation news.
KPBS, a TV and radio station in San Diego, is using Twitter to post short updates, with notes like:
"High Valley Road and Crocker road are the only regions of the city of Poway still under mandatory evacuation."
"FEMA said that those who sustained losses can begin applying for assistance tomorrow by registering online at http://www.fema.gov."
"There are 1,841 firefighters assigned to the Witch fire. It continues to move east threatening the communities of Julian and Pine Hills."
Mapping the Fires
KPBS has also created a special Google map, "San Diego County Fires — KPBS," which shows points of devastation via clickable icons as well as the details surrounding each fire, such as size, containment status, deaths, injuries, evacuations and structure damage.
As of Wednesday morning, KPBS reported through its Google map that the Witch Creek fire, for example, was still 196,420 acres large but 10 percent contained, though 645 structures were destroyed. The suppression costs were up to US$2.3 million. There were 12 injuries to firefighters, with 1,841 firefighters assigned to the fire.
Perhaps most importantly, it provided these details: "The fire will continue to move east threatening the communities of Julian and Pine Hills. Fire has potential to move north and join with the Poomacha Fire. Fire spread to west and southwest is still a potential."
The KPBS map also noted evacuation centers, marked with red crosses on the map that tell which are open or full. Little green houses with flags on the roof point to areas that are safe for residents to return. There's even a green flame icon that points to an area where a fire has been contained.
A person identifying himself only by "Jeff" started a similar Google "San Diego Fires" map, but later posted a note: "Sorry guys. I can't update this map anymore. I don't have the time. Thanks for digging and I hope everyone is OK.". His map has been viewed more than 100,000 times.
The Los Angeles Times Web site has a time-lapsed map that shows the growth of the fires, as well as reader videos, photos and experiences. It has its own Google "Los Angeles Times 10-23-07 Fires" map, which has been viewed 500,000 times.
YouTube Videos
TV News clips are being posted online on the popular YouTube video sharing site, too.
Interestingly, in addition to video of fires and firefighters, many TV news sites are using online mapping tools to zoom into the areas that are affected by the fires. CNN, for example, is using images from the Google Earth mapping application. Residents of California are posting their own videos to YouTube, as well.
In the Blogosphere
SignOnSanDiego.com by the Union Tribune is making short and frequent posts to its blog, noting new evacuation sites, areas safe for return, and key details like, "San Diego police are asking the public to stop bringing donations to Qualcomm Stadium. Police say they have sufficient supplies at this time for evacuees."
San Diego blogs like Cat Dirt Sez, have made dozens upon dozens of posts, with links to maps, photos, news, and key bureaucratic notes like the fact that the Federal Court for the Southern District of California is closed through Monday of next week.
Blogger Nate Ritter has also been posting fire news — and Twittering often, too. Ritter even has an eye witness phone line set up to receive news.
"I'm currently recording everything on Twitter, as you probably already know," his message line said. "If you have … a story or some kind of announcement or something that I should post there, please feel free to leave a message, let us know how you are doing, what you see in the area, and I will pass it on to the thousands of people who are watching my feed at this moment. Thank you very much."
A triple-threat IT-focused team of bloggers posting to And Still I Persist have posted a large collection of maps and weather details, including 3-D map overlays that show where the fires are burning on rugged terrain.
Old School Cell Phones
The cellular networks providing service surrounding the fires appear to be holding up well. Reports indicate a bit of increased congestion, as is expected.
"Our wireless network is performing at near normal levels," Mark Siegel, a spokesperson for AT&T Wireless, told TechNewsWorld, noting that at least 95 percent of all cell sites are functioning normally, with most areas receiving even better percentages. "We suggest people limit mobile calls so first responders have priority to the network and use text messaging instead, which takes up much less of the network's bandwidth," he said.
AT&T is trying to aid the community and emergency responders, Siegel noted, by letting residents make free landline calls from AT&T stores, as well as by setting up communication areas at the major evacuation centers. The company is even handing out free wireless cards for laptops for Internet access.
So Many Fires
For one IT analyst, the fires in San Diego bring back memories. "We had the Oakland fires up in the Bay area where I live, from the 1987 earthquake, and there was a similar loss of communications and electrical infrastructure for a couple of days, and you're just in that gray zone of knowing something is going on but you don't know what's exactly happening," Charles King, principal analyst for Pund-IT, told TechNewsWorld. "It can be disorienting … and surrounded by chaos is never a great place to be," he noted.
"If you look at the number of fires down there, it's not one single fire, it's numerous fires that are spread out over numerous cities and counties, and that's the kind of situation I think where effective technology can make a huge difference in reducing loss of property and loss of life," he added.