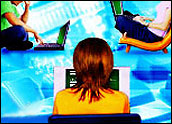 A new upstart in online social networking, Ning, launched Tuesday, saying it plans to leapfrog social networking powerhouses MySpace and Facebook.
Cofounded by Marc Andreessen, who also cofounded Netscape, Ning is a platform that lets people create their own social networks. The next generation of social networks, Ning says, will be many focused niche networks rather than a single large network like MySpace.
Niches, Niches Everywhere
By using Ning's free tools, users can create public or private networks for anything, from whitewater kayaking to quilting, or design the network to more specific focus, like whitewater kayaking on the Payette River in Idaho or a quilting club in Omaha, Neb.
"Our goal has been to give anyone with an idea the opportunity to create their own social network for anything," Gina Bianchini, Ning cofounder and CEO, told TechNewsWorld. "More specifically, we've seen people like Dustin Thacker, a 28-year-old artist in North Carolina, create a social network because he and the other artists in his community were frustrated with the limitations of MySpace groups and the fact that other options cost a lot of money. So they used Ning to create a social network."
Currently, Ning boasts more than 30,000 social networks, nearly all of which were created prior to the company's official launch.
"These have taken off completely through word of mouth and blogs. Until yesterday, we did no marketing or PR," Bianchini said. "Interestingly, 50 percent of our traffic is outside the U.S. and we have registered users in over 176 countries, so viral growth on the Internet is truly global today."
Tools, Tools, Tools
Ning's current claim to fame is flexibility and a broad array of tools that let users immediately build networking sites. With Ning, users can add videos, blogs, photos and discussion forums, customize the look and feel of the network, open it to the public or make it private for a select group of members. Users can add their own brands, as well as remove the Ning logo.
In addition, Ning gives users the option of using their own domain name, which costs US$4.95 a month.
Ning's Revenue Play
Ning currently runs ads along the right side of each page, which the company says represents its primary source of income. If users don't want to see ads, they can pay $19.95 a month to remove the advertisements — or run their own.
Traditional media companies have been using MySpace as a marketing tool, creating sites for Hollywood summer blockbuster movies and television shows like Fox's immensely popular "24" and "American Idol." Many musicians — popular and not-so-popular alike — have MySpace pages, as well.
Earlier this year, CBS launched a WhoIsKeppler.com Web site based on Ning. Keppler is a mysterious character who joined the network's "CSI" series mid-season. The Ning site provided details into Keppler's troubled past and generally worked to amp up interest in the CSI show.
CBS used the same basic tools that are available free to anyone, Ning noted on its company blog, but it did add domain name masking and ad-running features — which are also available to anyone.
Challenges Ahead
Despite Ning's long list of launch features, it faces challenges, including the ability to massively scale its services as millions of people visit Ning sites, join and create their own social networks.
The day before launch, for instance, Ning accidentally introduced a database bug that slowed Ning's sites to a crawl. The company managed to get it fixed before 9 a.m.