This really has been an entire month of the strange. We had Boeing's Dreamliner sidelined for a problem that used to give laptop makers heartburn — batteries that catch fire. We had Tesla proposing a test to The New York Times that would make its new Tesla S look bad — and when it did, we had Tesla's CEO screaming foul on Twitter.
We had Sony announce its new game system nearly nine months before it would be available — but not actually show it. Biggest of all, despite Chromebooks failing to sell in the US$250 range, we had Google do a refresh and price it at a whopping $1,500.
This would be like Yugo, after seeing that its very cheap — and rather painful — cars didn't sell, adding drug-dealer wheels, wrapping them in stainless, and putting in bigger engines so it could price them along with mid-range BMWs. This is almost exactly like saying "Our target market is stupid rich people." I'll go deeper into a lot of that and close with my product of the week: a unique conferencing camera from Logitech that actually works surprisingly well and isn't that expensive.
Sony's Gambit
I commented on Tesla last week, and Boeing's issues are old news, so I'll focus on Sony and Google.
Sony announced its new PS4 — well, sort of — because the only thing missing from the PS4 announcement, other than any complete games, was the PS4 itself. The product won't be available until around the holidays and likely after Microsoft releases its update to the Xbox 360.
The likely reason Sony announced early is so it could get developers focused on the new console. However, developers generally don't want to develop on anything brand new unless they are cofunded, because until a lot of consoles are sold, they don't have a large enough market to support their game development.
So Sony was trying to entice a group to develop games by announcing early, but likely helped Microsoft position and develop against the PS4 sooner, while slowing game sales for its existing PS3 product. Folks don't like to invest in a soon-to-be-obsolete system.
Now the system itself is actually kind of interesting. Sony used a custom version of AMD's APU — a blend of a CPU and a GPU — and even with a Blu-ray drive, that likely will allow it to hit a price point around $300 at near breakeven. The x86 platform is far easier to develop for then its old processor architecture, and the current generation of APUs is far more powerful. So, for not a lot of money, gamers will be able to get a vastly better gaming experience.
The other problem is that most developers who are still doing well financially have shifted to support tablets and smartphones and will be difficult to pull back or over to Sony unless Sony pays them or the PS4 sells very well. Sony doesn't have a lot of money after nearly a decade of losses, and buyers don't buy systems unless there are great games.
To this last, it is interesting that Bungie, which is the company that put the Xbox on the map with Halo, is creating a unique and very powerful game for Sony called Destiny, and if it is anything like Halo, it could put Sony back in the game.
The next Xbox is coming in June and expected to be priced and powered similarly — or far lower. Giving Microsoft four months to prepare a response and then lagging Microsoft with the product release seems very foolish to me, because it gives Microsoft a chance to break the Bungie deal — the company did belong to Microsoft at one time — or simply position more aggressively at what it now knows Sony is doing.
With the Sony Vita not selling well, the PS4 has to be a hit, but with folks moving to smartphones and tablets for gaming and Microsoft now being able to more accurately counter the PlayStation, I'm wondering if Sony needs a new strategy officer. On the other hand, if Destiny is as good as it looks, I might buy a PS4 just to play it.
Google's Yugo
The Chromebook has been a colossal failure. This became clear to me early on while flying Virgin America, which has to be the best airline flying inside the U.S. You see, Google worked a deal with Virgin America for a while so that anyone who wanted a Chromebook for the flight could get one free on plane wireless just for asking.
You didn't get to keep it, but you could do email, browse the Web, or do anything else that a Chromebook could do without charge. At first, about 20 people would get the Chromebooks, then it dropped to about 10, then five, and on the last time I was on a flight that made this offer, I don't recall a single taker.
I think a lot of the reason is that in-flight WiFi has high latency and low bandwidth, and given the Chromebook is basically a wireless thin client, that made it a huge pain to use on a flight. Even for free, folks just didn't want to be hassled with the product.
At what should have been a compelling under-$300 entry price, few bought the product in stores — and I expect returns were common, though not reported. This reminds me of the old Yugo. The Yugo was a very inexpensive car and sold on price.
There was a lot said about the automobile — much of it bad. For instance: What do you call a Yogo with a flat tire? Totaled. What is included in a every Yugo owner's manual? A bus schedule. What do you call a Yugo that breaks down after 100 miles? An overachiever.
The Chromebook is Google's Yugo. It makes the ill-conceived netbook look good. Given that Android was already both more mature and better received when the first Chromebook showed up, most of us couldn't figure out why Google didn't just scale Android up rather than bringing out a new, less capable program.
Google, in its infinite wisdom, figured out that the problem with its Yugo product was that it wasn't priced high enough. So it wrapped the Chromebook with some better-looking materials, put a high-resolution touchscreen on it, and then priced it around six times higher than other Chromebooks.
Now Ultrabooks, Intel's typical high end, tend to sell well at around half the price of the new Chromebook Pixel. The ones in the Chromebook's price range tend to have faster processors — i7s rather than i5s — and they come bundled with a terabyte of online storage, suggesting their onboard capacity is pretty small. It is basically a $1,500 portable Web thin client that is priced in line with gaming notebooks and portable workstations.
So, if we take the Yugo example, this would be like a Yugo with a six-cylinder engine, and better wheels, paint and interior, but otherwise the same old car selling at a price in line with BMW or Audi. It's gutsy, but it kind of implies Google thinks there are more stupid rich people than there are folks who want a bargain. Given rich people run the company, maybe Google is seeing something I'm not.
Wrapping Up: Strange Days
You kind of wonder what's in the water when this much stuff happens in such a short period of time. From Sony jumping early to Google trying cosmetically to turn a Yugo product into a BMW product, it just doesn't sound like the best and brightest are making the decisions.
Google's got a ton of cash so it will clearly weather this, but Sony has a much more difficult path. I'm already missing the days when we focused on big companies doing smart things rather than making foolish decisions. Then again, I'll bet there is someone who always wondered if the Yugo was underpriced. While that person may now be institutionalized, this year he'll get his answer — thanks to Google.
Product of the Week: Logitech Conferencecam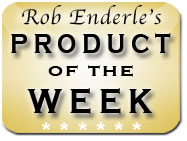 I've been looking for a while for an affordable camera that can be used for in-home conferencing. There are a lot of HD cameras out there, but on the TV or monitor they tend to require a lot of fiddling to get them aimed correctly. You can buy conference cameras, but they tend to be expensive — in HD resolutions, they can run upward of several thousand dollars, or well out of my budget.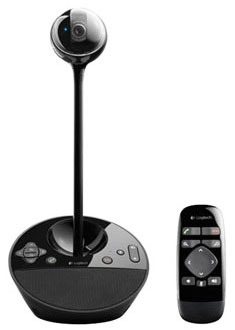 Logitech BCC950ConferenceCam
One of my old favorite standard-definition cameras was the Logitech Orb, which for desktop conferencing could be electrically adjusted for both horizontal and vertical movement, letting you better frame the shot.
Well, the Logitech Conferencecam takes the old Orb technology and adds HD and voice-conferencing features — including a bigger speaker and better microphone — to create a low-cost tabletop conferencing solution that is pretty impressive for the price.
It even has buttons to answer the call, mute the microphone, adjust volume, and aim and zoom the camera. It is actually pretty damned impressive for the cost, typically around $200 on Amazon. Be aware that when used with Skype, this camera will be best with Windows 7 or Macs right now — it is still waiting for updated Windows 8 drivers. Because the Logitech Conferencecam solved a problem for me, it is a natural for product of the week.