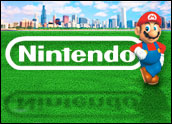 Five years after Nintendo launched the now-legendary Wii, the company's rumored to have its successor — the Wii 2 — in the wings.
Hearsay abound about the Wii 2, which is expected to be unveiled at the Electronic Entertainment Expo, better known as E3, to be held in Los Angeles in June.
A sampling of the choicest scuttlebutt: The Wii 2's going to have a really powerful processor, making it more muscular than either the PlayStation 3 or the Xbox 360; it'll have a mini-touchscreen with high-definition (HD) graphics capabilities; and that it will be backwards compatible with the original Wii.
Nintendo is keeping its lips sealed.
"It's against Nintendo's policy to comment on rumors and Nintendo speculation," said company spokesperson Charlie Scibetta.
Nintendo USA did confirm that it'll be at E3 but wouldn't say whether the Wii 2 would be introduced at the event. The publication GameInformer, however, claims multiple unnamed sources have confirmed Nintendo's next-gen console will make an appearance.
The Wii 2's Putative Specs
The Wii 2 is code named "Project Cafe," according to a Google translation of a report on French website 01 Net.
The console, according to the report, will incorporate a tablet-like controller.
The tablet isn't really comparable to an iPad, and it will have a standard screen, not a 720p HD screen as other rumors suggest, 01 Net claims.
The Wii 2 will have a single-touch six-inch touchscreen, a new sensor that will replace the original Wii's bar sensor, and it will have a custom IBM PowerPC processor, 01 Net speculates.
It will use an AMD graphics processor, probably a series R700 version 4.1, with a shader, 01 Net opined. This will be a newer version than the graphics processor used in the Xbox 360.
The Xbox 360S uses an XCGPU processor. This is an integrated CPU/GPU/eDRAM chip using a 45nm fabrication process.
Some reports suggest that the Wii 2 will be backwards compatible with original Wii games as well as with GameCube games.
The Wii 2 will also be able to play games from third-party developers, according to 01 Net.
You Say Yes, I Say No
Nintendo appears to have done a pretty good job of keeping the lid on the Wii 2, and it's not quite clear just what features the Wii 2 will have.
However, the device may not be quite as advanced as the rumors have it, Pietro Macchiarella, a research analyst at Parks Associates, told TechNewsWorld.
"Nintendo's strategy has never been that of being more technologically advanced than its competitors in terms of graphics and capabilities, except possibly with having 3D on the 3DS," Macchiarella stated. "I think the only sure thing is that Nintendo is working on a next-generation console."
He does, however, expect the new console to be HD-ready, and he speculated that Nintendo will focus more on usability and, perhaps, controls rather than graphics capabilities.
Other analysts were less forthcoming.
"I've heard the rumors but have no comment on them," Lewis Ward, a research manager at IDC, told TechNewsWorld. "I think it's possible a next-generation console from Nintendo could be announced at E3, but right now my forecast has a 2012 release timeframe," he added.
"Like most folks, we've seen the rumors but we do not comment on rumor or speculation," Anita Frazier, an industry analyst with the NPD Group, told TechNewsWorld.
Fighting Off the Mobile Predators
Mobile platforms are beginning to impact video game console sales.
NPD said that in 2010, new physical sales of hardware, software and accessories comprised 77 percent of the consumer spend on gaming, while new physical sales made up 63 percent of sales of games content.
"Digital format sales — including downloadable full games — add-on content, micro transactions, mobile apps, social network games and subscriptions, as well as other physical formats like rental and used games, made up the rest," NPD's Frazier said.