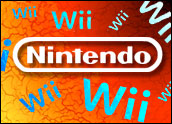 Wii enthusiasts across the U.S. — and I count myself among them — are rejoicing over Nintendo's latest announcement: Wii Fit is on its way. The new program, which comes with the weight-and-motion-sensing Wii Balance Board, launches May 19. Nintendo officially announced Wii Fit last summer, and it has sold more than 1.4 million units in Japan since the December release there. It's European launch is set for April 25.
Although I don't own a Wii — my husband's Xbox 360 is gathering dust and I haven't been a serious gamer since Atari was all the rage in the '80s (long live "H.E.R.O.") — several of my friends and family members do, and I can't wait to encourage them to buy the Wii Fit. We already have a blast with the "ordinary" Wii games. The Wii Fit software will push us even more to get up and move after we enjoy nice dinners together.
Head-Thrashing Moves Meet Om
As a former dancer and current yoga fan, the Wii Fit is right up my alley. Thesystem features multiple ways to get your heart pumping, including yoga, dancing, aerobics and balancing moves. It's like Cindy Crawford's workout videos (faves from my VHS-aerobic-workout-video-watching days) meet virtual reality and games like "Dance Dance Revolution."
The Wii Fit also allows gamers to hit virtual soccer balls in the air with their heads. That's a little too much head-thrashing for me, personally, but I wouldn't mind watching others maneuver their noggins around to accomplish this (while giggling and pointing at them, of course). The Balance Board, meanwhile, measures a user's weight and center of gravity to calculate body mass index (BMI), and it enables progress-monitoring through the Wii Fit Channel.
Kicking Butt, Taking Names
OK, I know there are people out there who say you won't burn a ton of calories while using the Wii Fit. I admit, when I'm kicking butt playing the Wii Sports bowling game (left-handed, mind you, and I'm a non-ambidextrous right-handed person), my heart doesn't start pumping until everyone starts cheering for me (another advantage of the Wii: camaraderie).
However, I'm through with hearing about kids spending hours on end huddled up in their bedrooms — mostly alone — using only their thumbs and index fingers to snipe an evil dude or carjack someone. (Semi-hypocritical disclosure: I bought my friends' kids Wii Zappers for the holidays and I own a few editions of "Halo.")
What I'm much, much, much more fond of is encouraging regular physical activity for people of all ages — most importantly, in my book, children and the elderly. Although the Wii has gone quite far in pushing this, I expect Wii Fit to take fitness promotion to new heights. Naturally, nothing beats exercising in the great outdoors, but at least this is a step in the right direction.
Click here to e-mail Rachelle Crum.