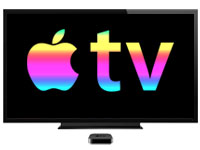 I want to believe that Apple will launch a new Apple TV hardware device in June at its Worldwide Developers Conference — but holy macaroni, it's been more than three years since Apple introduced the third-generation Apple TV.
Of course, Apple made a barely noticeable hardware tweak more than two years ago, but I'm begging for an Apple TV that's far more than just a utilitarian tool — and on the surface, many signs seem to point toward such a revelation at WWDC.
Before I get to the core rumors and signs, I should admit that a small part of me remains skeptical that we'll be treated to a new Apple TV. Why? Despite nurturing plans to shake up the living room for some time, scores of rumors and reports have all fizzled due to issues with acquiring streaming content partners.
Apple needs television rights and deals that would let it actually deliver the content consumers want at a reasonable price. If the promise of money is not clearly blazoned across the sky, television and cable networks, not to mention content producers, are loath to risk any change — the desires of today's content foragers be damned.
So it's quite possible that Apple might end up holding a new Apple TV device until this fall… just to a) give it more time to build momentum and gain new content partners; and b) launch during a time of heightened television interest when new seasons start to appear — not to mention a nice slide into the holiday buying season.
What About the Latest HomeKit Promise?
Meanwhile, the first of Apple's HomeKit-enabled devices will be coming out in June, according to Apple spokesperson Truly Muller, as quoted by The Wall Street Journal — no doubt in an effort to debunk a previous rumor of a delay.
Apple's HomeKit framework is designed to let the iPhone, iPad and Apple Watch control connected home devices like smart thermostats, door locks and lighting. What's cool is the promise of simplifying home automation, making it easy for mere mortals to set up and control.
Heck, some devices could even be controlled with your voice via Siri… which seems cool, aside from the fact that I swear at Siri far too often already. (I hesitate to imagine what I might say in the presence of small children).
All this means is that we can expect to see some cool HomeKit news and devices shown off at WWDC and available in June. That's fantastic.
What about the Apple TV? The Apple TV would make an awesome hub for home automation, bringing a natural extension for managing connected devices as well as providing a psychological home base. The Apple TV would become more than a great entertainment device. The ability to act as a hub would turn it into a next-generation device that would leap past other streaming media boxes.
The next Apple TV is rumored to have Siri-based controls (which has been widely expected for years) as well as a new remote control, which likely will have a Force Touch-based screen (my Apple Watch Remote app works great).
In addition, a new Apple TV-based App Store is widely expected — Apple's WWDC event is aimed at the developer community, after all. Plus, the inclusion of an open Apple TV App Store would signify the likelihood that games could be played directly from the Apple TV rather than mirrored from an iOS device.
Plenty of Promise Without It
The problem is, Apple doesn't have to deliver a new Apple TV device in June in order to make interesting leaps forward. An awful lot of HomeKit functionality could be enabled via a software update to the existing Apple TV, which, by the way, immediately would enable millions of consumers to start buying home automation devices without necessarily needing new Apple hardware. That would be a nice way to jumpstart the HomeKit effort, would it not?
Another potential new feature could revolve around Handoff and Continuity. One of the things I find myself doing as I use the HBO Now service is to start a video on my iPhone, then later sit in the living room and pick up where I left off via the HBO Now app. It works reasonably well, but it takes some time and some navigation.
Going back the opposite way seems to be less effective right now — my iPhone doesn't seem to know where I really left off. Yes, I could AirPlay from my iPhone to my Apple TV, but then I'm burning battery for no really good reason. The point is, Apple might be able to create device awareness between existing Apple TV hardware and my iOS devices — and HomeKit-enabled devices — in such a way that the company will have plenty of cool things to introduce at WWDC.
But what about theteaser invite graphic that Apple created for WWDC? The graphic has a bunch of overlapping translucent shapes, the center of which is a square with rounded corners and the teaser text of "the epicenter of change."
Apple often teases its events with double entendres and vague references, and of course, WWDC, as an event, is an epicenter of change. So what of that rounded square? It matches the footprint of an existing Apple TV — and there are actually two of those rounded squares. Lots of Apple fans and watchers have taken this image to mean that we'll get a new Apple TV at WWDC. After all, isn't the TV the "epicenter" of a household?
I'm not so sure. The TV is a big deal, but not nearly as much now that iOS screens are everywhere, scattered throughout households. While I would like to see that image promise new Apple TV hardware in June, it just might not happen.
Then there is the connectivity piece of all this — the two most ubiquitous wireless connectivity standards in the home center around Bluetooth and WiFi. Those rounded-corner squares also fit the basic profile for the AirPort and AirPort Extreme.
Apple's new "epicenter" easily could be a new hardware device that is dedicated to connectivity for HomeKit and beyond… in which case the existing Apple TV is just another coolly attached device to the new epicenter hub. Thinking a little farther along these lines, the Apple TV doesn't have to be the hub at all — just the hardware that presents data to any HDTV screen.
And Yet, I Still Hold Out Hope for a New Apple TV
As a product-selling tactic, I can't think of a better way to create a product that will have the consumer appeal needed to get millions of households to buy into a much bigger and broader world than through an Apple TV. Teaching consumers to buy some sort of other hub will be a much harder challenge than using a device they already know, expanding its capabilities along the way.
As I noted before, selling an Apple TV is a psychological win when it comes to describing how a smart home with multiple devices can all come together. A new Apple TV could function as a hub, tapping into existing WiFi, and lending some new brains and brawn to older-generation Apple TVs that could be moved to satellite TVs in the household.
No matter what Apple does, WWDC is right smack in the middle of the next big home-front leap available to both Apple developers and Apple-loving consumers. I know I'll be watching the live stream June 8. Heck, I might even make some popcorn and watch from the living room.