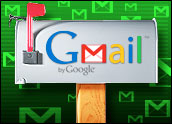 Gmail users worldwide went without Web mail service for several hours early Tuesday morning. Google's monitoring system indicated that service went down around 9:30 am GMT — 4:30 a.m. on the U.S.'s East Coast and 1:30 a.m. in the Pacific time zone.
"If you've tried to access your Gmail account today, you are probably aware by now that we're having some problems. Shortly after … 9:30 a.m. GMT our monitoring systems alerted us that Gmail consumer and businesses accounts worldwide could not get access to their email," Acacio Cruz, Gmail site reliability manager, wrote in post on the Google blog.
Although Google used the opportunity to tout its recently unveiled offline Gmail functionality, a mishap on the scale of a worldwide outage could undermine the company's efforts to cast its services as viable alternatives for business use.
"This is a reality check for organizations. There's no question that for many, many organizations, the cloud is going to represent a role in some shape or form in the way they provision email down the road. Instances like this are points of consideration. Email is a business-critical technology for so many companies," Christopher Voce, a Forrester Research analyst, told TechNewsWorld.
"And although providers like Microsoft and Google can benefit and leverage from economies of scale and the sophistication of their environments, outages can and do happen. So they still need to think about the security of their data and the availability of email," he continued.
Enterprise Ready?
While the problem has since been repaired and access to Gmail accounts restored, this latest episode apparently marks the second time this month that Google has experienced a Gmail-related issue and at least the fourth time the service has suffered a widespread outage since last August.
The outage was reportedly not restricted to Gmail — it also affected businesses and consumers using Google Apps, the company's Web-based word processing and spreadsheet offering.
"Have there been any complaints about outages related to Google's other hosted services, like its productivity suite? If there have, then yes, I'd say there's room to be concerned. If not, and it's only isolated to e-mail, then — unfortunately — this characterizes all of the Web-based e-mail services, so I'm not sure that it does damage to their ability to offer hosted services," Kurt Scherf, principal analyst at Parks Associates, told TechNewsWorld.
For its Premier Edition subscribers, Google guarantees a minimum of 99.9 percent uptime for Gmail in any given month; if it falls below that mark, the company promises to pay those users a penalty.
"It points out an important thing that companies sometimes need to consider. You can guarantee uptime for certain user constituencies. The takeaway for companies that [is] they have to think about how they segment their user population and make the investments needed," Voce pointed out.
The Other Side of SaaS
The incident highlights the difficulties of providing Software as a Service (SaaS), according to Scherf.
"It's an interesting area to watch, because Software as a Service is such a huge area of interest right now for many parties. Service providers, broadband and mobile particularly, consumer electronics manufacturers — look at the netbook area as a hot CE market right now — and there seem to be many initiatives aimed at developing 'cloud' services for these, and for traditional Web players like Google, Yahoo, MSN, etc. So it will be highly competitive, and reliability and stability will be critical at a time in which companies are selling value-added apps as critical differentiators and ARPU (average revenue per unit) generators" Scherf said.