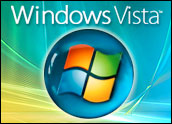 Microsoft announced on Wednesday the availability of the Windows Vista and Windows Server 2008 Service Pack 2 (SP2) Release Candidate (RC) for the general public. The software was initially put on limited release a week ago to the company's TechNet and MSDN subscribers.
The announcement means that anyone interested in testing the penultimate version before the final release of the service pack can download it now.
"If they want to do some testing, that's fine, especially if they're doing app development. Generally, though, IT does not really need to do anything until after it's released," Michael Silver, an analyst at Gartner told TechNewsWorld.
Final Test
The Windows Vista and Windows Server 2008 SP2 Release Candidates are updates to the operating systems that address customer and partner feedback, according to Microsoft. In addition to providing all security patches disseminated since the releases of the previous service pack, SP2 also contains changes that provide support for new types of hardware and several emerging standards.
This version of SP2 also improves the reliability and compatibility of non-Microsoft applications. For example, the software makes it possible for Spysweeper and ZoneAlarm to work with POP3 (Post Office Protocol version 3) email accounts.
Other improvements include support for the 64-bit central processing unit from VIA Technologies, better performance for WiFi connections after resuming from sleep mode. The package also provides updates to the RSS (Really Simple Syndication) feeds sidebar for improved performance and responsiveness. Users downloading the service pack will also gain the ability to record data to Blu-ray Disc media. In addition, Windows Media Center will receive a boost with better content protection for TV.
Probably Not the Last Vista SP
SP2 also includes Windows Search 4.0, which offers users improved indexing and search relevance when searching for preview documents, e-mail, music files, photos and other data stored on a PC. Hyper-V virtualization, backwards compatibility for Terminal Server license keys and increased option for WebDAV redirector are just a few more of the enhancements built into the upcoming service pack.
Potential testers who have previously installed the beta version of SP2 will need to uninstall the software prior to installing the RC, said Microsoft.
Microsoft released the SP2 beta in October of 2008 and has moved through the pre-release stages posting a new version about every two months. The final release of SP2 for Windows Vista and Windows Server 2008 will come during the second quarter of 2009, according to the software maker. That release, however, it will likely not be the last service pack for the two operating systems, according to Silver.
"With Vista having support into 2017, I would expect at least one more," he said.