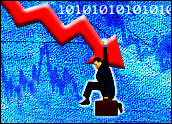 It's a question fit for the asking in Seattle, home to some of the world's software, gaming and e-commerce giants: If technology is supposedly one of the villains threatening the nation's newspaper industry, can technology also ride to the rescue of the Seattle Post-Intelligencer?
I'm asking the question because the paper, founded in 1867, may not survive much longer into the 21st Century to cover the goings-on at Microsoft, Nintendo and Amazon. Last week the owners, Hearst Corp., gathered the staff in the newsroom for the ultimate piece of bad breaking news: the P-I lost US$14 million last year, and if a buyer for Seattle's oldest newspaper isn't found within the next 60 days, it will either shut down or become an online-only daily. Either way, people will lose their jobs, and one of America's last two-newspaper towns could see a vital source of local information dry up.
The Slow Decline
Journalistic misery loves company these days. The Rocky Mountain News in Denver, another two-newspaper town, is also for sale and could vanish into the crisp Colorado air. Gannett, publishers of USA Today and owners of many local newspapers and TV stations, used the "f" word — furlough — in telling all its employees they'd have to take one week off without pay this year. Layoffs here, buyouts there, and all accompanied by thousands of computer keyboards tapping out the world's longest obituary for print reporters. Occasionally someone floats a trial balloon: Hello, media pundits with outside streams of revenue like speaking engagements and book deals — talk among yourselves about how to save the industry. The New York Times suggests an iTunes for news. What about micropayments, charging a cent or two for every story link you click? Works for selling non-existent goods in virtual worlds, right?
The same media exercise is going on in Seattle, as bloggers and reporters are only too happy to volunteer checkbooks belonging to local philanthropists Paul Allen and Bill and Melinda Gates. Meanwhile, the big Daily Planet-worthy globe that sits on top of the P-I's building on the Elliott Bay waterfront still needs a deep-pocketed Superman to perch on top of it. Good luck with that; local newspapers and TV stations aren't exactly seen as value propositions these days (see Zell, Sam.)
So in a city that gives birth daily to possible life-changing innovations scratched out on conference room whiteboards, take the thesis of an online-only newspaper and build on it; why not have the P-I turn into print journalism's R&D department?
Selling a New Advertising Model
Media consultant Amy Gahran — as outspoken as they come — doesn't buy the notion that technology via the Internet is mainly responsible for print journalism's woes. "It's mostly the result of bad, bad, bad management practices and decisions," Gahran told me from her Boulder, Colo., offices, where she contributes to the online and multimedia section of the Poynter Institute's Web site, Poynter.org. "Why did the Rocky Mountain News decide to put $160 million into a new printing plant when they knew circulation was declining and wasn't likely to increase? Look at the financial shenanigans Sam Zell was doing with the Tribune Co. I'm not saying the Internet doesn't have an impact, but what I'm seeing from news organizations having to put themselves up for sale, more often than not the business and finance side is the culprit."
Well, sure, but can Gahran place the blame for dwindling ad revenues — offline and online — at the feet of media companies like Hearst? You bet she can. "Newspapers' ad departments are still based on selling real estate rather than relevance," she says. "Most content management systems at news organizations are really, really bad about that because they're mainly geared toward putting out the print product first, and everything online is an afterthought. The print product has nothing to do with relevance matching the content."
Here's relevance matching content: an online story on skateboarding could have ads, adjusted in real time, that speak to everything that a skateboarder would be interested in, like music for shredding, clothing stores for looking good during ollies and kick-flips, health care for injuries after epic ramptrick fails. (You can Google these terms, but trust me, they're things skateboarders do.)
"Newspaper systems are dead stupid. Some are getting a bit smarter, but most of them can't handle that level of matching — not just words in stories, but a whole sophisticated system of tagging about anything that would be relevant in a story that helps you match ads with that," Gahran said.
Leaving the News Priesthood
More ad clickthroughs happen when you have an engaged audience, and that can only happen if the traditional journalists at the P-I change their view of what value they provide the reader, Gahran says. The old mindset of journalism being an exclusive club or priesthood — ask questions, get information, write stories, cloister yourself off from readers — has to change.
"It's as if I was running a bakery and I thought all I was doing was selling cake boxes," she said. "The story is the end package. The real value is developing expertise in gathering information, to follow a beat and engage the community. Community engagement is where most journalists fall down. So many journalists are afraid to leave comments on blogs, speak up in (online) forums. Get over that."
Show the sausage being made. Let people know what you had to do to develop the story. Give a real-time commentary on how you evaluate sources and resources, how you cover a beat. And listen to the community feedback. "The end product will not only be more engaging in an online environment, where conversation is more effective, but it will also help a news organization build a different kind of brand and provide content in a way that's flexible and more friendly."
As you might expect of a Seattle newspaper, the P-I has active, well-read blogs and online communities. Gahran suggests that the newspaper might spin those off into separate properties before those brands lose value, "with the provision that they put ad sales staff on it who have a clue on how to sell online."
All of this requires new thinking from management and new attitudes from the journalists who will remain. Reporters need to start considering the business side of journalism, and their bosses need to let them. The Seattle P-I may be taking baby steps towards this approach; the publisher is actually asking the newsroom to chime in with ideas on what an online version of the paper would look like and how to make money off of it.
Gahran isn't happy about the bloodletting and the sacrifices that are coming. She knows that cities like Seattle — and the diverse communities within it — will suffer with more experienced reporters and editors out of work. But the ones who stick it out may find themselves on the ground floor of Journalism 2.0 Inc. — if they adapt to the online environment and start seeing things through the customer's eyes.
"You have to upgrade the wetware," Gahran said. "Once you do that, anything is possible."