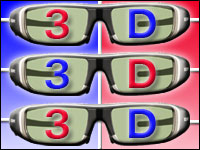 F. Scott Fitzgerald said there are no second acts in American lives. Would he have changed his mind if The Great Gatsby had received the 3-D IMAX treatment — with Jay Gatsby as an alien bootlegger and Nick Carraway as avenging Ivy League superhero?
After burning bright and flaming out fast in the 1950s, "3-D: The Sequel" is now enjoying a surprising encore in the American film industry, thanks to the dazzling commercial and critical success of James Cameron's "Avatar." As they say in the movie business, this new technology trend has legs: "Alice in Wonderland," "Clash of the Titans" and "How to Train Your Dragon" have all done well at the box office in their 3-D versions, and the summer blockbuster crop includes "Shrek Forever After," "The Last Airbender," "Step Up 3-D" and "Halloween 3-D."
Yet Cameron's Oscar-nominated film is one of the few movies to appear on screens in the last six months that left the storyboard stage designed to be shot in 3-D. A few more 3-D-shot films are on the way, but other live-action films were converted from 2-D to 3-D in post-production; the decision to super-size "Clash" was made at the last minute, delaying its scheduled release date.
Like the deadly fish seeking blood in the forthcoming "Piranha 3-D," movie studios sense killer profits in the current 3-D-mania. However, couple the conversion craze with potential moviegoer backlash over an expensive 3-D ticket, the discomfort of ill-fitting glasses and less-than-stellar results, and you've got some industry watchers worried that Hollywood will slaughter the goose that laid the golden (digital) egg.
"3-D is a waste of a perfectly good dimension," wrote film critic Roger Ebert in a much-discussed (and linked-to) Newsweek article. "Hollywood's current crazy stampede toward it is suicidal. It adds nothing essential to the movie-going experience. For some, it is an annoying distraction. For others, it creates nausea and headaches. It is driven largely to sell expensive projection equipment and add a (US)$5 to $7.50 surcharge on already expensive movie tickets."
It's not the concept of 3-D, but bad 2-D-to-3-D conversion that had Cameron and "Transformers" director Michael Bay grousing to Deadline Hollywood Daily's Mike Fleming about studios looking to make a quick buck at the expense of both moviegoers and filmmakers. "Now, you've got people quickly converting movies from 2-D to 3-D, which is not what we did," Cameron said. "They're expecting the same result, when in fact they will probably work against the adoption of 3-D because they'll be putting out an inferior product."
Bay, who estimates that converting a film from 2-D to 3-D can cost $120,000-$150,000 per minute (total cost for the third "Transformers" film, due July 2011: $30 million) doesn't like the idea of handing off his special effects-laden child to a conversion house that wasn't a part of his original filmmaking team. "Right now, it looks like fake 3-D, with layers that are very apparent. You go to the screening room, you are hoping to be thrilled, and you're thinking, huh, this kind of sucks," Bay told Deadline Hollywood Daily. "People can say whatever they want about my movies, but they are technically precise, and if this isn't going to be excellent, I don't want to do it."
Fluency in 3-D Language
"Avatar" was still making plenty of money per week when it had to give up some 3-D theaters — including IMAX screens — for Tim Burton's "Alice in Wonderland," according to Loren Carpenter, cofounder of Pixar Animation Studios and its very first chief scientist, who spoke with Cameron recently. "This told me that there still aren't enough 3-D screens," Carpenter told TechNewsWorld. "But you still have to have a good movie, or at least a popular movie."
It's surprising that 3-D is back in vogue, said Carpenter, who helped develop the Oscar-winning Renderman technology that still powers many a Pixar hit like the "Toy Story" franchise, "Finding Nemo," "The Incredibles" and "Up." "Not that I have any issue with it, but I'm surprised at the hoopla, if you will. I would have thought it would show up here and show up there, but some folks have decided to throw an awful lot of cash at it."
From now on, all Pixar movies will have a 3-D version, Carpenter said, including this summer's "Toy Story 3." He added that it's easier for animated films to accommodate this technology than live-action features: You can put the camera wherever you want. But it does mean that 3D technicians are involved from the very beginning of the movie development process — to the point of helping to determine how "camera" placement will impact the storytelling.
Not all studios, he acknowledged, are approaching the process in the same measured way, and even though the industry is shepherding this phenomenon through its second life in theaters following mid-20th century camp classics like "House of Wax" and "Bwana Devil," Carpenter said the technologies are still relatively new toys in the hands of filmmakers and studio heads. "There's a lot of editing that the industry needs to learn — how to change the perspective and so forth — so as not to upset the audience, as well as facilitating a well-told story. You may want to change the convergence point (where the eyes land on the screen) and the focus differently as a storytelling point," he said. "This sort of language is still being developed, and right now it's pretty ham-fisted."
The Conversion Process
It's also one of the reasons why DDD, a Santa Monica, Calif.-based film technology company, is focusing on 3-D projects for television presentation rather than movie theaters. 3-D movies "are large projects, and for the most part they have pretty tight deadlines," DDD vice-president of technical operations Jay Wiskerchen told TechNewsWorld. "What we're doing is setting up kind of an assembly line for the content to be converted to television. In that environment, we're better able to control the timing for everything. We want the end result to be as good as it can be."
Is that the issue with 2-D-to-3-D conversions — a lot of detailed technical work jammed into a few weeks' time? "That's absolutely right," Wiskerchen said. "Hopefully the industry is learning from the whole backlash from 'Clash of the Titans.' Even though it made Warner Brothers a lot of money, there's still some pushback from the consumer; the 3-D just didn't look that good — why should I have to pay extra? That comes down to studios and the companies producing this content. It's kind of up to them if they want to ensure that 3-D is a long-term success — to not forgo quality in the short term."
Some of the companies promising quality 2-D-to-3-D conversions are still relying on 20th-century technological developments like rotoscoping. "When you're talking feature films, the companies doing that are still doing it frame-by-frame. When you ask about improvements in technology, it's going to be incremental for theatrical conversions. They're still doing a lot of manual work to outline objects and do some rotoscoping."
This painstaking process can be helped if the filmmakers know in advance that a 3-D version of their movie is planned even if they're shooting it in 2-D, "like Tim Burton did in 'Alice in Wonderland.' He set up the shots to take advantage of 3-D. I thought it looked excellent. There was a decision to make certain parts of the film look more shallow," Wiskerchen said.
The History of 3-D and Film Technologies
The 1955 teen-angst classic "Rebel Without A Cause" is revered for the intense acting of James Dean, Natalie Wood and Sal Mineo, and Nicholas Ray's expert direction. You might not think it needed any technological enhancements to tell its story and have an impact on audiences. Yet Jennifer Bean, director of cinema studies at the University of Washington, said "Rebel" was Ray's first attempt at shooting a film in Cinemascope — introduced two years earlier to help compete against television — and the results are all on the widescreen.
"Ray used Cinemascope, with its incredible capability for horizontal access — that long line," Bean told TechNewsWorld. "For the interiors of James Dean' home in the movie, you get that sense of teenagers experiencing claustrophobia — no way out. There's integrity in how he (Ray) is using the particulars of Cinemascope and its spatial dimension to complement and ironize the characters and subjects. That's why we'll watch it again and again and again."
Gregg Toland, Orson Welles' favorite cinematographer, used the latest advances in camera lenses and film stock 14 years earlier in "Citizen Kane." "New shutter speeds would allow Toland to experiment in a more daring way," Bean said.
There may be a history of filmmakers and studios looking to technology to bring in audiences and rake in the box office bucks, but Bean says without compelling stories and characters, 3-D will flame out like it did nearly 50 years ago — whether the movies were shot in 2-D and converted later, or filmed on 3-D-ready cameras.
"The notion of novelty, which is what I think slapping on 3-D in post-production is, will wear off. And what remains will have to come down to quality filmmaking and engaging stories," Bean said. "For me, that doesn't have to mean some kind of adaptation of a great novel or deep character study. 'Avatar' was a fabulous film, a one-of-a-kind thing that cinema can do, but it's the mix of intrigue and story and characters and the 3-D that make it such a compelling package. The novelty alone won't hold audiences' interests for more than a year or so."