Seven months and countless complaints after Microsoft launched Windows 8, it has announced that Windows 8.1, aka "Blue," will restore the much-missed Start button.
Microsoft also will deliver a host of new features and functionality in Blue, and make it easier for people to navigate the operating system using a mouse and a keyboard.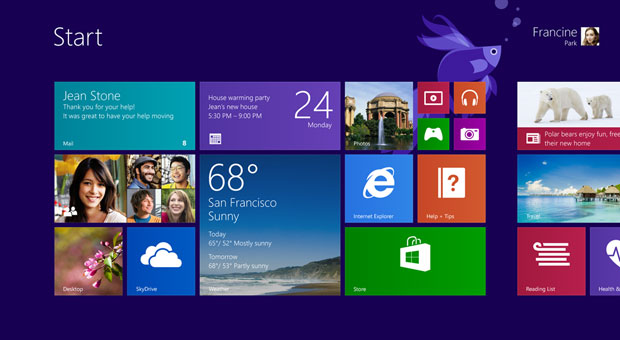 Windows Blue will include management, security and other features for the enterprise that will be explicated at TechEd North America, to be held in New Orleans next week.
Complaints about the user interface are "a red herring, because most people don't understand that the tiles are editable and can be deleted. You can move them around, and you can give each group of tiles a meaningful title," Michael Cherry, a senior analyst at Directions on Microsoft, told TechNewsWorld. "I don't want the Start button back."
What's New in Windows Blue
Windows Blue will offer improvements and enhancements in key areas such as personalization, search, built-in apps, the Windows Store experience, and cloud connectivity, Microsoft said.
It will offer more colors and backgrounds for the Start screen, including backgrounds with motion — or users can set their desktop background as their Start screen background.
Win 8.1 will offer a variety of tile sizes and make it easier to name groups and rearrange tiles. Users will be able to filter apps by name, date installed, most used or category. New apps will appear under the Apps View and be marked as new. Users can choose whether to pin them to the Start screen.
The Search charm in Windows 8.1 will provide global search results from Bing, aggregated from multiple sources.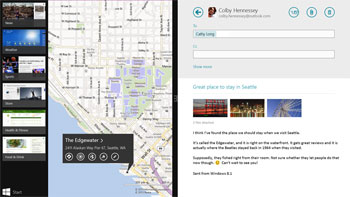 (click to enlarge)
Built-in apps will be improved, and Windows Blue will make it easier to use multiple apps simultaneously. Users will be able to select, resize, uninstall or rearrange multiple apps at once. Multitasking will be easier, and users can have multiple windows of the same app snapped together.
Users will be able to save files directly to SkyDrive, and the new SkyDrive app will give users access to files whether they are on the device or in the cloud.
The PC Settings feature will be directly accessible, so users won't have to go to the control panel.
Microsoft will include Internet Explorer 11 with Windows Blue. Its features include better touch performance, faster page load times and the ability to access open tabs in sync across multiple Win 8.1 devices.
Much Ado About Nothing?
It's generally accepted that Windows 8 didn't sell as well as Microsoft had hoped, but "all they had to do was add boot to the desktop and restore the Start menu as it was in Windows 7 to restore their momentum," Philip Lieberman, president of Lieberman Software, told TechNewsWorld.
However, Microsoft "decided to only allow boot to the desktop and put back only part of the Start menu with a crazy half Modern UI navigation solution," Lieberman continued. "This will not suffice, and it will get the same negative reviews."
Other improvements in the UI are "welcome but not enough to overcome the Modern UI design shortcomings," Lieberman added.
"You can focus on all these things like personalization and search — the Start button and whether tiles should be bigger or whatever — but the bottom line is, you need good apps," Directions on Microsoft's Cherry remarked.
"Until app developers start writing apps that exploit the operating system, it's just an operating system. How many people do you think walk into a store and say, 'Boy, I'd buy it because it can get more background colors, or it has larger and smaller tiles?"