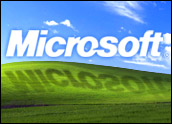 Microsoft inched further toward the tablet world Tuesday by revealing a slew of new details about its upcoming Windows 8 operating system at its Build developers conference, being held in Anaheim, Calif., through Friday.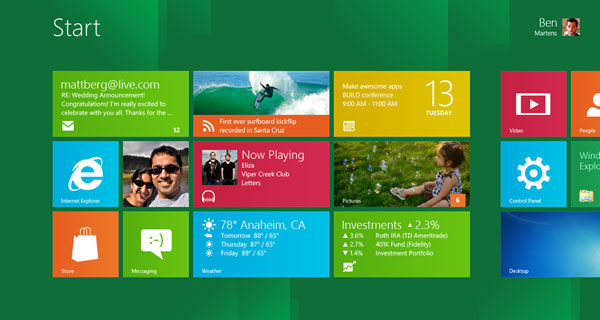 A Windows 8 start screen
Windows Division President Steven Sinofsky headlined the presentation, which demoed various aspects of the new operating system.
Among other things, Windows 8 will incorporate the Metro-style touch user interface familiar to Windows Phone 7 users. Also, Metro-style apps built for Windows 8 will be full-screen. Apps will communicate with each other, and Windows Live will sync all content on all a user's devices, which can be accessed from anywhere with any browser or Metro Windows 8 apps. Finally, the Windows Store will make it easier for devs to sell their apps and for consumers to find and purchase software.
Microsoft has also placed a strong emphasis on mobility. All apps developed for Windows 8 will run on both x86 and ARM platforms, for example. In fact, Win 8 will work across devices ranging from 10-inch tablets and laptops to all-in-one products with 27-inch high-definition screens, Microsoft said.
If all this sounds somewhat familiar, it's because Microsoft is in some ways going boldly where Apple has gone before.
"Microsoft has been imitating Apple for a long time, and imitation is the sincerest form of flattery," Laura DiDio, principal at ITIC, told TechNewsWorld.
However, Redmond has come up with a few winkles of its own for Windows 8.
For one thing, the new OS will be backwards compatible with Windows 7, so it will run all existing Windows 7 applications, Microsoft's Sinofsky announced.
Further, the learning curve for devs is slight, if it's at all present — devs can leverage their knowledge of C # and other existing Microsoft app development languages to create Windows 8 Metro apps, Sinofsky said.
Microsoft spokesperson Emma Mahoney referred TechNewsWorld to the Microsoft News Center in response to a request for comment.
Some Further Details About Win 8
Windows 8 has a new set of application programming interfaces and tools to build Metro apps that are "very rich in immersive experience" and enable rapid development, Sinofsky said.
Microsoft has focused strongly on layouts.
Metro-style applications will run across all Win 8 devices, and those that are built with JavaScript, C #, XAML or HTML 5 "will run on ARM chips," Sinofsky announced.
Windows 8 has "a whole range of protection through antimalware and antivirus" built in, and Windows 8 PCs will be both more secure and faster than those running previous versions of Windows, Sinofsky declared.
Microsoft will ensure that there's no OS scope creep with Windows 8, as critics said occurred with previous versions of the operating system.
"We're not building layers and layers, we built everything natively into Windows," Sinofsky stated.
Starting Tuesday night, developers will be able to download both the 32-bit and 64-bit versions of the Windows 8 official dev preview without developer tools, and a 64-bit version with developer tools. The download can be found here.
However, these are not the gold versions of the OS.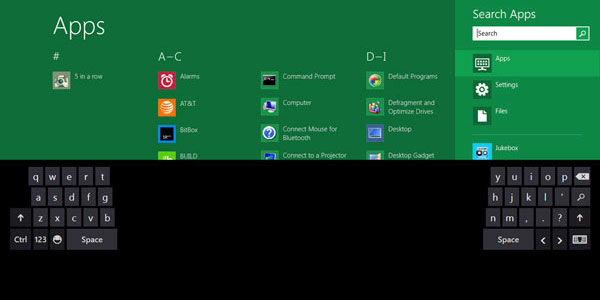 A Windows 8 interface for typing on a tablet using one's thumbs
The improvements in the OS and the other new features, such as touch capability, are "exactly what Microsoft has to do," ITIC's DiDio said.
"Microsoft has to convince people that the Windows platform is evolving to address the need of the 21st century digital network, and that the operating system can work on both a traditional PC or notebook, as well as new devices such as smartphones and tablets," DiDio explained.
Buying and Selling Apps
With Windows 8, Microsoft has revamped the Windows Store, making app discovery and purchase easier for consumers and allowing devs to sell their apps anywhere Windows is sold.
A rich licensing model has been built into apps, Sinofsky said.
Further, Microsoft has introduced an app approval process to ensure users will be safe.
The process will be transparent so devs will know where in the process their apps are, Sinofsky said. Microsoft will also give devs tools so they can check their apps prior to submission to the Windows Store.
The Windows Store is a Metro-style app built using HTML 5 and JavaScript. It is organized into sections. These include a spotlight section for apps Microsoft thinks are important, a social category and a games category.