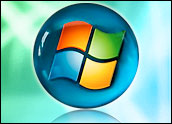 Part 1 of this four-part series details the steps to acquire and install the beta edition of Windows 7. Part 2 takes a closer look at the OS's new features. Part 3 assesses the pros and cons of Windows 7 based on several weeks of experience using it.
Microsoft released to the public last month a well-polished beta version of Windows 7. After three weeks of working with the new Windows operating system, I am mostly impressed with its stability and usability. Making this statement is a big step for me. I rejected Vista and linger happily with Windows XP.
Overall, I have been pleased with what Microsoft has done with this latest chapter in the Windows OS saga. Is it perfect? No. Is it an OS that I will use by choice when the time comes to cut Windows XP loose? Probably.
Changed Expectations
I started my look at the Windows 7 beta out of curiosity. Job requirements as a technology writer aside, I can draw the line between what OS I use for work and what OS is handy for non-working tasks. With several computers usually running day and night, however, that line admittedly blurs.
I was hoping to find Windows 7 to be a major roll-out of an updated Windows XP. When I discovered that it was a retooled offspring of Windows Vista, however, I set my expectations low.
An operating system holds an intimate relationship with the programs that run on it. For typical users, the OS doesn't matter much. They boot the computer and load their Web browser, games, word processor or accessory programs. The OS falls into the background.
When the OS gets in the way of daily computing chores, the trouble sets in. That's the battle that Linux OS developers are fighting now to attract users from Windows. Apple eliminated that problem years ago with an operating system that had both pizazz and functionality. Microsoft started to achieve that same goal with Windows XP but stumbled big time with Vista.
Comparisons Count
For me, it has always been a comfort zone issue. I am a ceaseless tinkerer. Yes, Windows XP has a nondistinctive GUI (graphical user interface). But it works reliably with almost every piece of hardware and software I install. Over the years, I found a bevy of system utilities that add most of the eye candy and improved functionality that made its way into Vista.
Sure, Windows Vista has more built-in security than XP. But I've never had a serious malware or intrusion problem with Windows XP because I adhere strictly to safe computing best practices and run multiple levels of protective software.
That comfort zone was just never there for me in Windows Vista. Eye-candy aside, I was plagued by driver issues for numerous must-use legacy accessories. The incessant interruptions by User Access Controls (UAC) that Microsoft planted in Vista to protect me from myself constantly got in the way. Because I could not tinker as much and had to constantly figure out where stuff was hidden to adjust how the OS worked, I gave up on the Vista OS.
Windows 7 is changing all of that.
Happy Hands-On
If Microsoft does nothing else with the beta before the final release of Windows 7, it will still have a better product than Vista is now. After three weeks of working with Windows 7, I have not found much to criticize about it. Clearly, Windows 7 is what Windows Vista should have been.
Using the Beta OS is much like bare-bones computing. Aside from a handful of installed programs, Windows 7 beta does not come with major software packages. So to test the new OS beyond its performance with resident programs such as Internet Explorer 8, WordPad, NotePad and MSPaint, I had to install a host of non-Windows 7 — and even non-Vista — class programs.
When I set up a new laptop with Microsoft Vista pre-installed, adding software and configuring wireless Internet access, and some XP-era hardware, was a constant annoyance. Finding compatible drivers or even new products with Vista support took up way too much time.
Installation Fest
Most of the software I installed worked fine. I had to hunt for work-arounds to get my older Lexmark printer-scanner combo to work, however.
Windows 7 Beta offered me a list of Lexmark printers. Alas, the X1150 series I have was not one of them. But this is just a beta. Hopefully, more Windows 7 driver upgrades will exist following the final release of the new OS.
I installed my everyday working programs with little or no angst. For example, I use numerous utility products to enhance the tasks I frequently perform while computing. These include a text editor tailored for writers called TextPad32 and a file management toolkit called PowerDesk.
The open source OpenOffice suite runs fine. So does the open source Web browser Firefox.
Not So Fine
I stumbled on a few glaring examples of beta snafus. One of them was a glitch with a browser add-on for my Google Mail service. Google just released an off-line mail client that allows users to store mail folders and attachments locally. When an Internet connection is lacking, existing mail can still be accessed on the hard drive.
The Google Gears add-on worked on my XP, Vista and Linux computers. It does not work yet with Windows 7. The system requirements from Google for its Gears product does not list Windows 7. But this is an example of what to expect with any new OS.
Another issue was with third-party antivirus and antispyware products. I downloaded and installed several free products. Some claimed to work with Windows 7 but did not. Others made no such claim but worked.
The Big Picture
I mentioned in my initial segment on looking at Windows 7 that die-hard Windows XP users would probably hate Windows 7 and frustrated Windows Vista users would love it. Although my working experience with the new OS has led me to soften that assessment somewhat, I am still certain that the migration path will be more uncomfortable coming from XP.
One reason for this is the radical change in the GUI between Windows XP and Windows 7. Microsoft started some major breaks with legacy compatibility and user procedures when it released Vista. Windows 7 shows a continuation of those usability breaks.
One example of this is in the use of a ribbon interface that first debuted in Microsoft Office 2007. Users accustomed to previous versions of Office were often confused about how exactly to use the new interface. More of that ribbon-like interface moves into the new OS.
Businesses that remained with Windows XP will have a bigger chore in migrating their workers to the new OS than will those coming from Vista. But given the smoother ride I experienced with the Windows 7 beta over Vista, IT managers should find much fewer obstacles and driver shortages for legacy applications.
Windows Shopping, Part 1: Getting a New View
Windows Shopping, Part 2: Getting Acquainted