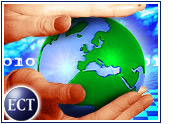 Only 15 years ago, we watched in amazement while the rusty iron curtain collapsed and the formerly communist countries of Eastern Europe embarked on new lives in the global market.
For most of us, this neglected region stretching from the Baltic to the Balkans then retreated to the fringes of our attention. Yet the region is very close to Western Europe, with a population of many millions — skilled and educated workers — and an entrepreneurial spirit fired by years of pent-up demand.
Until the 1980s, IT was quite primitive in most of the region. Then, fearing that delay would make the technology gap with the West impossible to bridge, the governments of Poland, Hungary and the former Czechoslovakia invested heavily in computer education.
The same period saw moves by those nations to computerize their governments' administration and economic planning. But an IT market in the Western sense of the word scarcely existed — for political reasons.
Fastest-Growing Region
Information is power, and governments were anxious to keep the spread of IT under control. In addition, heavily bureaucratized economies meant not only that capital was scarce, but also that serious amounts of red tape stood in the way of foreign investment.
Eastern Europe is both diverse and hard to generalize, but its economies all can be characterized as transitional. Some regions have been held back by violence and war, others by small size, location and underdevelopment. Crime, energy shortages and high deficits are common. Most of the countries in Eastern Europe were hurt by the Russian financial crisis of 1998, and many suffer from high unemployment.
In spite of all that, these countries are growing rapidly. According to Ned Cabot, the United States Trade and Development Agency's regional director of Europe, Eastern Europe might be the fastest-growing region of the world at present. Cabot said the region also might be the most consistent performer.
"Every country in the region is growing," he told TechNewsWorld. "The Baltic countries are growing at six to seven percent a year now; even Romania is doing four or five."
EU the Driver
Despite starting from what Cabot calls "low numbers," all the countries in the region have followed a similar path from state-owned monopoly to liberalization because all are hoping to join the EU. "Membership in the EU drives absolutely everything in the region," he said.
The telecommunications industry is just one example of this drive. Moving away from state monopolies providing wired services, all countries have moved quickly to license wireless providers. From now until 2004, almost all of the remaining state monopolies will be wound down.
"You've got complete liberalization of the wireless market and vigorous competition everywhere," noted Cabot. "Cable TV is booming, [and] ISPs are making a similar calculation; there's an ISP in Kosovo that's carrying some voice traffic and is just desperate to do more."
Late last year, Gartner analysts Donald Stuart and Joe Tuset noted that competition in Central and Eastern Europe is "particularly fierce in the provision of data and IP services, as operators bring additional capacities on-stream and focus on Internet-based services."
EU requirements drive the IT side too. One precondition for Romanian membership, for instance, is national ID cards. No decision has yet been made, but Romania is considering a smart card that could do many things beyond merely identifying the bearer.
Doing What the Wealthy Do
Amid this change, there are many interesting possibilities for IT providers. IT opportunities are associated with countries getting wealthier and doing the things that wealthy countries do, said Cabot. So it's no surprise that the leaders in IT are also the largest and richest — the so-called "European tigers" of Poland, the Czech Republic and Hungary — or that the markets are measured in billions of U.S. dollars.
One opportunity is the quickly growing outsourcing trend from Western Europe because of the region's proximity to the Easterners' high-level skills. Many in Eastern Europe hope for an IT-based future along the lines of Ireland or India. "I've talked to [U.S.] companies about this, and they consider the technology and code-writing level [of Eastern Europe to be] a much higher quality than is found elsewhere," a U.S. Department of Commerce spokesperson, who commented on condition of anonymity, told TechNewsWorld.
However, tapping into these opportunities in Eastern Europe doesn't just mean using new wealth to buy Western IT products or services so that companies in Eastern Europe can compete globally. National differences are becoming starkly apparent: Markets in countries that started further behind or were delayed on the path to globalized IT are still based largely on hardware, while more modern regions have made the transition to software and services.
Romania alone, one of the Eastern Europe countries that is quickly transitioning to software and services, is home to more than 2,000 software development firms. Romania might not be as advanced as some regions, said Cabot, but the country does its marketing better than anyone. As a result, it has attracted international attention. Several recent events in Romania have placed the country on the international technology map.
For example, authorities in Romania last week were investigating another suspected virus writer who allegedly authored a variant of the Blaster worm, which took advantage of a widespread Microsoft Windows vulnerability.
Outsmarting Crime
While Eastern Europe seems to be on the IT fast track, there are several potential barriers still in place. A legacy of political corruption is just one of those barriers. Former communist states are often synonymous with corruption.
The smart-card proposals are one instance, said Cabot, of "investments associated with operating government services in a corrupt environment." The Romanian government has recently made a successful push for government e-procurement, not — as might be done in the West — for its low operating cost or speed, but to reduce corruption of the tender process.
Because of this environment, many Eastern developers have concentrated on security systems, some of them attracting favorable international attention. Microsoft recently acquired Romanian security company GeCAD, for instance. Another Romanian company, Softwin SRL, developed antivirus software called BitDefender that won first prize at the European IST awards and has been in the news again recently for discoveries about the SoBig.F virus.
But security isn't the only area of innovation in Eastern Europe. A report by The Central And Eastern Europe Business Information Center, for instance, cites influential international software coming from Hungary, such as the OCR package Recognita, currently marketed by ScanSoft, or the ArchiCAD familiy by Graphisoft.
While much ground remains to be made up, it appears that the once-feared technology gap in Eastern Europe is closing, and the IT currents are flowing ever more quickly in both directions. It also appears that by being behind the curve technologically, Eastern Europe may have sidestepped the worst of the Western world's technology doldrums, and that IT may become the region's most dynamic industry.