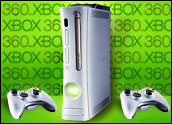 Microsoft will release an update to the Xbox 360 dashboard for all Xbox Live members on Dec. 6.
The update is reportedly modeled after Microsoft's new Metro user interface, which is used for Windows Phones and will be part of Windows 8.
It will offer new personal and social features, cloud storage, Beacons, enhanced family settings, integrated voice and gesture controls across the dashboard and in apps, and Bing voice search.
Also on Dec. 6, leading app providers will roll out new customized apps for the Xbox 360 in 20 countries.
The Goodies in the Update
The update will support voice and gesture controls across the entire Xbox Dashboard instead of only in the dedicated Kinect hub.
Bing voice search will be offered to users in the United States, the UK and Canada this year, and will be rolled out to users elsewhere later.
Another update is the inclusion of Beacons, a system that will let Xbox 360 owners tell Xbox Live what they want to play. Xbox Live will then let the owners know when their friends are playing that game or want to play it. Beacons will be active in the background while users do other things on their Xbox 360s.
Cloud saving will reportedly be available for Gold members. This will let them transfer saved files to friends' consoles without going through the "Recover Gamertag" process.
A host of new customized apps for TV, movies, Internet videos, sports and music will be rolled out starting Dec. 6 in more than 20 countries.
Where the Update's Going
These apps will probably "dovetail with similar apps available on the Windows Phone and on PCs," suggested Rob Enderle, principal analyst at the Enderle Group.
"Microsoft appears to be driving the three platforms together in closer harmony, and that's likely a good thing," Enderle told TechNewsWorld.
The update is "focused on content or entertainment stuff in a broader sense and will augment [Microsoft's] already pretty strong lineup of connected console services," said Lewis Ward, a research manager at IDC.
Following the (Ahem!) Game Plan
The update features due Dec. 6 are in line with plans Microsoft announced at the Electronic Entertainment Expo (E3) back in June.
At that time, Redmond said it would offer voice search with Bing on Xbox 360.
Further, in a letter to the press that month, Microsoft's Marc Whitten announced that cloud storage would be coming to the Xbox 360 and outlined the "Beacons" system.
Holding Back the Winds of Change
The original Xbox was launched in 2001 and the Xbox 360 in 2005. Whether or not that makes the Xbox 360 a tad long in the tooth depends on who you ask.
"I would argue that the [Nintendo] Wii showcased that the life of a typical game system should be about three to five years, after which it will have fallen so far behind the performance curve that it will no longer be interesting," Enderle stated.
"The Xbox was updated with Kinect and it got a little makeover last year, but the entire class is clearly not as popular as it once was because the game systems are getting so old," Enderle elaborated.
"[Game makers] can see Apple operating on a one- to two-year refreshment cycle with their consumer devices and being the most profitable company in the technology sector, but rationalize that they are different while watching their own fortunes fall," Enderle added.
However, Microsoft "has the best online or connected services today, and I don' think they'll relinquish that position," IDC's Ward contended.
The Xbox 360 led the market in October with 325,000 units sold — up 21 percent — and racked up year-over-year growth that month.
Microsoft probably won' introduce a new console until 2014, Ward told TechNewsWorld.