Microsoft on Monday unveiled a new version of its Xbox One console. The Xbox One Elite Bundle includes the console, with a 1-TB drive that fuses the performance of flash memory with the economy of a hard disk, and a new Elite wireless controller.
The controller is fully customizable, with interchangeable paddles, hair-trigger locks, and high-performance construction, the company said.
The $499 Xbox One Elite Bundle launches worldwide on Nov 3. Microsoft and GameStop will sell it exclusively during the month of November.
The early November release date is just in time for a holiday game release schedule that includes Need for Speed (Nov. 3), Call of Duty: Black Ops III (Nov. 6), Xbox One exclusive Rise of the Tomb Raider (Nov. 10), Fallout 4 (Nov. 10) and Star Wars Battlefront (Nov. 17).
Space: The Next Frontier
Legacy hardware is expected to fall behind and eventually fall out completely, but storage space becomes an issue as games get larger. Destiny's The Taken King expansion pack, for example, will bring the game's total size to 30 GB, Bungie recently announced. That would make it unplayable on the 20-GB versions of the PlayStation 3 and Xbox 360.
Current-generation consoles also have been struggling with the migration to purely digital downloads. The next Call of Duty game will consume more than 10 percent of a 500-GB hard drive.
Space constraints haven't been lost on Microsoft, though. The size of the Elite Xbox One's hard drive — 1 TB, or roughly 1,000 GB — doubles the capacity of the original. With the cost of SSDs continuing to fall, specifically the price per gigabyte, it's becoming more feasible to step up to 1-TB drives in consoles.
The Xbox One Elite also improves game loading time.
An SSHD, sometimes called a "fusion drive," stores the bulk of its data on the magnetic platters inside its disk drives, but uses a smaller SSD to serve up the most commonly accessed files. The result: Games load faster. From standby, Xbox One Elite's 1-TB solid state hybrid drive will load games 20 percent faster than the drive in the original version of the console, according to Microsoft.
If you ever see Xbox One Elite players jumping up and down at the start of a match, they'll likely be doing so out of boredom as they wait for players with standard hard disk drives to join.
Elite Status
Fusing an SSHD onto a 1-TB drive "is a smart move on [Microsoft's] part," said Lewis Ward, games research director at IDC, "and we're probably likely to see more 1-TB bundles from Sony as well, over time."
If bought separately, the high-performance Xbox Elite Wireless Controller retails for $150 — so at $499, the Elite Bundle is a compelling offer for hardcore fans of Xbox, he noted.
If you consider that the bundle is only $100 more than the original, "I think that it's probably something that a lot of gamers who enjoy digital downloads of games and multiplayer games are probably going to respond to," Ward told TechNewsWorld.
The Xbox One Elite bundle will be available about two years after the launch of the original, and its Nov. 3 expected landfall could be just the right time for gamers looking for bit more space and performance.
As proven by the hardware market for PC games, passionate users are willing to spend more for better equipment, said Ted Pollak, senior games analyst at Jon Peddie Research.
"Putting an SSHD drive into an Xbox will stimulate some Xbox owners to upgrade and will attract some new users," said Pollak. "A side result of the upgrades: Used Xboxes will also go into the market, which will represent new users in the Xbox One environment."
A Sleeker Standard Controller
For Xbox fans who'd like to add some class to their standard rig, Microsoft also unveiled the Xbox One Special Edition Lunar White Wireless Controller. It includes all the updated features of the standard controller, along with a better grip texture and a dramatic white-and-gold color scheme.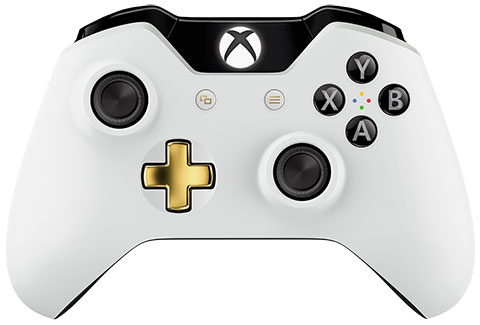 The Lunar White controller will be available in late September, exclusively at GameStop, for $65.