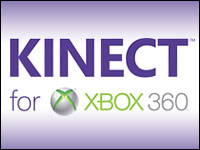 Microsoft's Kinect game device has been flying off retailers' shelves since its release Thursday, according to reports. So far, some users have been impressed with the video game device's ability to track a player's body movement, while others have discovered problems with it.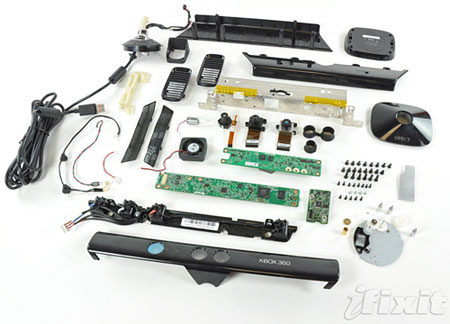 Microsoft Kinect Teardown Credit: iFixit
The Kinect for Xbox 360 incorporates sophisticated sound and motion detector technology so consumers can use their voices and hands-free motion to play games and watch entertainment programs on it.
There are 17 Kinect games available this holiday season.
About the Kinect for Xbox 360
Kinect for Xbox 360 is offered bundled with the Xbox 360 game device from Microsoft or as a standalone device that can be hooked up to a user's existing Xbox 360.
The Kinect is a sophisticated sensor suite that detects users' position and movements in three-dimensional space, according to the iFixIt blog. Its advanced sensors could jump-start robotics research, the blog stated.
However, the Kinect's motor and gears don't appear too robust, according to iFixIt. This motor assembly will likely be the device's weak point if there are no overheating issues, the blog warned.
iFixIt cautioned users against physically forcing the device into a specific position. Owners should allow the Kinect to calibrate automatically to take aim, the blog stated.
"I'm not concerned about physical robustness too much," iFixIt CEO Kyle Wiens told TechNewsWorld. "It would be nice if Kinect wasn't just another throwaway gizmo."
The device is "moderately fragile," Wiens said. "Definitely keep out of range of your toddlers, and the glossy case scratches pretty easy."
iFixIt's Teardown of the Kinect
The Kinect's motorized base can rotate the top sensor bar to track users moving across a room, iFixIt said. Microsoft's software is dong the heavy work, turning data from the sensor bar into a 3D mesh of a user's position in space.
Kinect preprocesses images before sending them to an Xbox console, condensing the information it collects about a user's room into a color image and a depth map.
The Kinect has two cameras and an infrared projector. The cameras have large lenses and autofocus, and are almost as large as webcams. One camera and the infrared transmitter provide input for the depth map. The other camera detects objects within the human visual spectrum, at 640 by 480 resolution, iFixIt said.
The Kinect has four microphones connected to the motherboard. These are positioned facing downward because Microsoft determined the best orientation for gathering sound.
However, the Kinect must first perform an audio calibration for the room in which it's located. Any shifting around of the furniture after it has done so will require re-calibration, iFixIt said.
The Kinect Tester Experience
Testers of the Kinect have had mixed reactions to the device.
The Kinect was surprising in that it recognizes a wide variety of gestures and movements on several planes, Wired's Dave Banks reported.
However, that recognition capability was not consistent, he wrote.
Further, the device's minimum requirements pose a problem. It should be mounted between two and six feet off the ground, and because it measures two inches by three inches, users might have a problem mounting it on new, slim TV sets.
The minimum recommended distance of 6 to 8 feet for single and two players, respectively, was also a problem, Banks said. The camera worked best when subjects were about seven to nine feet away.
However, the Washington Post's tester had a more positive experience.
Standout User Issues
Some users have complained that the Kinect's sensing capabilities are limited.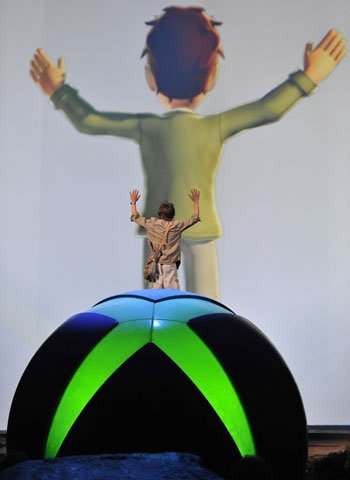 Kinect for Xbox 360
"Girlfriend wanted to play [the Kinect] while sitting on the bed," awood28211 commented on the Washington Post website. "Even though she was on her knees it insisted she had no 'feet' which technically was true but what if you really had nothing below your knees?
Further, the Kinect must be centered in the room and cannot have lights shining into the glass, according to Cmos128, commenting on the problems the Wired tester reported.
Still, "My experience was excellent; I may take off work early today to play more!" Cmos 128 wrote.
"The Kinect is supposed to track the full body, so it should be able to detect you even if you're sitting down," Louis Ward, an analyst at IDC, told TechNewsWorld. "There's a yoga game from Ubisoft that has users go down to the floor which is available on the Kinect."