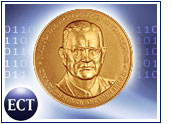 In what's been called the "Academy Awards for Engineers," four distinguished figures in personal computer history will be awarded the Charles Stark Draper Prize tonight at a dinner in Washington, D.C.
Sharing the US$500,000 prize will be Robert W. Taylor, Alan C. Kay, Butler W. Lampson and Charles P. Thacker — all key players at the celebrated computer science lab at Xerox's Palo Alto Research Center (PARC) during the early days of personal computing.
Caught by Surprise
The recipients of the prize expressed surprise at winning the award to be presented by the National Academy of Engineering (NAE).
"I was caught in total and complete surprise," Taylor told TechNewsWorld. "It never dawned on me that we would win this.
"The prize honors work that was done 30 years ago," he added. "The reward was doing the work and seeing what has been happening over the years, but I never expected anything like this."
Indispensable Core
A PARC colleague of Taylor's, Jim Morris, now dean of the School of Computer Science at Carnegie Mellon University in Pittsburgh, told TechNewsWorld: "Taylor was our leader. He was the guy that brought us together and encouraged our innovative work."
Taylor, who entered retirement in 1996, ran the computer science lab at PARC and put together the team that created the first practical networked personal computer, which contained technologies, such as bitmapped displays and the graphical user interface (GUI), still incorporated into PCs today.
"The story of the first practical networked personal computer is a story that's dramatically affected all of us, but which few really know about," said NAE President William A. Wulf. "These four prize recipients were the indispensable core of an amazing group of engineering minds that redefined the nature and purpose of computing."
Floored
"When Bill Wulf called to say that the four of us had been awarded this year's Draper Prize, I was floored because even the possibility was not in my mind," prize recipient Kay told TechNewsWorld.
"Given the amazing feats of engineering in the 20th century, the previous laureates, and that this is just the 10th awarding of the prize, it seems unbelievable to have been chosen," he added.
Kay, a senior fellow at HP labs and an adjunct professor of computer science at UCLA, invented dynamic object-oriented programming and a GUI using overlapping windows.
Quite an Honor
"When you read the list of people who have gotten the Draper prize — the inventor of the jet engine, integrated circuit, communications satellites — it's quite an honor to be in that select company," prize recipient Lampson told TechNewsWorld.
Now a distinguished engineer at Microsoft and an adjunct professor at the Massachusetts Institute of Technology, Lampson's past projects include the SDS 940 time-sharing system, the Alto distributed computer system, the Xerox 9700 laser printer, two-phase commit protocols and the Autonet local area network.
After finishing graduate school, Roy Levin, now director of Microsoft's Silicon Valley research facility, worked with Lampson at PARC and recalled the engineer's technique for keeping personal computers simple and usable.
Keep It Simple
"The design rule for the machine was that it had to be as simple as possible," he told TechNewsWorld. "Butler's approach to that was to make something that was too simple and make us argue why we couldn't live with that. And he set the bar high before he would add another feature."
The fourth winner of the prize, Charles Thacker, also a distinguished engineer at Microsoft, was project leader of the Alto system and co-inventor of Ethernet.
While PARC is known for its innovative work, it's also notorious as a creator of technologies expropriated by others who turned them into profitable companies. But the prize recipients appear to hold no resentment toward those who cribbed their ideas and technologies.
Advice Unheeded
"As a technologist, it doesn't make any difference to me who applies it," Lampson said. "I like to see my work get used.
"And Xerox didn't have a spectacularly generous stock option program, so it wasn't like I had to forgo infinite riches because they failed to take advantage of the technologies we developed," he noted.
Kay added: "I have said to powerful computer industrialists: By all means use the ideas, but please try to understand and use the entire idea, otherwise what happens are the gross caricatures so often found in commercial vendor software. The evidence indicates that they didn't understand or heed my request."