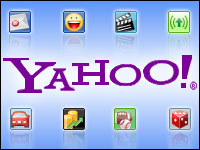 Third-party applications and customization features take center stage on Yahoo's new homepage as the company rolled out the beta version of its redesign for U.S. users Tuesday.
Actually, "center stage" isn't quite accurate; the long list of colorful icons for Facebook, MySpace, eBay and HotJobs, along with Yahoo's homegrown services like Mail and Messenger, can be found on left-hand side of the new home page. Users can add or subtract the apps they want to see on Yahoo's front page, or can take the suggestions offered in a recommendations section at the bottom of the list.
Hovering your mouse over the icons will call up a preview pane, so status updates from your favorite social networks, along with stock quotes, scores, movie showtimes and news headlines, can be viewed — along with advertisements, which highlight potential revenue help for the financially beleaguered company.
The page has also been de-cluttered from the current homepage version. A centrally placed box with 16 images highlighting news, sports and entertainment stories (emphasis on entertainment), recipes and consumer tips rotate through in groups of four high on the page. There's a box to the right showing the top 10 Yahoo search topics, another smaller box with rotating images and headlines, and the standard grouping of nine or 10 text news headlines. Other than another large ad, the content has been trimmed down for Yahoo's first homepage redesign in three years — the first under new CEO Carol Bartz.
Will Customers Customize?
Google has its now-famously sparse homepage, which features few links to other services. Microsoft's new Bing search engine gives you a landscape picture worthy of National Geographic and a few more links than Google, but that's about it. Before Tuesday, Yahoo and AOL were the only major search engines to load up links and content on their home pages.
"I can imagine using it much more regularly than I do the current Yahoo page, which I go to to navigate to the news site," Search Engine Land contributing editor Greg Sterling told TechNewsWorld. "But I would potentially use this for the third-party stuff, that you can just mouse over and view."
However, Sterling added that there is a history in the Web industry of users not taking advantage of customization. "With customization, you can offer key features that will make people loyal, but what empirically is true is that they do not spend a lot of time customizing. There's limited effort put into that, simply because people don't investigate their options, or they're lazy, or they're ignorant as to the possibilities. But some people are deeply engaged, and we should make the distinction between the My Yahoo users and the general users of the homepage. There's a spectrum of engagements."
The New Yahoo on the Go
The real implications for Yahoo's redesign belong on mobile devices such as smartphones, Sterling said. Yahoo is investing money and brainpower on mobility, as well it should; the PC version remains one of the highest-trafficked Web sites, and Yahoo Mail continues to service a lot of customers.
"Yahoo has made uneven progress in mobile, and Google has made heavy investments there," Sterling said. "This is going to make this much more user-friendly. Tying together favorites on the PC and a mobile site will be useful for a lot of people. [Yahoo] have some popular mobile sites, but not as popular as Google is for search engines. But Yahoo Mail and other (company) content sites are quite popular among mobile users."
The site redesign will get a beta launch for mobile users over the next week, along with the PC beta for users in the United Kingdom, France and India.