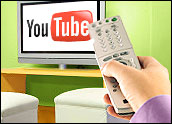 YouTube's path from a loose, rowdy, anything-goes video destination to a more well-organized and advertiser-friendly Web site took a giant step Thursday with the addition of TV shows and movies, courtesy of new deals with Hollywood studios.
That step could actually be considered a light-years leap for YouTube, which just two years ago was fending off legal actions from major entertainment conglomerates complaining of user uploads of copyrighted material. Now, the new "Shows" and "Movies" section of YouTube has analysts talking about boosted ad revenues, a direct challenge to NBC and Fox's Hulu video site, and the possibility that the Google-owned site might soon start charging for premium content.
Of course, the YouTube offerings from CBS, Sony, MGM, LionsGate and Liberty Media aren't likely to make anybody forget about the popularity of first-run "Office" and "24" episodes on Hulu. YouTube does list CBS' new murder mystery series, "Harper's Island," but the majority of TV shows are long-departed classics and wanna-be classics: "Beverly Hillbillies," "Dragnet," "ALF," "T.J. Hooker," "Newsradio," etc. The movie library includes "Carrie," "St. Elmo's Fire," "Cliffhanger" and "Starman." However, there are pre-roll ads which can't be fast-forwarded before each TV episode and movie, and the comments and related videos features that help build YouTube's community of viewers are included for each offering.
Taking on Hulu
When it comes to competing with Hulu for ad dollars, the addition of Shows and Movies "is a consolation prize, but it's a good consolation prize," Phil Leigh, senior analyst with Inside Digital Media, told TechNewsWorld. "YouTube has about 90 million users, and Hulu has about 9 million. They only need a fraction of those people to look at these things to start having an audience for these older shows on YouTube, and it will give them the ability to sell ads."
Those ads will be offered in a format that companies are already familiar with, Leigh added. "It's in TV programming as opposed to the user-generated stuff. So it's going to make it more palatable, and it's going to stimulate interest to put ads on these shows on YouTube."
That point is echoed by Jason Blackwell, digital media analyst for ABI Research, who believes the content deals are just starting for YouTube and its parent, Google. "Things like older TV shows and older movies are a lot easier to make deals with," Blackwell told TechNewsWorld. "Hulu has done very well, and they have the backing of the studios, but YouTube has such a wide reach and such name recognition that I don't think they'll have too many issues in developing the deals to get more current content. It's just a matter of developing those relationships."
Paid YouTube content?
The next step for YouTube might be paid premium content, and Leigh has a suggestion that doesn't involve scripted, Hollywood-style programming. "YouTube is a wonderful place for instructional videos," he said, citing the potential to sell either related advertising or subscriptions. "If you are trying to assemble something, then you may choose to subscribe to a channel that shows you videos without commercial interruption. If I need an iPhone, it might make sense to subscribe to a channel that shows me how to use the thing and all the apps that come with it."
The chance to charge for premium content on YouTube has to involve extending the PC experience to other devices, Blackwell said.
"If you look at a lot of the announcements on Internet-connected TVs, almost all of them mention YouTube. I think that's the direction they need to go. In the long term, they're interested in bringing a premium video experience to the PC and then beyond that to connected devices. That could bode well for premium content, getting it back into the living room and off the PC," he concluded.