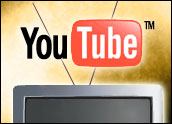 How do you conduct a great interview? For Katie Couric, it all starts with being a gracious host. "I think the more comfortable you make someone feel, the better interview you'll get," she says. "I know in terms of body language I always try to be very warm and welcoming. It's really critical to put someone at ease."
How do you write a great piece of investigative journalism? For Bob Woodward, it's all about calling a lot of people, finding the right documentation — "and getting your ass out of the chair."
The man who helped uncover Watergate and the anchor/managing editor of the CBS Evening News are just two of the A-list journalists offering video tutorials of sorts to citizen journalists on the new YouTube Reporters' Center Channel, which launched Tuesday. Others include The New York Times' Nicholas Kristof on covering a global crisis; National Public Radio's Scott Simon providing tips on how to tell a story, and Josh Tyrangiel, managing editor of Time.com, giving his advice for storytelling across multimedia platforms.
It's appropriate that Arianna Huffington of the Huffington Post is also on the channel to give her take on citizen journalism; the very appearance of the Reporters' Center Channel speaks to the increased use of cellphone cameras, social media and blogs in helping to tell some of the biggest news stories of the past year — the Mumbai terrorist attacks, the "miracle on the Hudson" jet landing, and the recent Iranian election protests, among others.
Pulling Back the Curtain
"It's what we used to call 'media literacy,'" said Scott Shamp, director of the new media department at the University of Georgia's Grady School of Journalism. "It's kind of lifting the hood to see how journalism operates. I think it's a fantastic idea to help sensitize people who have always functioned in a consuming role when it comes to journalism, to see what it takes to be an effective producer of journalism."
However, Shamp has trouble with the "citizen journalists" tag that is so much in vogue with media watchers, and he offered a caveat for those who would want to take the tutorials offered on YouTube and shape them to their own agendas. Reporters, Shamp said, have always been citizens of their communities, yet the best have always been able to put the "journalist" part of that phrase before the "citizen" part — that is, they've focused first on objectivity and telling the story.
"That's certainly a part of it, but there's a whole craft that goes along with it," Shamp told TechNewsWorld. "Wherever you work in media — newspapers, TV, whatever — it's a business. It's not something you can have a partial commitment to. The real problem with people who want to be citizen journalists is that they only want to cover those issues they have a personal connection to. You cannot be an amateur journalist. Being a journalist requires a certain perspective on all the things you have to cover and write about."
The Nuts and Bolts of Newsgathering
The Reporters' Center offers big-picture views of content gathering and distribution, but it also has basic how-to technical information on using a digital camcorder or cellphone camera to capture breaking news events. Those behind the Pulitzer Prize-winning Web resource Politifact feature a guide to fact-checking a political office candidate's claims. Also, what would any citizen journalist tutorial on YouTube be without a video on the best way to distribute a story — on YouTube?
The most instructive snippet on the Center, however, may come at the end of Woodward's discussion on investigative journalism. There, he bemoans the changes going on with newspapers — some would call them "death knells" — but Woodward holds out hope that young people will take up the mantle of reportorial digging and truth telling, hopefully armed with new digital storytelling methods.
"Young people are going to develop a new business model," Woodward said. "It's always important to get good information about what government does. There will always be a band of brothers and sisters working to get to the underlayer of what's going on, and they will find a way to publish or broadcast or convey what they believe the truth to be."