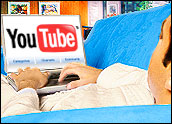 President-Elect Barack Obama didn't show (previous commitment), but Obama Girl was there. So was Obama's unofficial Web troubadour, will.i.am. A real politician, San Francisco Mayor Gavin Newsom, presented an award to a real member of royalty, Queen Raina of Jordan, while Chad Vader, the unambitious, not-so-real brother of a member of pseudo-royalty, Dark Lord of the Sith Darth Vader, looked on.
It was that kind of night at the Fort Mason Center in San Francisco on Saturday for the first-ever YouTube Live event, where the world's most successful video Web site celebrated itself by inviting all its user-generated celebrities to party — where else? — live on the Web.
You may not know the guests and performers by name, but if you have even a passing interest in YouTube's influential three-year history, you probably know them by the talents that got them attention and video views. So there was the guy who shoves all kinds of things in a blender; the young Korean guitar prodigy who uploaded his electric version of Pachelbel's "Canon," jamming with real-life guitar hero Joe Satriani; the guy who gives out free hugs; the host of celebrity dissing segment "What The Buck?"; the Dutch girl whose singing talents — first displayed on webcam — landed her a deal with Justin Timberlake's label; and, of course, the aforementioned Chad Vader, grocery store night manager whose viral videos show him using the dark side of the Force to score dates and get stockboys to finish their inventory.
Virgin America's "party plane" got in on the act from 35,000 feet to introduce the fellow who re-enacts key scenes from "The Dark Knight," playing both Batman and the Joker.
YouTube representatives did not respond to a request seeking information on traffic numbers from Saturday's live webcast — a first for YouTube — but a press release Monday said YouTube Live videos generated 2.5 million views in the 24 hours after the event.
The Critical Response
One press account described a mixed reaction from YouTube's audience; some liked it, others thought it was a waste of time on a Saturday night. But the fact that some of the site's demographic decided to stay home on that night, when other leisure-time activities beckon, may say something about YouTube's influence and popularity.
"You're talking about movie, dinner, a date," Bobby Tulsiani, digital media analyst with Forrester Research told TechNewsWorld. "Are we talking about competing with that? Younger audiences move faster than the pundits and myself can predict. We are in an economic downturn — maybe you just want to sit at home and watch TV or the computer. It's a testament that they can celebrate their success."
Tulsiani found it interesting that YouTube decided to stage its self-congratulatory fest on a Saturday night. "I don't think it's a coincidence that three years ago we were talking about 'Lazy Sunday' and pulling it off of YouTube."
The "Lazy Sunday" short film from NBC's "Saturday Night Live" featured comedians Andy Samberg and Chris Parnell rapping to the sublime joys of cupcakes and "The Chronicles of Narnia." It went on to viral video infamy and a special place in YouTube history; after hearing about millions of views and all that success, NBC threatened legal action if the site didn't remove "Lazy Sunday."
GE-manufactured light bulbs must have flicked on simultaneously over several heads at NBC Universal, however, because the network began to slowly embrace the marketing and buzz-generating magic — not to mention the possible online advertising revenue — of releasing clips on the Internet. Now "Lazy Sunday" can be viewed to one's cupcake-chewing content on Hulu, NBC's own online video site.
Tulsiani says YouTube's live event strategy puts it more on a collision course with traditional media. "Did they approach a cable size audience, between 1.5 and 7 million viewers? I doubt they got to network levels, but if they got to cable-size, they can start telling advertisers, 'Hey, you've been buying TV for a lot of years, this is a very different demographic, young and powerful.'"
YouTube's Parallel World of Celebrities
Andy Warhol's oft-quoted maxim on fame and its expiration date may need updating thanks to YouTube and the Internet, said Taso Lagos, a lecturer in the communication department at the University of Washington. "Fifteen minutes may be too long," Lagos told TechNewsWorld. "We might be down to seven minutes. It's certainly fun when somebody gets that kind of publicity, but in a society where things move at a very fast pace, we're soon on to the next person and then the next person. It (YouTube) does bring celebrityhood down to the mass level. It tells you something about how content is much more democratic. Obama Girl is big because of the election, but in a year's time there may be some other person."
Those invited to the YouTube Live event do qualify as legitimate celebrities, even without the benefit of household names, Lagos believes. "Why not? They're seen by millions of people. When movies first came out, people clamored to find out more about movie stars. When there were no credits on films, people wrote to the studios and wanted to find out more about the actors."
Lagos, who is currently researching technology and the Internet's effect on creating parallels to traditional entertainment and government institutions, called the YouTube Live event its "coming out party, its debutante ball, if you will. YouTube is not just a trend or a phenomenon. It says something about our culture and the fact that some people did stay home to watch. You also saw that with the election, people using the Internet, YouTube, Facebook to show their support."