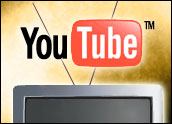 YouTube has amped up its catalog of videos accessible by mobile phones around the world. Now users of more than 100 million devices can access tens of millions of YouTube videos on what YouTube is calling the "largest repository of mobile video content available."
YouTube for Mobile, which is accessible from any browser in addition to mobile phones, requires a streaming capable phone as well as a 3G cellular service operator — YouTube says this requirement includes a majority of 3G phones from leading mobile phone manufacturers like Motorola, LG, Helio, and Nokia. Of course, the 3G requirement leaves out T-Mobile customers.
Your Tube
In addition to providing access, YouTube is letting users personalize their experience through their YouTube accounts, Favorites, Videos and Channels. In addition, users will be able to upload videos from their mobile devices for instant video sharing — and rating and commenting, too.
The video-sharing Google possession is also offering YouTube for Mobile via a free downloadable Java application for a limited number of mobile phones in order to give users a more interactive experience. Currently in beta and available in U.S. and UK English, the application offers another way to access YouTube for Mobile, the company said. At this time, the YouTube for Mobile application is supported only on J2ME (Java) MIDP2 devices with streaming video capabilities, which includes the Sony Ericsson k800, w880, Nokia e65, n95, n73, 6110 navigator and 6120 classic.
Apple iPhone users already have a built-in application for viewing YouTube videos, many of which have been encoded in the high-quality H.264 standard. iPhone users can also access YouTube for Mobile via the iPhone's Safari Web browser.
The Fine Print
Potential stumbling blocks for users will most likely come from their cellular service providers and their data service programs. All visitors to the m.youtube.com site first see a page that warns, "YouTube Mobile is a data intensive application. We highly recommend that you upgrade to an unlimited data plan with your mobile service provider to avoid additional charges."
There's definitively a significant and growing interest in video on mobile devices, said Tony Rizzo, a mobile software analyst for The 451 Group. "However," he told TechNewsWorld, "it still requires a fairly well-lubricated data plan to make the most of it. I believe it will be another two years or so before it really becomes mainstream for most of the population."
Customers with unlimited data plans are demonstrating that video via mobile phones is here to stay, he noted, and he believes it will become a major revenue stream for carriers. For its part, YouTube has reported that it doesn't have any current plans to use its mobile video content for advertising-related revenue.
Future Infrastructure Loads
Right now, the number of mobile phone users that are downloading video is relatively small, but what happens if millions more jump on?
"There are companies, such as Vidiator and Bytemoble, that have developed wireless infrastructure-based platforms to insure that multimedia — and especially video — data streams are handled effectively regardless of numbers of users," Rizzo explained. "We'll see in 2008 video streams that are almost indistinguishable in quality from Web-based streams."
YouTube for Mobile is available in the United States, Japan, United Kingdom, France, Italy, Spain, Netherlands, Poland, Brazil, Canada, Mexico, Australia, Hong Kong, Taiwan, New Zealand, Germany and Russia. It's also available in English, Japanese, Italian, French, Spanish, Dutch, Polish, Portuguese, Chinese (traditional), German and Russian.