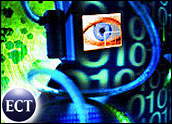 Unlike computers, software and other gadgetry, the hot brand names in digital photography never seem to change. However, what they offer continues to evolve, both in terms of features and price range.
"Cameras are following the silicon curve in many ways," Jack Gold, principal analyst with J.Gold Associates, told TechNewsWorld. "The CCD sensors (image sensors) keep getting bigger and better."
Also, as with each new generation of computers, data storage capacity in new lines of cameras continues to grow, Gold noted.
However, there's something else that consumers are finding in the newest generations of cameras that stands out above all else, he said. "I think, importantly, camera makers are learning to put more and more functionality on the mixed use processors they put inside. Things like picture stabilization, multi-zone auto focus, scene processing, etc. — all are possible due to the advancing power available in the [integrated circuits] the manufacturers use."
Momentum to Continue
That trend won't slow down anytime soon, Gold said. "So, we can expect some very powerful processing and functions to make their way into cameras, and even move down stream into lower-cost cameras as the chip prices come down. From what I have seen announced recently, I think you will also see some very interesting things come along in lens technology — especially for small-format cameras, like cameras on phones."
Indeed, price and features don't necessarily clash in the newest cameras. The Sony Cyber-shot T700, for example, replaced last year's T77, which offered a 16:9 aspect ratio and 3.0-inch touchscreen LCD. The T700, priced at less than US$400, has a 3.5-inch display and 921,600 dots of resolution — plus 4 gigabytes of memory, compared to the 15 megabytes in the T77.
"At the lower end, increasingly robust video capabilities — up to 720p HD in some compacts … are driving value," Charles King, principal with Pund-IT, told TechNewsWorld. "The Nikon CoolPix S60 uses touchscreen technology to help adjust image focus, and also has software for tracking moving subjects."
A little further up the price line, in the $1,300 range, are units like Canon's EOS 50D, which offers an array of features, including a 15.1-megapixel sensor that allows for a wider range of ISO settings than previous Canon offerings. The unit also features a multilevel lighting optimizer, and modes for lens adjustment and other functions.
More Advancements
At the high end, increasingly sophisticated — and large — image sensors and stabilization help minimize image blurring and ensure accurate exposure, King noted.
"Some cameras take this to an extreme: The new Canon EOS 5D Mark II has a full frame sensor that supports up to ISO 25,600," King said. "It's reportedly also the first digital SLR that can record video in full 1080p high def. Another high-end SLR with cool features is the Nikon D90, which uses 30,000 sample images stored in memory to automatically determine and adjust exposure, focus, flash and white balance settings."
Some new cameras might include technology that can tell when people are smiling or SLRs that do "incredible video recording as well as stills," Rob Enderle, principal analyst with the Enderle Group, told TechNewsWorld.
While the list of options seems to be growing with each progressive step in camera technology, so might confusion on the part of the buying public, he said. "The camera industry is struggling with what next to put in the cameras. File sizes are growing too large to easily transfer and store, and buyers are getting confused as to what features actually make things better rather than simply more complicated."
In many cases, cameras are lighter and faster, as well as more versatile, Enderle added. Shutter delays, at one time problematic with digital cameras, are becoming less of a problem.
"Speed appears to be one performance aspect people are chasing, with the better cameras coming close to film with regard to capture speed," he said. "Movie capability and in-camera editing seem to be hot topics, and it is unfortunate that HP's slimming feature didn't last in the market, but I'll bet it comes back."
Keeping an Eye on EyeFi
EyeFi SD cards are feeding a trend toward sharing digital photos online, Enderle noted.
"A big focus going forward is automatically getting the pictures off the camera and onto some online service so they can be automatically shared if the user wants," he said. "These services will increasingly be linked to digital picture frames, so family and friends can enjoy the results near real time."
Indeed, that type of capability is perhaps the biggest new trend in digital photography, according to Enderle.
"Connected cameras increasingly will be tied to a variety of Web-based services and other peripherals like digital frames, PCs, set-top boxes, game systems and TVs," he said.
The newer, better cameras are following trends in other high-tech realms, noted Pund-IT's King. "That is, even as higher-end functions migrate into lower-end products, vendors imbue higher-end products with increasingly sophisticated bells and whistles."
Of course, keeping prices down is a priority for consumers in every category, including cameras, said Enderle.
The industry is reaching a point in which the sophisticated features of high-end cameras may be appealing to an increasingly narrow audience, remarked King. "After all, who really needs ISO 25,600 or an SLR capable of full high-def video recording? The fact is that consumers can buy cameras in the $300 to $500 range sporting features that would have cost $1,000-plus a couple of years ago."
Which, of course, parallels the PC world.
"It's likely to keep getting cooler and cheaper as time goes on," King said. "In tight economic times, enhanced price-to-value is something that is critical to, and generally favors, consumers."