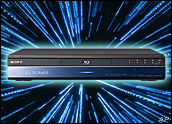 Last spring, Sony appeared to score a decisive blow in the high-definition video sweepstakes when its Blu-ray video format won the endorsement of Hollywood studios and major retailers, claiming victory over Toshiba's rival HD-DVD format.
It seemed it would only be a matter of time before the buying public would line up to buy Blu-ray players, which were sure to flood the marketplace at a friendly price.
That hasn't happened.
An estimated 10 million U.S. households had Blu-ray players by the end of 2008, including PlayStation 3 units that come with Blu-ray players built-in. That's less than 10 percent of the number of television households in the country — a figure ACNielsen places at 114.5 million.
Blu-ray technology offers high-quality pictures, but it's not clear that the improved viewing experience will sway consumers to spend money on the new technology.
"Whether people can tell the difference is largely dependent on the size of the screen," Phil Leigh of Inside Digital Media told TechNewsWorld. "If it's a 6-foot diagonal screen, for instance, Blu-ray will definitely look better. With a really big screen — and I'm not sure where they draw the line — Blu-ray has a difference."
However, Blu-ray's up-quality picture advantage likely is not compelling on a typical HD screen 42 inches or smaller, said Leigh.
Other High-Def Options
That isn't to say consumers aren't interested in high-def; it's just that there are cheaper alternatives than a Blu-ray player that costs upwards of US$200 — not to mention the cost of replacing video collections that are loaded with old-tech discs.
Some consumers opt for standard DVD players with so-called "upscaling" technology, which play standard DVDs in "full HD" — 1080p resolution.
"Upscaling works by interpolating the missing information that has been lost when the image was compressed, and sharpening lines," Rob Enderle, principal analyst with the Enderle Group, told TechNewsWorld. "The end result is a much sharper image that looks vastly better on an HDTV."
Not all upscaling DVD players are created equal, though, Enderle noted, "and a good upscaler looks vastly better than a cheap one. Historically, Oppo has had the best upscaling DVD players for the money. Toshiba's new XDE player appears equal to the Oppo and has been running at a lower price of late."
From a technical standpoint, neither will match the quality of a Blu-ray, Enderle acknowledged. "If you run a Blu-ray and an good upscaled image side by side, you can clearly see that the Blu-ray is better. But if they aren't side by side — and I've tested for this — the good upscaled image is good enough for most, and it has the added benefit of working well with existing DVD libraries. Most [consumers] don't want to rebuy disks they already have."
Though upscaling technology may not be Blu-ray's equal, Jack Gold, principal with J. Gold Associates, also suggested that it's close enough for many consumers.
"New players allow you to do a pretty good job of getting out detail. HDTV signals do a pretty good job of getting that picture on the screen themselves," Gold told TechNewsWorld. "Progressive Scan is about $39, compared to $300 for a Blu-ray."
Higher pricing for most Blu-ray discs is another hurdle to consumer adoption, Gold added.
Add that to a general consumer fog about the switch from analog to digital broadcasting and the various high-def service offerings available through cable and satellite companies, and Blu-ray faces problems on several levels, noted Greg Sterling, principal analyst with Sterling Market Intelligence.
Confusion in Marketplace
Then, there's the choice between Blu-ray and conventional DVD players, Sterling said.
"The cost of the upgrades people are asked to do are both costly and confusing," he pointed out. "It's a problem. Even sophisticated people — who are fairly technologically sophisticated — don't understand all the nuances of this stuff."
The choices themselves can be daunting to many consumers, Sterling said, and most are not likely to pay a premium for Blu-ray's advantages.
"At video places I go to, like Target or Blockbuster, you see a very aggressive promotion for Blu-ray, where they show split screens to show the difference, and I'm not sure how that's going to fly with consumers," Sterling said. "If I've got other expenses on my mind, like paying the mortgage [and] clothes for the kids …, buying a Blu-ray isn't very high on my priority list."
When the music industry made the transition to compact discs, "everybody upgraded and replaced their music collections," he recalled. "They're doing that again to some degree with MP3s. But with Blu-ray vs. conventional DVD players, the arguments in favor of [Blu-ray] are really appealing to a more elite group, in terms of those who are willing to spend the money — but also those who are concerned about that degree of sharpness. People, I think, will be fine with the conventional DVDs. Way down on the list is the Blu-ray."
Blu-ray's technological edge is considerable, maintained Richard Klugman, director of consumer technology research for Majestic Research.
"In terms of the qualitative difference between Blu-ray and upscaled standard DVD … the difference is obvious when comparing side by side," Klugman told TechNewsWorld. "Standard DVDs are perfectly adequate visually for most people, but Blu-ray is a big step up, especially for video enthusiasts watching on a large-screen HDTV."
Still, it's apparent that Sony's victory in the HD format war is not yet complete.
"There's a lot more things I'd like to spend money on than seeing the zits on some actor's face," Sterling quipped. "I think the argument for it is not all that compelling during a recession."