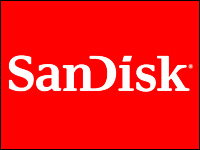 SanDisk announced the upcoming availability of two new memory cards, the Mobile Ultra MicroSDHC and Memory Stick Micro (M2). Available in January, both cards offer 16 GB of high-capacity removable storage for mobile phones.
The cards extend SanDisk's line of microSDHC cards, which already includes 4 GB and 8 GB capacity models.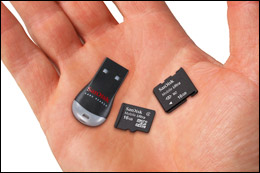 The two cards have the world's largest removable storage capacity for mobile handsets, Dan Hogan, director of retail marketing for SanDisk's mobile products division, told TechNewsWorld.
The increased capacity will enable users to more fully take advantage of the tools built into many new smartphones, including music playback, photo and video camera features, gaming applications and GPS functionality.
The cards are geared toward consumers with a digital lifestyle — those who use the latest multimedia phones and need lots of capacity to store hundreds of songs, hours of video, GPS maps and digital photos.
Executive travelers, parents on the go, multimedia enthusiasts and, really, anyone with a multimedia phone will enjoy the added capacity the cards provide, Hogan said.
Moving Storage
The cards provide fast side-loading speeds, meaning that users will experience accelerated transfer rates of digital files between their mobile memory card and computer. SanDisk has bundled a MobileMate Micro Reader that plugs directly into a USB 2.0-compatible port for quick transport and easy management of digital content.
For consumers, one of the benefits of using the new MicroSDHC card is that it "wakes up" the phone when it is inserted, according to Hogan. That offers users the ability to take advantage of all the multimedia options with the proper memory capacity to capture, play, manage and store digital media files.
"The 16 GB will hold about 14 hours of MPEG4 640×480 pixel videos or over 250 hours of MP3 audio," said Gregory Wong, president of Forward Insights.
iPhone Incompatible
While the cards are intended for use with newer smartphones, the most popular model, the iPhone, is not compatible.
"Some phones, such as the iPhone, come with the NAND flash embedded in the phone," Wong told TechNewsWorld.
"In the iPhone's case, there is no slot for adding additional storage, so if additional storage is required, you're forced to purchase a new phone," he explained. "The iPhone 3G comes with 8 and 16 GB storage. The majority of phones come with a card slot, which allows the user to upgrade the storage capacity."
Bundled with the reader, the cards are priced at US$119.99 for the Mobile Ultra microSDHC and $129.99 for the M2.