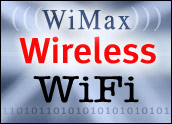 The WiMax Forum on Tuesday announced that 10 mobile WiMax products have received the organization's seal of approval for the 2.5 GHz frequency Tuesday. The designation, according to the group, indicates that each product has met the forum's interoperability and conformance standards.
The four base stations and six mobile station modules, or terminals, are the first products available outside South Korea to receive the group's certification. Earlier, the WiMax Forum bestowed its first round of mobile WiMax certifications on four base stations and four data cards intended solely for the South Korean market in April.
The announcement marks a significant milestone for WiMax, said Norm Bogen, a director at In-Stat.
"The reason it's significant is that WiMax is a standard, and the WiMax Forum is certifying that standard, and you need it for interoperability. If you use different equipment together in the same network, you want it to work together. If it's WiMax certified, chances are good it will work together. If it's not WiMax certified, the chances aren't so good," he told TechNewsWorld.
4G Networks
WiMax, short for Worldwide Interoperability for Microwave Access, is a wireless data technology based on the 802.16e IEEE (Institute of Electrical and Electronics Engineers) standard. It's a next-generation standards-based technology that enables the delivery of wireless broadband services, according to the WiMax Forum.
Intended as an alternative to wired broadband such as cable and digital subscriber lines, the technology theoretically should have a coverage area of up to 50 kilometers, or just over 30 miles, from a signal's base station, according to the WiMax Forum.
WiMax is backed in the U.S. primarily by mobile carrier Sprint and Clearwire, a wireless broadband Internet service provider. The two companies announced a deal in May that will combine their two WiMax businesses to a form a new company, also named Clearwire.
The new Clearwire will focus on speeding the deployment of the first nationwide mobile WiMax network in the U.S. Bright House, Comcast, Google, Intel and Time Warner Cable have pledged a combined US$3.2 billion to support the new company.
In addition to certifying devices, WiMax's backers are also working to broaden the technology's reach city by city. On Wednesday, Sprint announced it will launch its first commercial WiMax service in Baltimore in September. Additional service in Chicago and Washington are expected to roll out by the end of the year.
"It will take time to get the network built out. Where the networks are being built out are the undeveloped, lesser developed countries and regions. If you don't have an infrastructure, why would you put in wired line if you could put in WiMax from the get-go?" Bogen said.
"But those are smaller. The Clearwire-Sprint thing is a big network, and that's why that's a big deal. But, again, the certified WiMax products are important because an operator can sell those products," he added.
WiMax Seal of Approval
WiMax is not the only 4G network game in town, however. AT&T and Verizon have put their money behind Long Term Evolution (LTE) for their next-generation wireless networks. The competing technology has yet to fully take shape and achieve any sort of standardization.
"LTE is kind of the cellular 4G network, and WiMax is a whole different technology. It's a different frequency, but they are competing," Bogen commented.
The certification of 2.5 GHz base stations from Alvarion, Motorola, Samsung and Sequans and mobile station terminals from Airspan Networks, Beceem Communications, Intel, Samsung, Sequans and ZyXEL is an industry milestone, said Scenna Tabesh, director of marketing communications at the WiMax Forum.
"WiMax is the first technology to certify base stations for conformance and interoperability to the specification as well," she told TechNewsWorld.
The group began accepting products for validation in December 2007. The Forum said it expects to certify another 100 products by the end of 2008 and have more than 1,000 products certified by 2011.