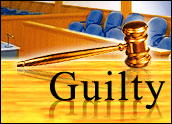 Two men from near London, a 21-year-old and 29-year-old, have each been sentenced to two months in jail following contempt of court convictions for misusing the Internet while serving on a jury.
The 21-year-old posted a Facebook message during a sex offense prosecution, saying that he wanted to "f*** up a paedophile." The 29-year-old, meanwhile, used Google to scour for extra information about the victims of a fraud case, later sharing the info with other jurors.
Neither incident got the defendants off the hook; there was a retrial in the second case but a guilty verdict all the same.
The UK Law Commission is mulling how to prevent this kind of courtroom chicanery. The group has discussed confiscating Web-ready devices when jurors arrive at court.
A 2010 UK survey found that about 12 percent of jurors involved in high-profile cases had … supplemented courtroom evidence with Web searches.
[Source: The Guardian]
US Cloud Providers Feeling Post-Snowden Pinch
A survey conducted by the Cloud Security Alliance suggests that revelations of U.S. spying have damaged international business opportunities.
The CSA, whose corporate members include most large U.S. software, cloud and security vendors, polled roughly 500 members. The answers suggest that U.S. cloud providers are being adversely impacted by Edward Snowden's revelation spree, and that the damage going forward could be worse yet.
Ten percent of foreign organizations that participated in the survey said they had already canceled projects that would use American cloud providers; 56 percent said they were less likely to enlist U.S. cloud companies in the future.
Of the 200-plus U.S. responses, more than one-third said it had become more difficult to conduct business overseas. (To be fair, 64 percent said there was no impact.)
The European Commission digital chief, Neelie Kroes, has tried to rally support for EU-based cloud services, and the president of Estonia echoed those sentiments.
[Source: ZDNet]
Apple Will Look Into Labor Allegations
What else can the company say?
Apple announced that it will investigate allegations by China Labor Watch that one of its suppliers, Taiwanese company Pegatron, is running afoul of labor laws at multiple factories.
Underage workers, shoddy pay and forced overtime were among the complaints detailed in a recent CLW report. Apple has dealt with similar problems with Foxconn, another integral part of its China manufacturing operations, which itself had violated many of the same policies.
CLW, based in New York, reported at least 86 labor rights violations while investigating a trio of factories between March and July. Apple has reportedly been in close contact with CLW throughout, but the company says it was nonetheless caught off guard by the findings, thus prompting an investigation.
Apple announced in March that it was working with Foxconn to improve working conditions, and had received praise for improvements.
[Source: Bloomberg]
Thailand Government Outlaws Bitcoins
Bitcoin, a digital currency, has been outlawed in Thailand, making it illegal to transfer bitcoins or purchase goods and services with the cryptocurrency.
People — The Next Web refers to them as "the Bitcoin team" — had sought licenses that would allow Bitcoin to operate in Thailand, but to no avail. The Bank of Thailand, which regulates financial transactions, was none too impressed with the digital currency and wouldn't sanction its use.
The U.S. has investigated Bitcoin on fears that the currency could be used to skirt taxes.
[Source: The Next Web]