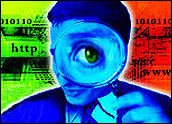 What do Michael Jackson, Twitter and Swine Flu have in common? Answer: They were all among the most common search terms this year, according to reports released by the big search engines.
Google, for example, published its year-end Zeitgeist report on Tuesday, including a list of the fastest-rising Google searches, or those that reflected the greatest surge in interest in the past year.
Notable presences included not just Michael Jackson — who led the fastest-rising list globally — but also pop singer Lady Gaga, who weighed in at No. 7.
Technology accounted for several of the top spots as well, including Facebook at No. 2, Spanish social-networking site Tuenti at No. 3, Twitter at No. 4 and Windows 7 in eighth place.
Hunting for Bargains
Yahoo also released its take on the search world's collective consciousness on Tuesday, listing the top searches of 2009.
Sure enough, the King of Pop led Yahoo's top 10 searches overall, followed by Twilight, WWE, Megan Fox and Britney Spears.
Yahoo's economy-focused list, meanwhile, revealed renewed interest in coupons and other forms of bargain-hunting.
"We saw consumers escape to the Web hoping to pursue news and their guilty pleasures: vampires, political implosions, how to moonwalk — you name it, people went online to find it," said Vera Chan, a Yahoo Search trend analyst. "And with economic uncertainty looming, people looked for ways to find stability by searching the Web for new jobs, unemployment benefits, and ways to save through old-fashioned coupon hunting."
'How Much Should I Weigh?'
Similar insights could be found at Ask.com, which listed the most commonly asked questions of 2009. The top four queries, in order:
"How much should I weigh?"
"How do I get out of debt fast?"
"What is Twitter?"
"What are the symptoms of Swine Flu?"
Then there is Bing's list of the top trending topics of 2009, which was published on Sunday.
Michael Jackson, Twitter, Swine Flu, the Stock Market and Farrah Fawcett held the top five spots on that one.
Finally, many of the same themes were apparent in AOL's top search lists for various categories, published Tuesday on Search Engine Land.
'Insight Into Human Behavior'
Search "has always been a great insight into human behavior as well as what's hot," Joshua Palau, vice president of search engine marketing with Razorfish, told TechNewsWorld. "The list is a clear mirror of what was on people's minds this year."
Entertainment, pop culture and the economy "were the dominant news stories" in 2009, so it makes sense to see them among the top searches, Palau noted.
"We use the Internet to get data on news issues" — such as the Cash for Clunkers program and Swine Flu — "as well as what I would call hot and timely news stories," such as Michael Jackson and Jon & Kate, he explained.
'Search Continues to Be Habit-Forming'
Indeed, such lists "tend to showcase our interest at the moment," commented Rob Enderle, president and principal analyst at the Enderle Group.
"The most popular terms generally have to do with things that happened at a given point in time," he told TechNewsWorld.
There doesn't seem to be any real pattern as to where people go to seek certain types of information, Palau pointed out.
"Search is the starting point for when people seek information," he explained. "The only pattern you can get from this is that search continues to be habit-forming and the way we will try and answer questions."
'Opportunities for Marketers'
Nevertheless, an understanding of search behavior has numerous practical applications for marketers, noted Palau.
"The way we use trends is to identify where to target messages that need mass reach, as well as look at the opportunities for marketers to capture this audience," he explained.
"For example, a health advertiser may have interest in going after the H1N1 crowd because they have a potential product," he said. "Knowing more about timely searches can help you customize your campaign on the fly."